Karasek's roommate told her about a campus archive of material from old student newspapers and magazines -- material that wasn't available online. The roommate suggested she poke around and see if there was anything in there about sexual violence or sexual harassment.
"I wasn't expecting to find anything," Karasek told The Huffington Post. "When I went down there, I found so much information, and I was really shocked."
This week, Karasek posted a series of these clips online. As far as she knows, this is the first time many of them have been written out -- and thus made searchable -- anywhere on the Internet.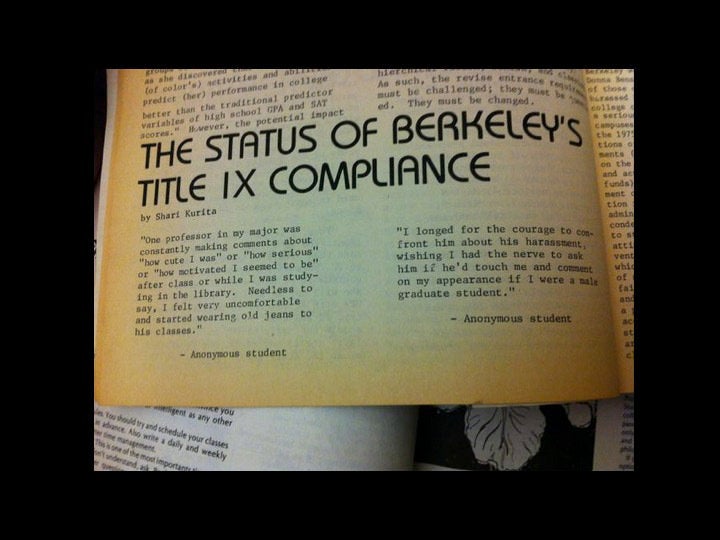 Karasek has tried before to get this message out. In 2013, she staged a teach-in on campus about Berkeley's history of sexual assault issues. She also blogged about it for HuffPost. When she and more than two dozen other students filed a Title IX complaint against Berkeley in 2014, the students tried to make the point again that the school was accused of mishandling cases decades ago.
But Karasek, who graduated in 2015, says she's making a new push this week, because of several recent sexual assault and harassment scandals at the Bay Area school.
"Finally this is coming out!" Karasek said. "I've felt like I was screaming the loudest for the longest time, and now people are finally corroborating what I was saying."
Berkeley is currently under investigation by the U.S. Department of Education for its handling of sexual assault cases. It also faces a lawsuit from Karasek and two other former students, and a lawsuit from a former employee who said Sujit Choudhry sexually harassed her when he was dean of the university's law school.
Choudhry resigned last week after it came to light that he'd been found guilty in July of sexual harassment -- but that his only punishment at the time was to see a counselor and have his six-figure salary docked 10 percent for a year. Karasek notes on her website that in 2002, John Dwyer, then dean of the Berkeley law school, resigned after being accused of sexual harassment.
The list of problems goes on.
This week, Berkeley moved to fire men's basketball assistant coach Yann Hufnagel for sexually harassing a female reporter and attempting a quid pro quo relationship, according to a school investigation. And last week, Janet Napolitano, president of the University of California system, ordered Berkeley to remove Graham Fleming, a former vice chancellor of the school, from a new position he'd received after being accused of sexual harassment.
Famed astronomer Geoff Marcy resigned from Berkeley in 2015 after BuzzFeed reported that he was found to have kissed, groped and massaged several women, and that administrators had responded by warning him not to do it again.
To Karasek, this was a repeat of what's happened at Berkeley for decades.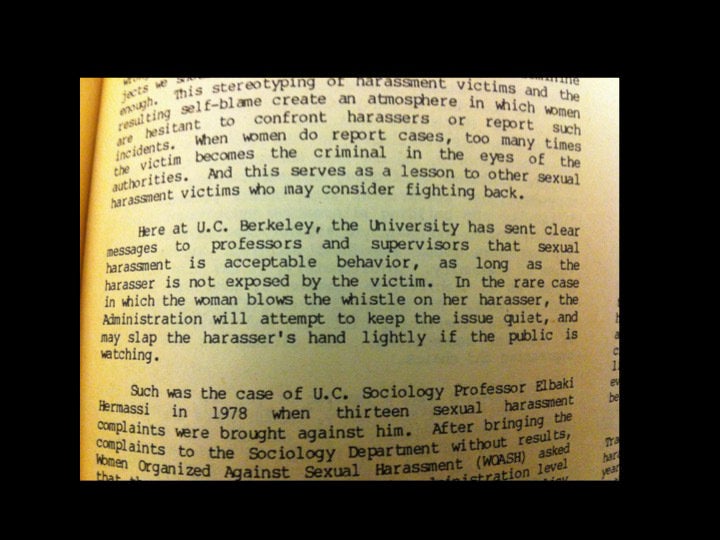 "As a Berkeley faculty member for more than 40 years, I have seen this cycle play out many times," she wrote. "A few cases arise that are so shocking that they receive media attention; administrators rise to the occasion, 'punishing' a few of the worst malefactors and declaring that they have solved the problem; soon other matters more worthy of their, and the public's, attention replace this one, and the 'sexual harassment' problem vanishes from sight, until a few years later equally notorious cases come to light."
The university is now reviewing 26 sexual harassment cases, according to The Guardian. Napolitano told chancellors recently that they should use tougher sanctions when staff or faculty are deemed guilty of sexual harassment. But there's still skepticism about whether the university is actually getting things in gear.
Michael O'Hare, a public policy professor at Berkeley who's been blogging about the latest harassment scandals, on Thursday wrote that the school's "leadership response to date" -- which he described as administrators "asserting concern, sitting us down for more training, and cranking up the punishment for perps" -- was long overdue, but "poorly-designed."
Karasek wants Berkeley to "own up" to its failures on these cases, and to "stop trying to play the victim."
"They're always saying, 'If you just give us one more chance.' And it's like, no, you had a million chances," she said. "But every time they are putting out a statement, it's, 'Just trust us, one more time.'"
UC Berkeley declined to comment for this story.
Related
Popular in the Community