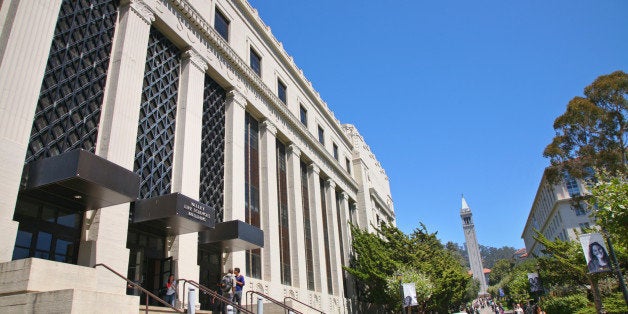 The U.S. Department of Education's Office for Civil Rights will investigate claims the University of California-Berkeley, generally ranked as the nation's top public university, failed to investigate reports of sexual assault on its grounds, and, as a result, allowed serial offenders to stay on campus.
The inquiry is in response to a Title IX complaint filed in February by 31 current and former students. The complaint alleges that there was little to no response on the part of the university when students reported rape, sexual assault and ongoing harassment on campus. In multiple cases, women say the university's actions allowed serial offenders to remain on campus to commit crimes again.
Charles R. Love, program manager of the OCR, confirmed the opening of the investigation in a March 25 letter to the UC Berkeley complainants, which was shared with The Huffington Post this weekend.
"Sexual assault on college campuses is a critical issue and we will cooperate fully with the investigation," UC Berkeley spokeswoman Janet Gilmore said in a statement. "We look forward to continuing to work with campus professionals, students, and others to take further strides in addressing this important matter."
Gilmore noted that the university has already made several changes since the complaint was filed, including adopting a new sexual misconduct policy in March. The policy was updated as required by law following the passage of new regulations known as the Campus SaVE Act, incorporated in the Violence Against Women Reauthorization Act of 2013. Campus SaVE was the most significant reform to campus sexual violence laws in two decades, expanding the list of crimes that must be tracked and disclosed by colleges, and requiring additional rights for survivors reporting sexual violence.
The gender equity law Title IX mandates that schools must promptly and adequately respond to any sexual violence reports. Violations of Title IX can lead to resolutions requiring a rewrite of university policy and staffing changes overseen by the Education Department. In some cases, the investigation can be referred to the U.S. Department of Justice for further inquiry.
The February complaint was in addition to one filed in 2013 alleging violations of the Clery Act, a campus security law, at UC Berkeley and three other schools. The Education Department does not disclose when it is investigating Clery complaints. Violations under the Clery Act carry penalties of up to $35,000 per incident.
Related
Popular in the Community