The Huffington Post first reported about plans for the bake sale when it appeared in a Facebook post from the Republican group. The post advertised pastries price-adjusted for gender and ethnicity, including cupcakes priced at $2.00 for white men and $1.00 for Latinos, with a price break of $.25 for women. The final line read: "Hope to see you all there! If you don't come, you're a racist!"
Although the plan was slammed by students and civilians, the bake sale went ahead as scheduled.
The result: a highly charged free-for-all protest that included student Democrat organizations, angry minority groups, the media and, according to SFGate, even an opposing Harry Potter-themed table, selling "enchanted Costco muffins," priced differently for pure bloods and muggles.
The bake sale was also attended by Ward Connerly, a former UC Regent and the author of Prop. 209, the 1996 proposition that prohibited public institutions from considering race, sex or ethnicity when accepting applicants.
Many students called the bake sale insensitive and accused the Republican organization of mocking the struggle of minority groups. Angry protesters screamed chants, staged a lie-in and carried signs, reading: "Don't UC us?" Others pushed through the crowd to buy the baked goods, showing support for the Republican group.
"We agree that the event is inherently racist, but that is the point," Berkeley College Republicans President Shawn Lewis wrote in response to earlier opposition. "It is no more racist than giving an individual an advantage in college admissions based solely on their race (or) gender."
Senator Ed Hernandez, who authored the controversial bill, has defended its intentions, pointing out that it will not require universities to accept applicants based on race, gender or ethnicity, but that it will simply allow them to consider these factors, which is currently prohibited. In an email with SFGate, Hernandez wrote:
[I am] profoundly disappointed that a group of young, smart people, who are attending one of the greatest universities in the country, not only dreamt up this bake sale but have elected go go through with it despite the fact that numerous members of their campus community are deeply offended by the idea…[the bake sale is] a perfect example of why I introduced this bill in the first place. If campuses were as diverse as they should be we'd see much more tolerance exhibited at the UC than we currently do.
Check out photos from the bake sale and protest in our slideshow below. And of course, let us know what you think in the comments.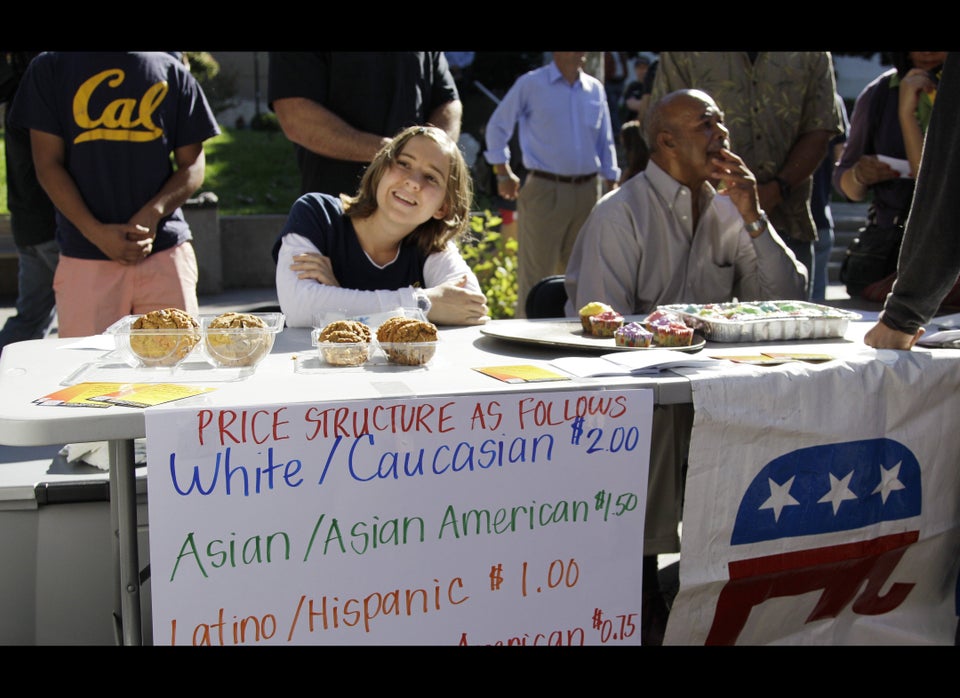 racist bake sale
Related
Popular in the Community