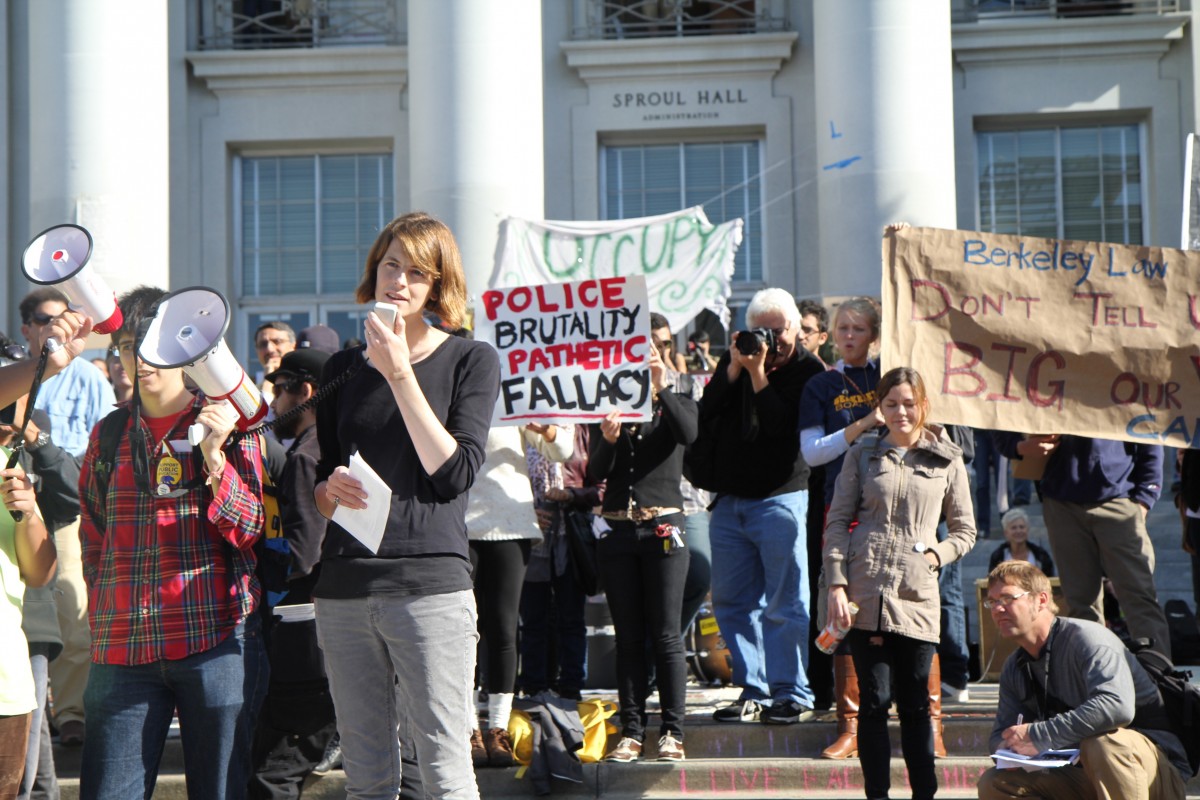 Photo Credit: DENISE TEJADA/Turnstyle News

Protester Addresses Students Gathered In Front Of Sproul Hall.
On Wednesday, 20 students -- along with a civil rights group, BAMN (By Any Means Necessary) -- will file a lawsuit against UC Berkeley administrators, the UC Police Department, and Alameda County Sheriff's officers. The lawsuit is demanding compensation for police brutality and false arrest, and the violation of students' First Amendment and Fourth Amendment rights, during a peaceful demonstration on Berkeley's campus on Nov. 9.
On that day, police were filmed shoving and beating protesters, many of whom were UC Berkeley students, on campus during a peaceful demonstration. Some of the students were arrested after the ordeal.
Students were shocked by the treatment they received from police. "A police officer jabbed me three or four times in the lower abdomen," said Ashley Pinkerton, a UC Berkeley Peace and Conflict studies student. "Each time it was a jolt more than the pain because my adrenaline was rushing so much, so I didn't really feel that stuff till much later." Pinkerton found herself standing up against campus police after helping another student who she saw being "strangled" by officers.
Pinkerton has been a supporter of the Occupy movement and has attended the general assemblies in Oakland. She said she's now proud to support the Occupy movement at her school. "I think, overall, just being in something that is so collectively active, it gives you this really righteous feeling...you share something really intense."
But for UC Berkeley graduate student Francisco Alvarado, that violent night was the first time he showed his support to the Occupy movement. "It was very lovely, people were being very friendly... I decided to stay. I had my books [and] I thought, 'I can do my homework on the steps of Sproul Hall,'" Alvarado said.
The 30-year-old was the first person to start locking arms to protect the few tents that were on Sproul Hall and was also the first person to be arrested.
"All I kept hearing from the cops was 'move, move, move..' and as I was getting hit, and I don't know how, but I started screaming, 'I can't move, you're hitting me!' " Alvarado said. The next thing he remembers is police pulling him from the group, putting zip-ties on him, and arresting him.
Turnstyle reached out to UC Berkeley about the lawsuit, but the university would not comment since the lawsuit has not been filed. However, on the day after students and campus police clashed, spokeswoman Claire Holmes of the university gave a statement, saying the administration stands behind campus police and their actions. "We watched what was happening in Oakland, and decided we couldn't let that happen here...Police were asked to enforce our policy, and that's what they did," Holmes said. "We never like to hurt our students or anybody here. We tried to warn them in advance."
For Alvarado, standing side-by-side with fellow students and speaking against fee increases was important for him. "When I started going to undergrad at San Jose State -- even going to a state school, it was harsh, making the payments and continuing education." Alvarado said. "Fee hikes were happening then, too. Having that background and having lived through an undergrad experience of struggling, I knew that as a graduate student I had to take that stance."
Pinkerton and Alvarado say it's amazing to see the support UC Berkeley students are receiving, but it's also important for those attending the movement to ask themselves "You, as the 99 percent what are you bringing to the table?" They also want this lawsuit to help spark the conversation that police brutality is not acceptable on campus and against students.
Originally published on Turnstylenews.com, a digital information service surfacing emerging stories in news, entertainment, art and culture; powered by award-winning journalists.
Calling all HuffPost superfans!
Sign up for membership to become a founding member and help shape HuffPost's next chapter