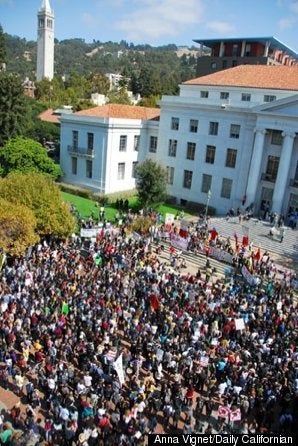 Today is the National Day of Action To Defend Public Education. Students across the country are holding protests, walk-outs and teach-ins to decry the state of American higher education.
The activity is most concentrated in California, where the movement originated. On March 4 of this year, thousands of students protested the state's public education system, which has faced massive budget shortfalls and tuition hikes -- and will see more positions cut in January, alongside online course development and increased out-of-state student enrollment.
The Daily Californian is live-blogging the day's events here. Students began convening at the University of California-Berkeley before 8 a.m. PST, and the number of protesters has grown significantly through the day. The early demonstrators drafted a list of complaints and delivered them to Chancellor Robert Birgenau.
Around 12 a.m. PST, the Californian reported that nearly 1,000 protesters were on the campus's Upper Sproul. Fire alarms on campus were pulled, evacuating at least one building, and students moved to occupy the Doe Library.
And check out more background information on California's education crisis via Neon Tommy:
What California's Budget Means For UC Students
What's happening on your campus? Let us know below.
Related
Popular in the Community