Student commencement speech given on May 14, 2016 at the University of California, Merced for the 11th commencement for the Social Sciences Humanities and Arts.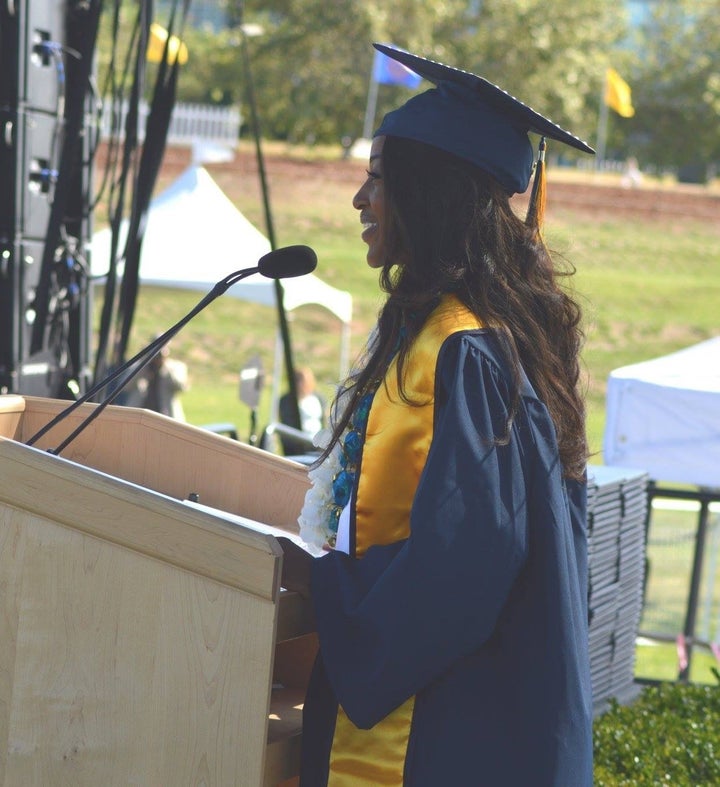 Building for the Future: The Lasting Legacy
Good Morning and Welcome to the University of California, Merced!
It is with great pleasure and enthusiasm that I stand before you today to honor the achievements of the graduating Class of 2016!
However, this ceremony would be incomplete without taking a moment to recognize and thank those in our lives — friends, family, mentors, faculty, and staff — who have played a pivotal role in our success. Join me in celebrating those individuals (lead the applause).
Please indulge me for a moment, as I share a quote from British comic book writer and novelist Dan Abnett:
"That's what I love about people. They have dreams and grand ambitions, and they start building towards them, even though they know they won't live to see them finished. That's how the pyramids were built…People were prepared to invest in the future. They were prepared to donate the labor of their entire lives to a greater whole that other lives, future lives, would benefit from." (Pause)
We must understand that we are building for the future to create a lasting legacy. While that may seem both daunting and burdensome, you have already been doing just that. Here at UC Merced, as Bobcats you have had opportunities to pave the way for those who will come long after you have crossed this stage. Many of you have created opportunities that did not exist, you founded clubs, organizations, programs, fraternities, sororities and so much more. For that, your names shall forever be etched into the history of UC Merced. Whether you chose UC Merced or UC Merced chose you, you cannot deny that you have had an exceptional education at a 21st century research university that has equipped you with the spirit of a pioneer; the spirit to be the first to open and prepare the way for future generations.
It may seem unavoidable to become engrossed in all things repetitive and mundane. But you must remember what you are doing, why you are doing it, who you are doing it for, and keep your eyes on the end goal while remaining focused. Understand that your work is not in vain, you may not live to see the completion of your work but continue to work as you are making an investment in the future.
We could recount endless memories that took place at this university that would instantly cause us to grin or simultaneously burst out in laughter. We are forever connected by the incident that occurred on November 4th. As we joined as a community to grieve, heal, and love together we proved to the world, to the community, but most importantly we proved to ourselves that we are Bobcat strong. For out of our adversity, we found a new strength and a new sense of community. We have reclaimed our campus to show that we are not defined by our circumstances, violence has no place in our community, injustices will not be tolerated and we affirm the principles of community that we will be a campus rooted in mutual respect and compassion. As we prepare to cross this stage, I must also take a moment to acknowledge those Bobcats who
we lost during the year: Miguel Anguiano, Matthew Mendoza, and Zachary Irwin. This is for you, once a Bobcat, always a Bobcat.
My challenge to you all sitting before me today, I challenge you all to go out into the world and be trailblazers. Be a game changer and build for the future, build for something bigger than yourselves. The decisions that you choose to make and the actions that you choose to abide by from this day forward will shape the lasting legacy that you build for the future. Build a future worth protecting, and with a foundation so strong that it will not tremble in the presence of strife.
So here's to the caffeine binges, the sleepless nights, and the times that we told people we had to study versus the actual amount of time we spent studying. Class of 2016, this our moment, let's give ourselves a round of applause!
Calling all HuffPost superfans!
Sign up for membership to become a founding member and help shape HuffPost's next chapter