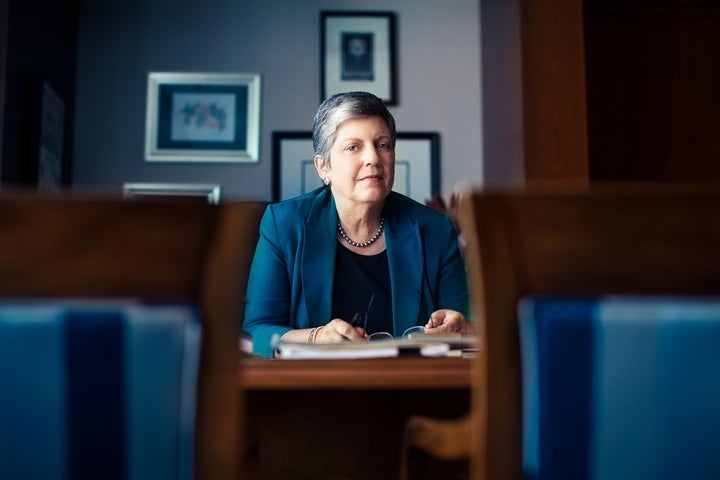 When Janet Napolitano was named president of the University of California over three years ago, her appointment provoked impassioned protests by students and others upset about her role as head of the Department of Homeland Security overseeing the deportation of more than 2.5 million undocumented immigrants.
At the July 2013 board of regents meeting when she was selected to the position, protesters brandishing signs like "Undocumented is not a crime, Napolitano, it's not your time" briefly shut down the proceedings. Student regent Cinthia Flores, the only dissenting vote against her on the board, said Napolitano's background in immigration enforcement would "cast a long shadow on her future endeavors" at the university.
Fast forward to today. Napolitano has emerged as one of the leading defenders of the Deferred Action for Childhood Arrivals program, which has provided temporary relief from deportation to three-quarters of a million undocumented immigrants who came to the United States as children, including many attending UC.
"What she is doing now is good," said Yongbin Chang, 20, a third-year UC Berkeley student majoring in economics, who was born in Seoul, South Korea, and came to Oakland with his parents when he was 3. "I want her to be supportive of underrepresented students, and now it seems that she is trying to be accountable to us as Berkeley becomes a bastion against injustice."
Napolitano is certainly the most prominent higher education leader in the nation to be identified with the issue. That was perhaps inevitable given Napolitano's central role in implementing the DACA program in 2012 when she was secretary of Homeland Security in the Obama administration.
Napolitano is in an unusually prominent position for a UC president – and one that the regents could not have anticipated when they appointed her. Perhaps the last UC president to gain anywhere close to her national prominence was Clark Kerr, who was attacked by then Gov. Ronald Reagan for being too lenient on student protesters, and as a result was fired by the board of regents in 1967.
At the time of Napolitano's appointment, it would have been impossible to predict that Donald Trump would become the GOP nominee for president, let alone president, that immigration would become the major issue in the presidential campaign – or that Napolitano would find herself in a position of speaking out on behalf of thousands of University of California students who are thought to have benefited from the DACA program that she helped create.
Soon after the Nov. 8 election, Napolitano published an op-ed piece in the New York Times defending the program, including rejecting the critique that it offers "amnesty" to undocumented immigrants. Along with the heads of the California State University and California Community College systems, she sent a letter to President-elect Trump urging him not to abolish DACA, as he had threatened to do during his campaign. Students given quasi-legal status under the program, the letter stated, "do not represent a public safety threat. In fact … they represent some of the best our nation has to offer."
Late last month, she appeared on a video conference sponsored by the Migration Policy Institute, an independent Washington D.C.-based  policy organization, saying that "these young people who came to our country, through no fault of their own, deserve to stay and deserve to contribute to the country that they know and that is the United States."
"We want their talents, their brains, their contributions to the country, so it makes no sense to subject them to deportation, and makes a lot of sense to give them work authority so they can go to school and work at the same time," Napolitano said.
She also said she would not allow university police "to be proxies for federal immigration authorities."
Because of California's size and the fact that it has a higher proportion of undocumented immigrants than any other state, young people from California are vastly overrepresented among those who have benefited from the program. Some 214,000 out of the 742,000 people who received temporary relief from deportation live in California. Although there are no firm figures, an estimated 75,000 of them attend one of the 10 UC campuses, 23 CSU campuses or 113 community colleges.
After arriving at the university, Napolitano convened a national summit on undocumented students. She set up a $5 million fund to assist undocumented students attending the system's 10 campuses. She helped create the Undocumented Student Legal Services Center, based at the UC Davis School of Law, and worked with Gov. Jerry Brown to create a loan program for undocumented students.
In December, long before the current immigration actions in the wake of Trump's executive orders, Napolitano issued a statement listing 10 principles "in support of undocumented members of the UC community."
One of them prohibits campus police from "detaining an individual in response to an immigration hold request from Immigration and Customs Enforcement, or any other law enforcement agency enforcing federal immigration law, unless doing so is required by law or unless an individual has been convicted of a serious or violent felony."
At the moment, the future of the DACA program is uncertain. A draft executive order abolishing the program – titled "Ending Unconstitutional Executive Amnesties" – purportedly written by Andrew Bremberg, Trump's director of the White House's Domestic Policy Council, appeared in some media outlets. So far the Trump administration has not issued an executive order revoking the program, while moving aggressively on other immigration fronts. This suggests that there are internal divisions within the administration about what to do with so-called "Dreamers."
In fact, late last month Trump said DACA students "shouldn't be very worried … I do have a big heart. We're going to take care of everybody. … Where you have great people that are here that have done a good job, they should be far less worried."
But especially in light of Trump's sweeping executive orders on refugees and other immigrant groups in recent weeks, DACA students are feeling far from reassured. Many fear that they will be especially vulnerable because immigration authorities know who they are and where they live. There are many uncertainties, including, for example, what if anything the university could do if ICE agents entered a UC campus without permission.
Flores, who voted against Napolitano's appointment when she was on the Board of Regents, is now director of the Dream Resource Center at UCLA's Labor Center, which offers a range of programs on behalf of immigrant students.   She embraced Napolitano's speaking out on behalf of DACA students. "I am happy and appreciative that the president of the university system is responding to the needs of undocumented students at this unique time in history," she said.  But she said Napolitano should go further to make the university a "safe space and refuge" not only for undocumented students, but for their friends, family and the wider immigrant immigrant community. "Her background provides her with a platform and also a responsibility to speak out on these issues," she said.
Regardless of what happens, it is likely DACA students will continue to have one of the architects of the program on their side. "We're going to fight for these students," Napolitano vowed in an NPR interview. "It doesn't make good immigration policy to take young people raised here, brought here, contributing their talents here and somehow vault them to the top of the deportation list. That doesn't make any sense."
This story originally appeared on EdSource.
REAL LIFE. REAL NEWS. REAL VOICES.
Help us tell more of the stories that matter from voices that too often remain unheard.