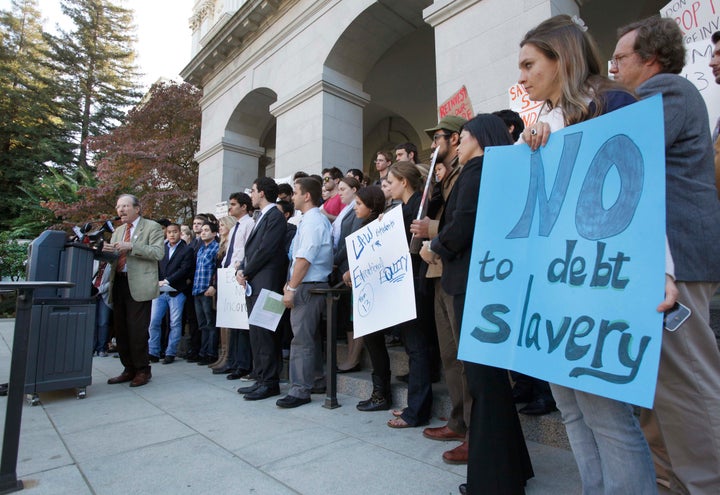 Don't want to pay student loans anymore? Well, maybe you don't have to.
A group of students at the University of California Riverside have come up with a way to avoid ever taking out a student loan. Instead, the students will pay for tuition after they graduate by agreeing to give up a small percentage of their income for 20 years.
"Instead of charging students upfront for their education, students would attend the UC with no upfront costs whatsoever," Chris LoCascio, a junior at UC Riverside, told NPR.
LoCascio explains that under the Fix UC proposal, students would pay 5 percent of their income for 20 years.
Out-of-state and international students would pay 6 percent of their income back to the state, KGET reports. Those who go into the public sector in California would pay just 3.5 percent. Students transferring in would get a discount.
"We're distraught with the lack of solutions that were being put forward," LoCascio said. "The only reaction was to raise tuition."
However, students studying areas that typically pay higher salaries -- or at least have the potential to -- worry they'd get charged too much of their income.
"I don't know how much I'll be making and how much that 5 percent is going to be," Jose Rivera, a California State University business student told KGET. "Is it going to benefit me or bring me down, you know?"
UC president Mark Yudof said "In its current form, frankly, it's unworkable." He told NPR he prefers increasing taxes and the state contributions to higher education. But he does think college affordability is important.
"Having a loan program with income-adjusted repayment is a very appealing way to make sure that the middle class continues to have access to higher education," Yudof said.
Yudof said he was "impressed" when students presented the idea at a recent meeting of the UC Board of Regents, and his "best number crunchers" are reviewing the plan.
The group of students who developed the idea will meet with UC officials next month.
Popular in the Community