A student at the University of California at Santa Barbara who allegedly drugged and sexually assaulted a female undergraduate was punished by being removed from campus for three months, a federal complaint filed Wednesday claims.
Myra Crimmel, a 2014 UCSB graduate, submitted a Title IX complaint to the U.S. Department of Education's Office for Civil Rights against her alma mater for allegedly failing to inform her of all her options as a rape victim, delaying adjudication and eventually giving her assailant what amounted to a single-quarter suspension.
"I remember thinking, 'This is insane!'" Crimmel said in an interview. "What if he rapes another student and she makes a report, does he get expelled then? ... You found him guilty and he leaves without any admittance of guilt -- he can just come back when I leave."
Crimmel filed her complaint Wednesday in coordination with students and recent alumnae lodging similar grievances against the University of Michigan, the University of Toledo in Ohio and Valparaiso University Law School in Indiana. The complaints were organized with assistance from End Rape on Campus, a survivor advocacy group run by women who submitted their own Title IX filings at schools like the University of North Carolina-Chapel Hill and the University of California-Berkeley.
The complaints largely follow similar themes, claiming that in violation of the gender equity law Title IX, schools neglected to fully investigate reports of sexual violence, and when they did, offenders were given lax punishments.
Crimmel said she was sexually assaulted Sept. 8, 2013, by a school acquaintance and his friend, a student from Santa Barbara City College, when they visited her off-campus home after she arrived back there from a party.
Crimmel said she arrived home around midnight and blacked out soon after; the next thing she remembered was waking up around 7 a.m. and being naked on her balcony with the two men, who were also naked. She said she felt like she was under the influence of drugs that were very different from some prescription drugs she takes.
"That is just not me," she said. "I was all cut up and bruised in places I can't even imagine how."
Crimmel described finding blood on some of her furniture and walls in the morning as she tried to piece together what happened. She went to the university health center on Sept. 10, and made an official rape report to the school's judicial affairs office on Sept. 18.
A medical report from the UCSB health center, which Crimmel provided to HuffPost, said she was examined and found to have physical indicators that could be consistent with rape. Crimmel said she later learned the accused assailants told university investigators that on the night of the alleged assault, she'd ingested "four or five points" of Molly, a pure form of the active ingredient in ecstasy. This is considered two or three times the typical dose users take.
Crimmel said she is positive she didn't take the drugs herself, because she didn't have any available at her disposal; furthermore, she said, there was no liquor in her house, making it less likely she could have consumed enough strong alcohol to black out. She only remembers drinking five beers prior to the men visiting her house. She said she was told by investigators that both men admitted to UCSB officials they had sex with her that night.
On Nov. 21, Crimmel received notice that the judicial affairs office had enough evidence to move forward with adjudication of the accused UCSB student. The school did not officially find him responsible or not responsible; instead it gave him a choice of accepting a minimum two-quarter suspension or of choosing to fight the charge, which would move the case to a university hearing, in which he could risk expulsion. The accused student did not make his final choice until March of the next year.
On March 4, the university announced the offender had agreed to withdraw from UCSB two weeks later, after final exams were completed at the end of the winter quarter. He was barred from attending the school until Crimmel graduated in June, which was only three months later. There would be no notation on his transcript that he was found responsible for, or had been accused of, sexual assault.
"What if he rapes another student and she makes a report, does he get expelled then?"
Crimmel complained about the delay to remove a man the university had completed an investigation of four months earlier. Stephanie Jones, assistant director of Campus Advocacy for UCSB student affairs, replied in an email to Crimmel, "it feels really icky to have him finish out the quarter considering the circumstances," but the school's hands were tied.
UCSB spokesman George Foulsham said in a statement that school officials have not seen the recent OCR complaint, but regularly review their procedures to ensure they're using best practices. He added: "We offer numerous counseling, support and advocacy resources for survivors, and we have a comprehensive adjudication process."
At least two other women in the complaint with Crimmel against UCSB say the university's judicial affairs office declined to even investigate their sexual assaults, despite an accused assailant having confessed in one of the cases.
At Valparasio University, a law student said in her complaint she didn't find out about the university issuing a no-contact order between her and her alleged assailant until she sought a protective order through the court.
The University of Michigan, already under a federal investigation over similar issues, is accused of not properly investigating sexual harassment against a student residential adviser, who was fired from his campus job when he complained about the school's handling of his case.
Valparasio spokesperson Nicole Niemi said they could not comment on the specific case, but insisted the school does have "numerous options and processes available to report an incident." Michigan did not return requests for comment.
A student at the University of Toledo, a 2014 graduate who asked not to be named, said the student she reported for sexual assault admitted in a school hearing that she had told him she did not want to have sex prior to their intercourse. The university found him responsible, and on May 13 handed down a punishment of probation, a $25 fine and 10 hours of sexual assault education, according to documents obtained by The Huffington Post.
UT spokesman Jonathan Strunk said the $25 amount is not based on the severity of the offense. Strunk further noted that specially trained members of the university's student conduct board review allegations on a case-by-case basis, and if a student is found responsible, the student board "recommends progressive and educational sanctions appropriate given the facts of the situation and the final sanctions are determined by the Hearing Board."
The Toledo alumna appealed, and the university on May 30 upped the punishment to suspension. But on June 13 the university dropped the punishment back to probation after an appeal by the offender. The victim was left frustrated at what she saw as a lax punishment.
"They did say they want these type of situations to be 'learning situations for all parties involved,'" the Toledo graduate said. "I thought that was such a terrible phrase to use, a 'learning experience' for a rape victim."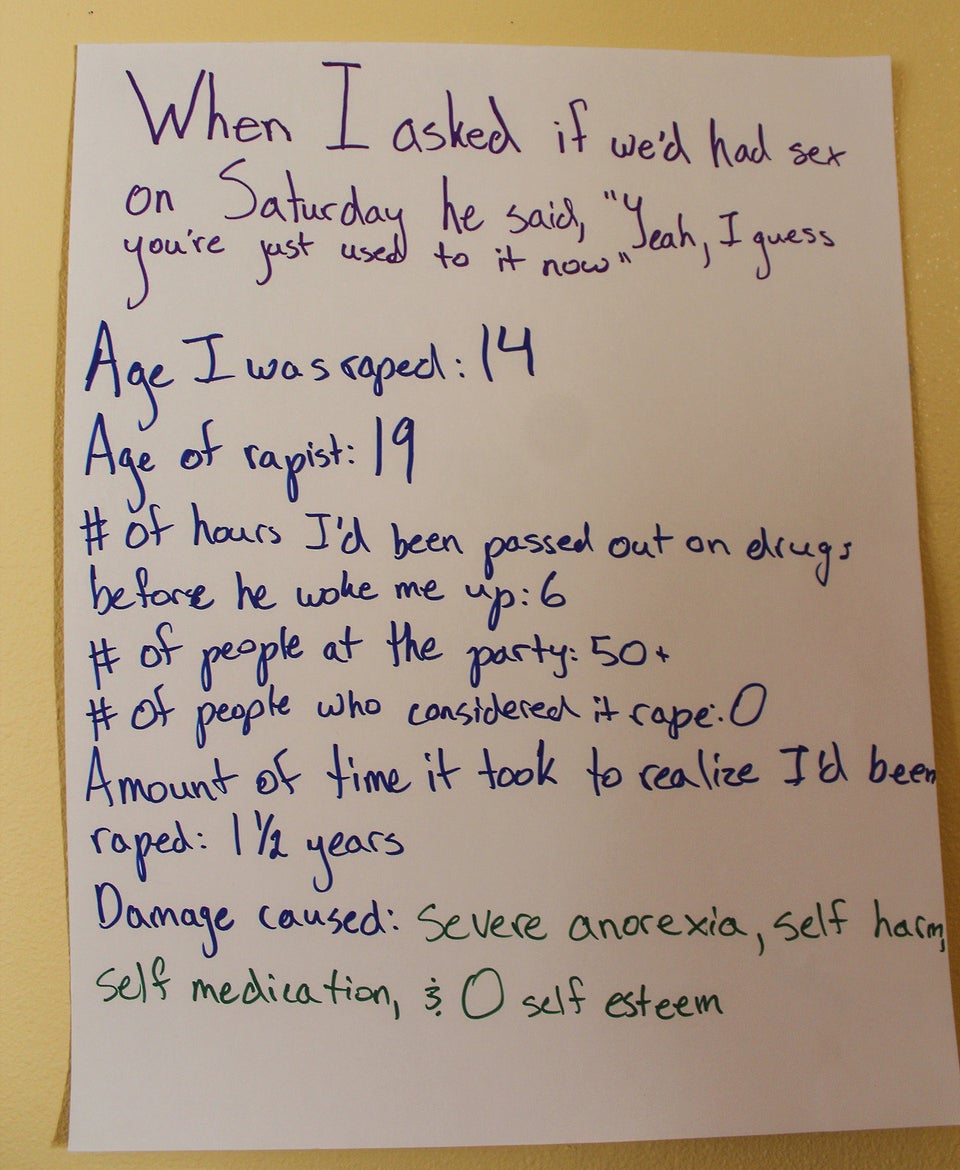 Images From 'Surviving In Numbers' -- A Project Highlighting Sexual Assault Survivors' Experiences
Popular in the Community