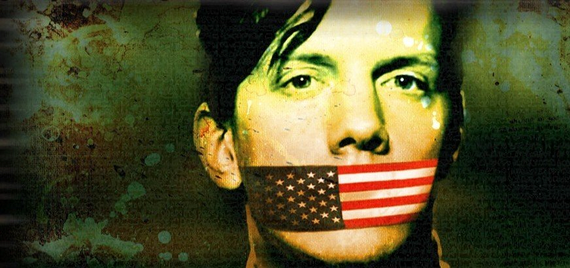 Days before the California Senate Judiciary Committee votes on AB2844 (anti-Boycott, Divestment Sanctions/BDS against Israel), its authors, Assemblyman Richard Bloom (D-Santa Monica) and Senator Hannah Beth Jackson (D-Santa Barbara), are amending their bill to threaten funding to the University of California, Cal State University, and non-profit programs that help the homeless, disabled, and hungry -- should they engage in what these lawmakers term a discriminatory protest or boycott against the state of Israel. AIPAC (American Israel Public Affairs Committee) must be smiling at the new version of the bill.
The latest iteration of AB2844 creates a new crime of perjury for businesses, non-profits, and private incorporated individuals (receiving $100,000 or more in state funding) who swear in writing that they're not discriminating on the basis of race, nationality, etc., yet boycott or even protest Israel "under the pretext of the First Amendment." Student bodies and church committees that vote to divest of companies profiting off home demolitions and settlements in the West Bank must think twice, lest the entire university system or church network be defunded or denied state assistance. In fact, the newly amended AB2844 (previously almost gutted) encourages witch hunts on California university campuses as it states "The Attorney General may receive and investigate complaints regarding violations of, and may bring suit to enforce the provisions ..."
Read the amended bill here.
Almost all of the 10 University of California campuses have voted to divest from companies -- as has the World Council of Churches -- profiting off the Israeli occupation of the West Bank. With universities and churches not kindly disposed toward Israeli military checkpoints and walls, authors of this bill are sending a warning shot across the bow of any student government considering hosting an "Anti-Israeli Apartheid" week, dramatizing Israeli checkpoints (see photo) or making good on the divestment promise.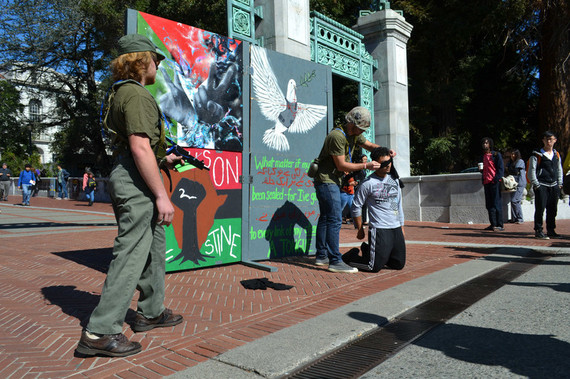 Sound hard to believe -- this level of censorship?
It is, but look east and you'll see the state of NY threatening to cut half a billion in funding to the CUNY college system because of Boycott, Divestment, and Sanctions (BDS) activities calling for equal rights for Palestinians and Israelis, and PENN is considering defunding state colleges where students vote to divest. Anti-BDS bill have been introduced in over 20 states, and when the New York legislature balked, Governor Andrew Cuomo issued his own executive order: "If you boycott Israel, New York will boycott you."
If you find this level of state censorship unsettling, if it strikes you as unconstitutional, then
take action.
Contact the CA Senate Judiciary Committee members to urge a NO vote on AB2844.
Senator Hannah-Beth Jackson (D-Santa Barbara), Chair of the Senate Judiciary Committee & Co-Author of AB2844 (phone calls are best)
916-651-4019 or 805-965-0862 senator.jackson@senate.ca.gov
Senate Judiciary Committee Emails:
senator.anderson@senate.ca.gov, senator.hertzberg@senate.ca.gov, senator.leno@senate.ca.gov, senator.monning@senate.a.gov, senator.wieckowski@senate.ca.gov
james.joyce@sen.ca.gov
Also contact Appropriations Chair Senator Ricardo Lara: (916) 651-4033
senator.lara@senate.ca.gov
Also Senate President Kevin de Leon: (916) 651-4024
senator.deleon@senate.ca.gov
Governor Brown: Fax: 916-558-3160
Popular in the Community