ROSEBURG, Ore. -- "How could this happen? This is a quiet town."
It's a comment that's been repeated often in Roseburg since Thursday, when a gunman opened fire in his Writing 115 class and tore the heart out of the Oregon community. 
Most of the time, it's true. Downtown Roseburg is effectively deserted during the weekdays, its residents working in the area's booming timber and forestry industry, or trying out new trades at Douglas County's only higher education center, the 65-year-old Umpqua Community College. After dusk, locals file into Draper Draft House and O'Toole's downtown to trade stories and drink local beer.
In that sense, it's just like any other quiet town.
But on Thursday night, when hundreds of locals gathered to mourn the dead at a candlelight vigil in Stewart Park, the quiet was deafening. Tears filled the eyes of people traveling from surrounding towns who had never even stepped foot on the UCC campus. Many had family at the college. Baristas who lived 20 miles north had kids who, "thank God," had skipped class on Thursday. Hotel workers and diner employees and truckers had brothers, sisters and cousins who attended the college and friends they had lost.
Few words were spoken as hugs were shared because nothing needed to be said -- they already knew one another and they knew their college.
Families in the greater Roseburg area go back five, six and seven generations. They're people who take pride in all their rural home in southern Oregon has to offer.
"We are a community whose hearts are broken right now," said Debbie Fromdahl, president and CEO of the Roseburg Area Chamber of Commerce. "We've lost nine beautiful souls. So our focus is on doing the best to honor the lives that we've lost. And to support and take care of those who are injured. They are our victims, our families, our students, and we want to support and honor them."
"We're small but tight-knit. We know each other. We know where to refer people to services, and we're focused on supporting, helping and honoring those who need us," she said. "We will heal, but that's a while off."
Roseburg is the Douglas County seat, a valley town off Interstate 5 in a hilly, forested region of southern Oregon known as the Land of Umpqua. It has breathtaking views -- a short drive in any direction will bring you to the top of scenic hills -- prosperous wine and manufacturing industries, and a major role in the regional timber trade.
Its population of just over 21,200, which accounts for a fraction of Douglas County's 108,850 residents, is spread out along several highway exits. When they're not working, locals are hunting, hiking the North Umpqua Trail system and fishing along 359 miles of picturesque streams. Fromdahl described it as a town with "open borders."
Part of what makes the community strong -- and what symbolizes that strength -- is Umpqua Community College. When the 2008 economic downturn decimated trade jobs in the Pacific Northwest, UCC saw a huge increase in students from surrounding towns. Instead of leaving the area, they chose to stay and retool their careers at UCC. The community college connects everyone.
"A lot of times you have a college that's somewhat separate from the rest of the community, and that's not the case here," Fromdahl said. "UCC came into existence because the local folks got together and wanted to create a college for our community."
Local businesses are doing what they can. O'Toole's Pub is donating 100 percent of its proceeds from some 15 kegs that were donated by local brewers. Brix Grill contributed 10 percent of this weekend's proceeds to the UCC Tragedy Fund set up by Cascade Community Credit Union.
"There is no question that there will never be anything of true help to be done in these circumstances. Too much is lost," said Brix owner Misty Russell. "However, one of the greatest joys of being a business owner in a loving community has been the connection at a deeper level of involvement that comes about, whether that be in times of joy or sorrow."
GoFundMe pages have been set up for many of the injured victims or the families of those killed:
Some groups are just making themselves available to whoever needs them. The Anubis Ridans Motorcycle Club brought friends and family to sit outside the county courthouse steps on Saturday night to show support after rumors spread that the Westboro Baptist Church could be making its way to the area. Not to make a show of force or take an aggresive stance, the riders said, but to demonstrate that they care.
"I think this community is a fairly safe community. Normally people don't have to worry about violence or anything like that," said Harley Huskey of Anubis Ridans. "And when they do, they know they have support. We're just down here to give any support necessary."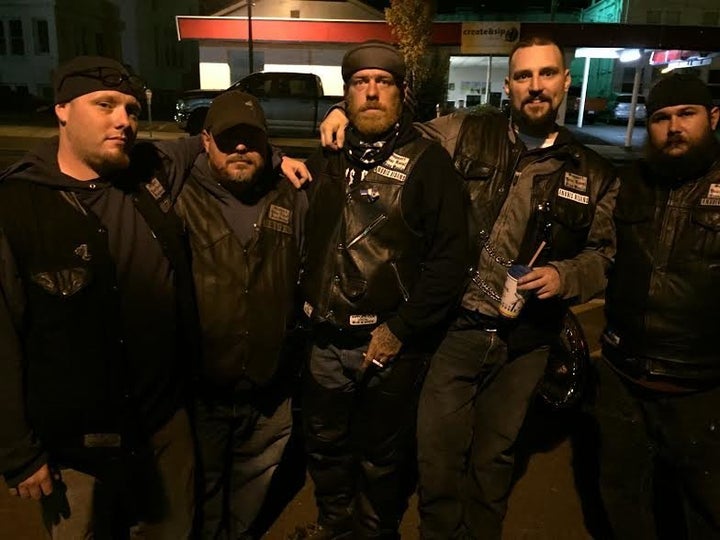 Driving down the highways in the area, you see "I Am UCC" written on billboards and pamphlets, restaurants and banks.
An outsider might assume the signs went up after Thursday's horrific shooting. But they've always been here, just like generations of Roseburg families have always been here. 
"I am UCC, and this community is UCC," Fromdahl said.
REAL LIFE. REAL NEWS. REAL VOICES.
Help us tell more of the stories that matter from voices that too often remain unheard.