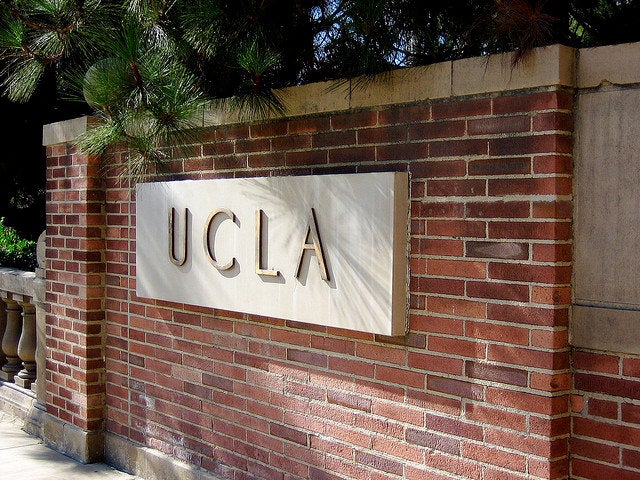 The University of California Board of Regents next week will consider UCLA's plan to build a new 250-room, $152 million hotel and conference center – a proposal that would allow the university to host many more academic conferences on campus but that has raised the ire of local hotel owners and has others questioning its financial viability.
The proposal [PDF] has been scaled back from a previous plan that would have torn down the existing Faculty Center and had been criticized for unrealistic financial projections. The new plan lowers the guest room price from $270 to $185 per night on average, for example.
The center will be funded in part by a $40 million gift from UCLA alumni Meyer and Renee Luskin, who also pledged $10 million toward an endowment to help academic departments host conferences on campus. The rest of the funding would come from tax-exempt and taxable bond financing.
University officials say the project, which would open in 2016 as the Meyer and Renee Luskin Conference and Guest Center, will fill a need by enabling UCLA to accommodate a year-round conference schedule on campus. The center will help establish the campus as a global leader in education and research, they say.
"The campus misses a great number of opportunities to host important thinkers, leaders and practitioners by not having a facility for academic programming," Franklin D. Gilliam Jr., dean of the Luskin School of Public Affairs, said in the April issue of UCLA Magazine.
But some still question whether the university's projections are overly optimistic.
The Luskin Center relies in the first year on a cushion of surplus revenue from the UCLA Lake Arrowhead Conference Center and the UCLA Guest House – both of which run healthy surpluses. In the past, the surplus revenues from those facilities have been reinvested to fund major renovations and upkeep.
Without joining the revenue of the three facilities together, the Luskin Center wouldn't be able to cover the cost of its debt service in the first year, falling about $1 million short.
"It's disingenuous in the sense that this is a project that's supposed to take care of itself," said Daniel J.B. Mitchell, professor emeritus at the UCLA Anderson School of Management and School of Public Affairs, who has written about conference center developments on the UCLA Faculty Association blog.
Steven A. Olsen, UCLA vice chancellor of finance, budget and capital programs, said having the three facilities work together as one business unit actually strengthens their financial security overall.
"This is like all of our other auxiliary enterprises. We pull together business plans, we do due diligence and we have very conservative projections on demand," he said. "We feel this will be an ongoing concern."
The business plan projects the Luskin Center will have an occupancy rate of 60 percent in the first year, growing to 70 percent in the third year and stabilizing at that level. Those figures were based on market research and feedback from campus surveys, Olsen said.
Focus groups with the university's academic departments suggest high demand for conference space, he said. And the projected occupancy rates are conservative compared with those of local privately owned hotels.
Citing data from Smith Travel Research Inc., Olsen said hotels in Westwood and two other nearby markets had 2011 occupancy rates of 80 to 81 percent and average daily rates between $220 and $223.
But unlike private hotels, the Luskin Center wouldn't be open to the public at large for hotel stays. As a nonprofit entity with tax-exempt financing, the Luskin Center would be limited to guests with a UCLA affiliation, including university conferences, parent events, visits by prospective students and more.
"There is a risk that maybe the occupancy won't be what you think, or it's going to turn out to be more costly to operate this than you expect, and then this thing becomes a drain, and in some way or another, something has to be taxed," Mitchell said.
Local hotel owners also are concerned. Unlike privately owned hotels, the university conference center would be exempt from transient occupancy, property and parking taxes. In a December 2011 letter, Bob Amano, executive director of the Hotel Association of Los Angeles, said the Luskin Center would pose unfair competition.
"The hotels aren't against building new hotels, it's just the playing field they are proposing to operate this hotel," Amano said in an interview.
Amano also questioned UCLA's contention that it would adequately verify hotel guests' affiliation with the university or that it does so with its existing tax-exempt guest houses. He said he and other members of the association called to make reservations at UCLA Tiverton House, which is designed for UCLA Medical Center patients and their families, and found the receptionists did not verify their university affiliation. The association is mulling legal action, Amano said.
Laura Lake, co-president of the community business alliance Save Westwood Village, said her organization would rather see a stand-alone conference center without a hotel.
"The key question with this hotel is, is there really the demand for bona fide academic meetings? Or is this going to be party central for alumni, parents and Bruin sports fans?" Lake said. "The biggest concern is that they're going to harm the local hotels by unfairly stealing customers by not paying taxes and deny the city of LA millions in revenue."
Olsen said UCLA doesn't compete with local hotels.
"Our intent and practice has been not to compete for transient occupancy that's not related to a university purpose," Olsen said. "I think our policies and practices are consistent with that. My hope would be that …we actually wouldn't be able to accommodate all the visitors that would come from those events and that would generate demand for private hotels."
The regents will vote on whether to approve the budget and financing for the Luskin Center during their March 27-29 meeting. From there, the project's draft environmental impact report will be presented at a public meeting this spring and finalized later in the year.
Erica Perez is an investigative reporter focusing on higher education for California Watch and the Center for Investigative Reporting. To read more California Watch stories, click here.
Calling all HuffPost superfans!
Sign up for membership to become a founding member and help shape HuffPost's next chapter