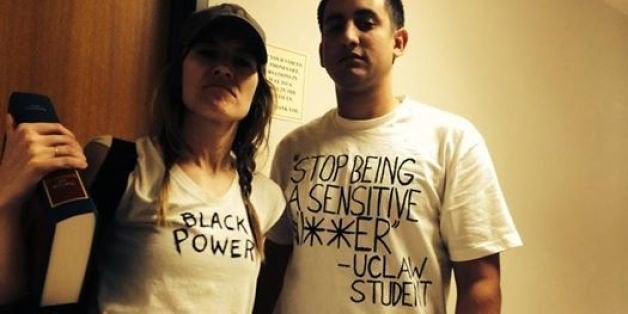 Racial tensions between students at the UCLA School of Law appear to be growing.
Editor's Note: This story contains racially charged language that some readers may find objectionable.
The blog Above The Law, which reports on the legal industry, received a tip about a student, Alexis Gardner, who got an anonymous note in her mailbox that read, "Stop being a sensitive nigger." The campus administration has responded and an investigation is currently underway. Scroll down to see Gardner's photo of the note (warning: NSFW language).
"We recognize that racial issues exist across the campus, not just in the law school. In fact, just today Chancellor Block issued a special announcement about the need to redouble our diversity efforts in the wake of Proposition 209, which prohibited affirmative action in admissions at any public college or university in California," said dean Rachel Moran in a statement to Above The Law.
Nancy Greenstein, a spokeswoman for UCLA's police department, said the hate mail incident was reported Monday. The note was computer-printed in bold black letters, she said. However, the paper has already been handled by a number of people, making it difficult to determine the note's authorship based on fingerprints.
"When it comes to hate crimes on our campus, we always go the extra mile in the investigation," Greenstein told The Huffington Post.
In addition to the YouTube video, which Gardner appears in, students have also created a petition addressed to Moran. On Monday, Moran responded to the petition by meeting with students.
"I met for an hour and a half with 15 of our students to discuss the issues that were raised in the Change.org petition. I was happy to share that the law school is making progress on a number of fronts to promote diversity and racial tolerance," said Moran in a statement released to HuffPost Tuesday.
Moran's statement went on to say:
Our initiatives will include student and faculty workshops, curricular reform, restructuring some administrative positions and getting more financial aid money from the University and donors. Yesterday's meeting is the start, not the conclusion, of a conversation that is taking place not only at the law school but throughout the university community. As Chancellor Block said yesterday, we all need to redouble our efforts to promote diversity at UCLA.
However, according to a report about the meeting in student newspaper the Daily Bruin, some students wanted more immediate action.
"Overall I'm feeling dissatisfied and unhappy with how it turned out. She played her political part in meeting with us, but she didn't agree to do anything," Gardner told the Bruin.
The anonymous note isn't the only troubling incident to have occurred at UCLA in recent months. Students have ripped down posters and flyers put up by the Black Law Students Association. Moran responded by sending out a campus-wide email reminding students that UCLA is "dedicated to providing an engaging intellectual environment that is respectful and welcoming to all." Above The Law also notes that tensions previously arose over a November incident in which a number of students wore T-shirts saying "Team Sander" in anticipation of an upcoming softball game. According to tipsters, some saw the team name and T-shirts as a way of subtly showing support for the work of Richard Sander, a UCLA professor whose work argues against affirmative action.
Currently, UCLA's law school has just 33 black students. The school has 994 students pursuing their Juris Doctor, and if students who are pursuing their Master of Law degree are included, the total student population is roughly 1,100.
CORRECTION: A previous version of this article stated that the T-shirts that read "Team Sander" were an overt reference to UCLA professor Richard Sander's work on affirmative action. The shirts were in fact softball uniforms.
The note left in Alexis Gardner's mailbox: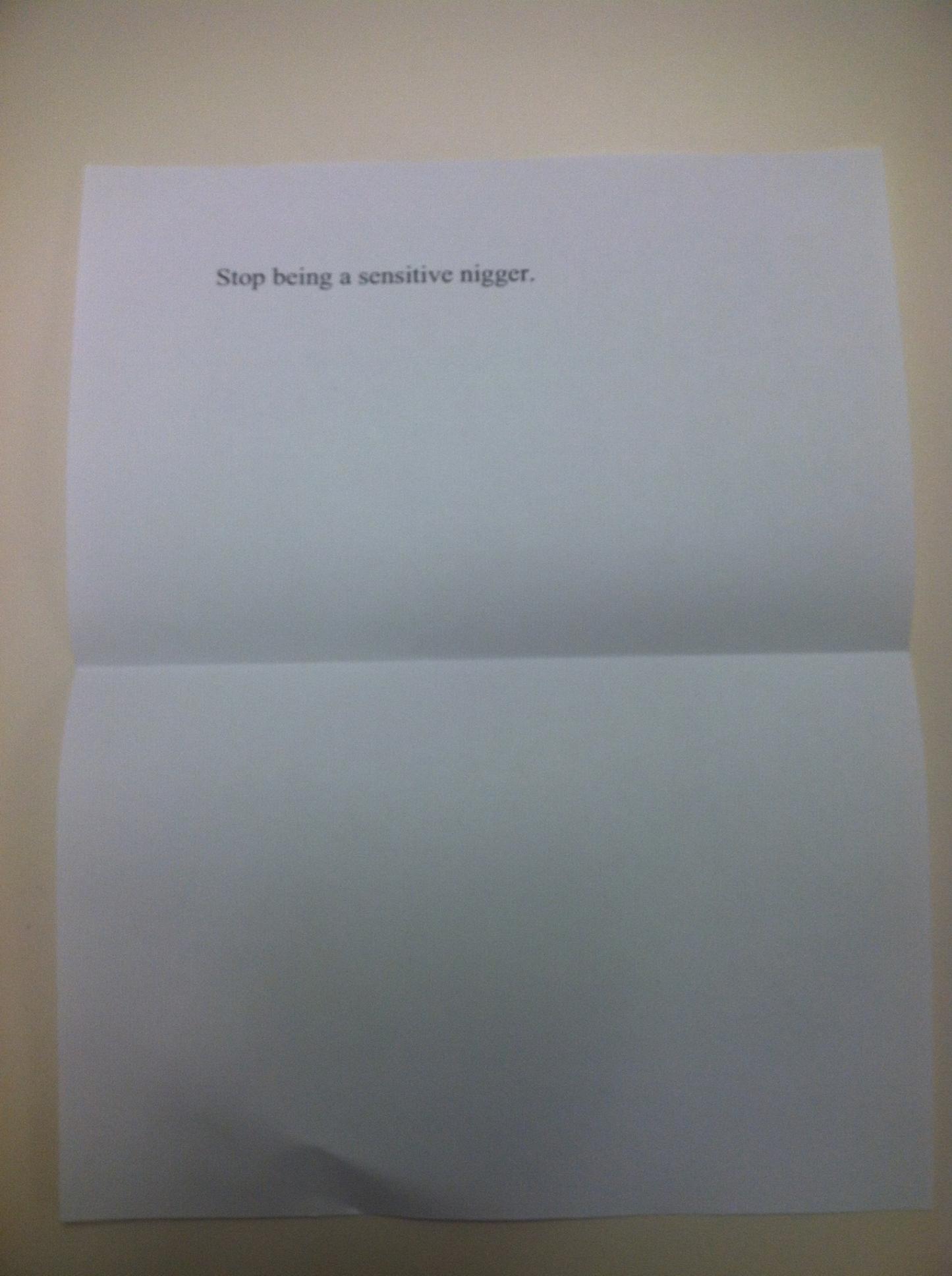 Popular in the Community