 NEW YORK -- Alyssa Palazzo loved that Susan Herbst was appointed president of the University of Connecticut. Palazzo, a 2013 graduate, admired the work Herbst had done in improving the aesthetics of the campus, and was proud to see the first woman in charge of UConn.
Herbst initially responded to the complaint on Oct. 23, saying that the suggestion the university showed a "deliberate indifference" to sexual assault victims was "demonstrably untrue." She added, "No president or police chief will prevent" all sexual assaults "and should never, ever be so naïve to think so."
Four of the women involved in the complaint later filed a lawsuit, and last week Herbst shifted her tone in a statement to trustees. "For all of us at UConn, as long as there is a single sexual assault on any of our campuses, our work is not complete," Herbst said.
But Palazzo said she feels let down. "I so loved Susan Herbst, and for her as a woman to let us down like this is shocking, because she must've had so much to overcome to be where she is now," Palazzo said.
In a hearing last week before a committee of the Connecticut General Assembly, Palazzo's fellow complainants, among them UConn senior Erica Daniels, testified that they too were dismayed by the administration's response. "To not be taken seriously by the university was most upsetting," Daniels testified.
Herbst declined interview requests by The Huffington Post.
The defensive tone struck by UConn administrators reminded Annie Clark of how some officials at the University of North Carolina-Chapel Hill initially reacted to similar federal complaints she and four other women filed in January. A 2011 UNC graduate and sexual assault survivor advocate, Clark helped launch the Know Your IX and End Rape On Campus networks.
The day after Clark and her co-complainants filed their claims against UNC, university counsel Leslie Strohm publicly called one of those allegations "false," "untrue" and "just plain wrong."
"I understand the immediate desire to defend, however, when you have multiple students who are brave enough to stand up and say they were sexually assaulted and their cases were thereafter mishandled. As a university president, you have got to take that seriously," Clark said. "To attack victims the way Herbst did originally sends a strong message to students to stay silent."
UConn finds itself in a tricky situation, compared to other universities that currently face sexual assault investigations, since the institution has also been named in a federal lawsuit.
Usually when a school is faced with an investigation by the U.S. Department of Education's Office for Civil Rights, the most expedient remedy is to admit to shortcomings as a way to conclude the investigation quickly. The department would then propose a voluntary resolution, often involving policy changes, to which the university could agree.
But faced with a lawsuit, a university might prefer not to admit fault in order to avoid a large settlement. "If there's two tracks going on, it makes it challenging for the university to respond," said Carmon Harvey, an attorney who advises higher education institutions on Title IX compliance.
Harvey would advise an institution facing these sorts of accusations to show it is making an effort to "get to the bottom of the problem, so you know whether there is a larger problem other than the complaint."
Elizabeth Conklin, associate vice president of UConn's Office of Diversity and Equity, told lawmakers earlier this month that the school had "rolled out a series of trainings and policies designed" to increase sexual misconduct reporting.
But Brittnie Carrier, a UConn junior in the campus IX Coalition, is unhappy that Herbst's Task Force on Civility and Campus Culture now appears to be taking up the issue of sexual misconduct at UConn in the context of "civility," as if on par with people loitering on sidewalks.
"The way we're talking about sexual violence, it seems like it shouldn't be talked about in terms of civility," Carrier said. "Why would you want to be civil with a rapist? They are attacking your body!"
Carrier also was displeased that the issue of sexual violence was not mentioned in campus-wide invitations sent this month to a so-called Open Forum intended to "Promot[e] Positive Change in Campus," at which students could question the task force.
"While the Title IX complaint and sexual assaults on campus are certainly on everyone's minds, they are not the totality of what the task force is charged with," said Nancy Naples, a member of the task force and the director of Women's, Gender & Sexuality Studies at UConn. The forum did end up focusing largely on sexual violence, nonetheless, Naples said.
Naples said there has been significant movement to address students' concerns around sexual misconduct in the past year, but more needs to be done.
"As an individual faculty member, I can say that I do think there have been many missteps regarding the handling of sexual harassment and sexual violence on campus," Naples said, "both in terms of coordination of responses and insensitivity of first responders."
Naples said the WGSS faculty's efforts to address on sexual violence pre-date the complaint and lawsuit, and vowed they will continue after the legal grievances are resolved.
"I still feel like they don't want to say it's a problem here, and they don't want to talk about it," Carrier said. She conceded the university is taking steps to address students' concerns, but in her opinion, "not things that are actually helpful."
Related
Before You Go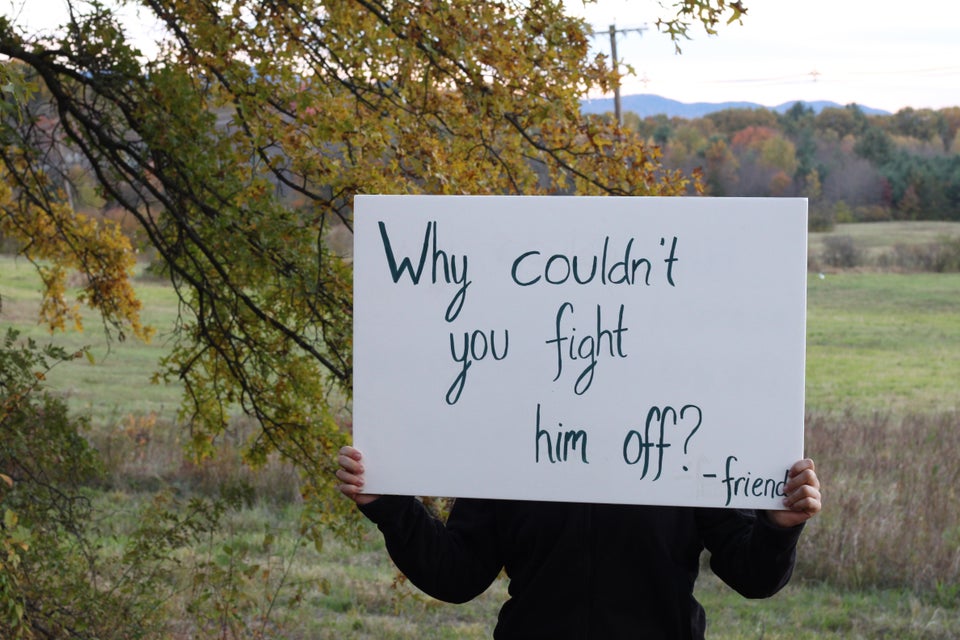 It Happens Here: Photos Of Men And Women Who Were Sexually Assaulted At Amherst College
Popular in the Community