 Students and lawmakers are not happy with how administrators at the University of Connecticut have responded after seven current and former students revealed a week ago that they filed two federal complaints against the school, alleging failures in the handling of sexual violence on campus.
To voice their concern with UConn President Susan Herbst's response last week, a group of students tagged the campus Sunday with chalkings of sexual assault statistics and phrases like, "We are your students. Please listen to us. We are huskies too."
Brittnie Carrier, a UConn junior involved in the chalking, said she was surprised by Herbst's strong defense of the university's handling of sexual misconduct at a trustees meeting Wednesday. Herbst denied the university has a problem in this area, complimenting the campus police and saying any suggestion they do not care for victims is "astonishingly misguided." Her remarks came two days after a group of UConn students announced Wednesday that they had filed both a Title IX and Clery complaint against the university that alleged the school has failed to address sexual assaults and harassment and has denied institutional support for victims on campus.
"UConn implied that there are ulterior motives behind the Title IX complaint, doubting the experiences and realities of the survivors both on the complaint and just on our campus," Carrier said. "I'm tired of Herbst hiding behind her gender. I'm not denying her experiences, but being a woman doesn't automatically make you an ally to us. It doesn't mean you have an in-depth knowledge of the toxicity of this culture. It just makes your denial hurt more."
The chalkings were washed off campus Monday morning.
The flagship university will have to answer to state lawmakers before federal officials even decide whether or not to open an investigation in response to the complaints.
State Senate Minority Leader John McKinney (R-Fairfield) joined with other legislative leaders and Gov. Dannel Malloy (D) last week in calling for hearings to examine the university's sexual misconduct policies. Although McKinney said he likes Herbst as a president, he found her response to the complaints "too defensive and too dismissive."
"I was disappointed in her statements," McKinney told The Huffington Post. "I don't believe this situation is one where you act defensively to protect the brand of UConn. These are extraordinarily troubling allegations."
In light of the complaint and recent uproar around the path known as the "rape trail," there needs to be a better dialog between students and officials at UConn, added McKinney, who is also an early candidate for governor.
Adam Joseph, director of communications for Connecticut Senate Democrats, told HuffPost they expect to set a timeline for hearings early this week.
UConn spokeswoman Stephanie Reitz said the university "would welcome the opportunity to participate in a public hearing on these issues," and to discuss their policies and processes that relate to sexual assault prevention and victims' resources.
Attorney Gloria Allred, who is providing legal representation for the female complainants, said she would encourage the women to participate in the hearings.
Allred objected to Herbst's "self-serving comments" and defense of the university's police department, which is at the center of much of the federal complaint against UConn.
"The problem is that President Herbst does not want to acknowledge that there is a problem," Allred said. "She wants to make believe that all of these women that have filed complaints against UConn are malcontents that simply have it wrong."
One allegation in the complaint that received significant attention was UConn graduate Kylie Angell, a sexual assault survivor, claiming a university police officer told her "women need to stop spreading their legs like peanut butter or rape is going to keep on happening 'til the cows come home."
UConn Police Chief Barbara O'Connor said the officer did not remember uttering that remark, and that if an officer acts inappropriately, a student should file a complaint with the department as soon as possible, which did not happen in Angell's case.
"The police department never received a complaint about the comment, to my knowledge," O'Connor told HuffPost. "That said, when I heard the rumor last semester that this was allegedly said, we reviewed the matter with the officer in question. The officer indicated that she remembered the investigation but she said she did not recall making such a comment to a student."
Unlike many other schools facing similar complaints, UConn is not currently planning a new internal review of their sexual violence polices. Instead, the university is reminding the community they already had a Task Force on Civility and Campus Culture to review how to make the campus more civil regarding a broad swath of issues, including sexual violence.
When Emerson College in Boston was hit with a similar federal complaint earlier this month, the president vowed in a campus-wide letter that they "will do better." The chancellor at the University of North Carolina-Chapel Hill told students, "We have a problem on our campus and we need to talk about it."
Herbst denied the university had failed, questioned the motives of the complainants, sent an email to students insisting the university has well-trained staff and invited the campus to submit feedback.
"The administration responded violently and denied doing anything wrong," Carrier said. "The way other schools responded to their own complaints was much more civil, stated how they thought there wasn't a problem, but said they would investigate anyway if students believe their policies and culture needs to be reexamined."
Nicole Simonsen, a women's studies major at UConn, said regardless of Herbst's intentions, her response so far is "absent of sensitivity and adequate outrage" about the issue at hand.
"Although UConn might not want a reputation as an unsafe school," Simonsen said. "I think it would be worse to have a reputation as a university that doesn't care for the well being of its students, especially those who are survivors of sexual assault."
Photos of the chalking on campus by students concerned about sexual violence at UConn: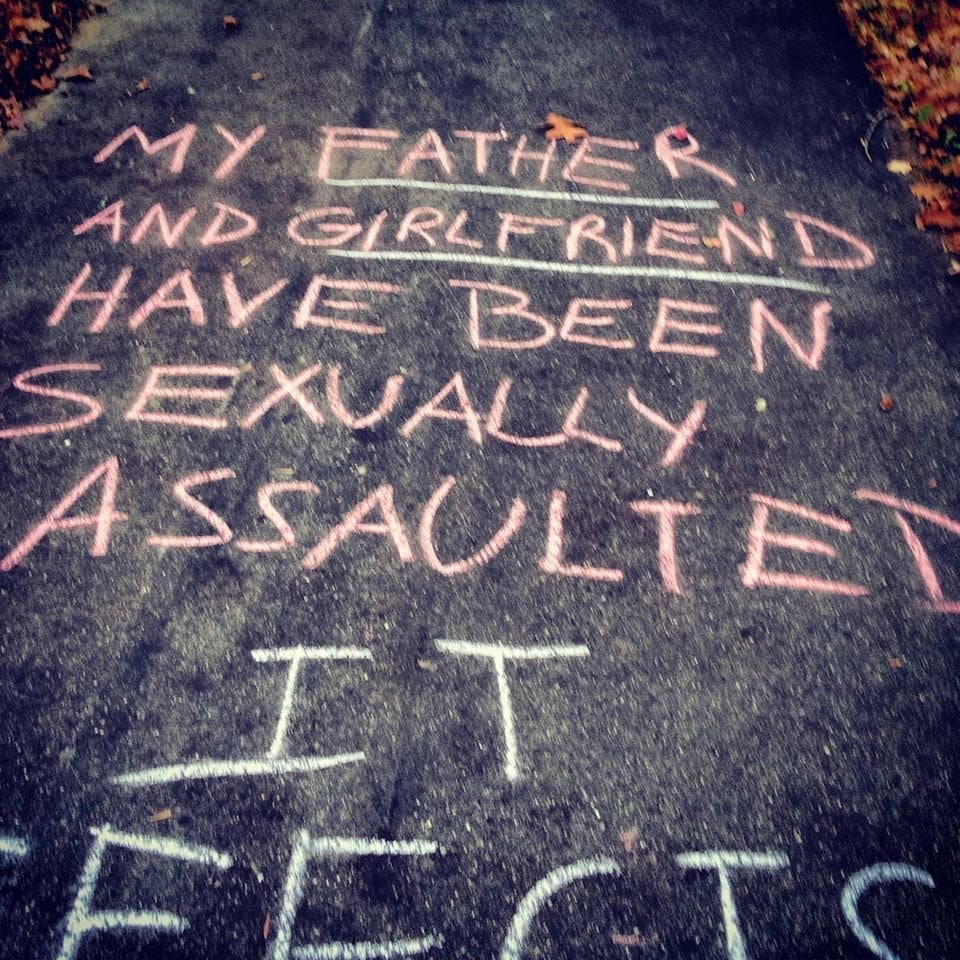 UConn Campus Chalking
Related
Popular in the Community