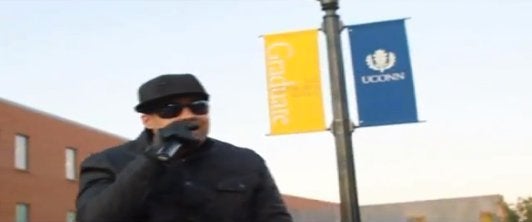 WASHINGTON -- When the University of Connecticut's undergraduate student government invited rapper Jasiri X to perform Monday, there was one condition: He was forbidden to perform his most popular song, "Occupy (We the 99)." Jasiri X defied the student group, first in a speech captured on YouTube and then by performing his Occupy Wall Street-themed song.
"So a gangster said to me, 'You could come to UConn, man, and we'll give you a little bit of money, but it's under the [deal] that you don't do 'Occupy (We the 99),'" Jasiri X tells the audience in the video.
In the video, the Pittsburgh-based rapper describes a contract between himself and the UConn student government prohibiting the musician from performing the song, to which he responds, "You know what, gangster? F*** you."
UConn spokesman Michael Kirk told HuffPost that students organized the event and that the school had no part in drafting such a contract, adding, "Generally ... we don't tell the performers what they can or cannot say. It just isn't our practice."
Members of the student government did not immediately return phone calls for comment.
Jasiri X performed "Occupy (We the 99)" to a cheering audience following the conclusion of his speech: "So if I don't get my check Monday -- keep your check! You don't have enough money to tell me when I get behind a microphone what I can and cannot say."
UPDATE: Wednesday, Oct. 9, 4:20 p.m. -- The UConn student government president, Sam Tracy, sent HuffPost an email explaining the group's reasoning.
"There was fear among members of [the student government] that it would be an inappropriate use of student fees to bring someone in to talk about a certain political view, no matter what that view was," Tracy wrote. "In all honesty, we are students who are not very familiar with state law, and it seems like we wrongly assumed that we were not allowed to sponsor an event that included the promotion of a political view."
He said the student government was attempting to have the Jasiri X event focus on issues in a less political way. "To be honest, from his perspective it must have seemed like blatant censorship of a certain viewpoint, but the only thing that was trying to be done was to have a stand-alone event that was supposed to be about racism and social justice," Tracy wrote.
Tracy added that Jasiri X would be fully compensated for his performance, regardless of the rapper's decision to ignore the student group's wishes.

Popular in the Community