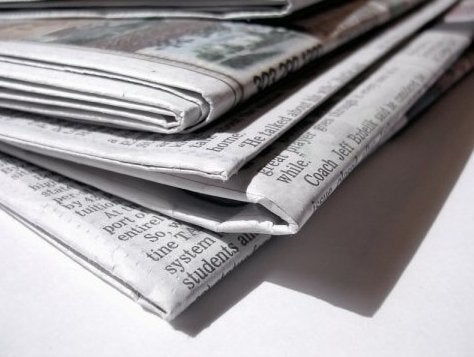 When I wake up in the morning, I'm an editor-in-chief first and a student second.
I field calls from the publisher and the circulation manager before I get out of bed. I write agendas and editorials before I write my papers. I sit by the door in my classes so I can take calls easily or I miss class altogether for meetings with presidents and department head and advisers. It's all part of the job.
I don't do it for my portfolio, as my grand total of two clips from the last year will attest, and I don't do it for the perks (although I will definitely miss having an office). I'm not even sure I have to mention that I don't do it for the money, but I most certainly do not.
Sometimes I do it for the staff. The student journalists I work with are some the most intelligent, dedicated and talented people I know. They work tirelessly, and they produce incredible work. They earn impressive and well-deserved internships and jobs all on their own, but I feel a sense of pride all the same.
Sometimes I do it for the camaraderie. As student journalists, we share most of our classes, and we field the same ridiculous questions about pursuing a dying field. By spending upwards of 20 hours a week together, we've achieved a level of closeness that makes both secrets and solitude a rarity. If we ever need it, we've got a support system waiting in a dimly lit newsroom that's become a second home.
Mostly, I do what I do because the work is important.
A recent survey by UConn's Department of Student Activities showed that 100 percent of the thousands of students surveyed knew there was an independent student-run newspaper on campus, and 99.2 percent correctly identified that paper as The Daily Campus. More than 75 percent of students reported reading the paper at least once a week.
When I see students reading The DC around campus, I can't help but smile. Their readership makes all of the work worthwhile. There's a sense of pride, a sense of ownership and a feeling that what we do matters. It's not the paper; it's our paper.
But that student survey also showed that students overwhelmingly prefer the print edition of the paper. Less than 10 percent reported preferring the online edition. In the digital age, on a campus full of members of the tech generation, our readers prefer to read The Daily Campus in print.
It's because of all of this that, when I think about the fact that our paper could cease to be in a few years, I'm heartbroken.
The Daily Campus runs on a combination of student fees and advertising revenue. While our fees have remained constant since 1999, the failing economy led to a sharp decline in ad revenue that, with inflation, has left us in dire straits.
As a result, we opted to cut those things that wouldn't impact our final product first. We've cut more than $100,000 in expenditures since 2005 by cutting wages, travel, equipment purchases, professional development and more. We no longer pay to submit our pieces for awards, we don't attend conferences and we're working on a playlist to replace the DJ for the year-end banquet. We do it because it's not about us. It's about our paper.
We thought others might feel strongly about our paper too, so we created a donations page on our website. When the numbers weren't changing the way we needed them to, we finally turned to the students.

From Monday March 5 through Wednesday, March 7, UConn students have the opportunity to vote in an online referendum for a $3 per semester fee increase that could save The Daily Campus. Without that increase or some other financial intervention, our beloved DC will be completely in the red by fall 2014.
All we can do now is wait. We just have to hope that the 100 percent of students who know about us are half as proud as we are; that the 99.2 percent who know us as The Daily Campus don't want to see us become The Weekly Campus; that the 75 percent who read us as least once a week would like to continue doing so.
Most of the current staff will graduate before the paper goes under. We'll take our clips and our experience to graduate schools and publications across the country. But for most of us, our time at The Daily Campus wasn't just a means to that end. Our pride won't fade after we graduate. It will always be our paper, it will always be important and we refuse to let it die.
Popular in the Community