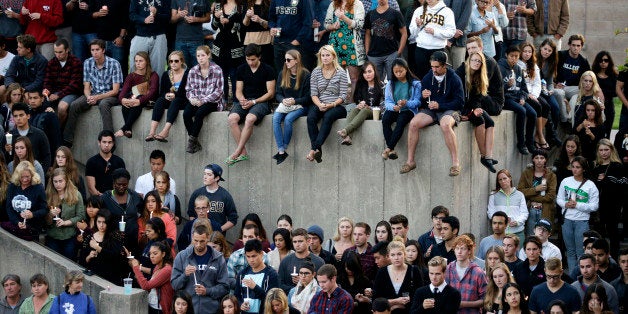 The Education Department announced Tuesday it will give the University of California, Santa Barbara a grant of nearly $570,000 to assist with mental health services stemming from the shooting rampage last year.
"The award comes at a critical time as we are about to expand our campus-based services into the community of Isla Vista, where many of our students live," Debbie Fleming, senior associate dean of student life, told The Huffington Post in an email. "These Department of Education funds will allow us to hire additional psychologists, expand the number of social workers serving students, and bring on an additional staff member to assist with our Student Mental Health Coordination services."
Elliot Rodger, a 22-year-old who attended a nearby college, went on a shooting rampage in May 2014 in Isla Vista, California, near the UCSB campus. He killed six and injured several more before committing suicide. Rodger targeted UCSB students, specifically members of the Alpha Phi sorority. Each victim was between the age of 19 and 22.
The Project SERV program awards money to schools after an event that seriously disrupts the learning environment. The size of each SERV award is determined by the incident that disrupts the community, and by a school's proposal for services and activities that will restore the learning environment.
Although the Project SERV grants started in 2001, the Education Department didn't award them to higher ed institutions until 2008, so they weren't available for high-profile tragedies like the Virginia Tech massacre on April 16, 2007.
The Education Department did give Virginia Tech a $960,685 grant in September 2007 to help the school improve mental health services and efforts to identify troubled students and staff, The Washington Post reported at the time.
"I am always saddened by any tragic event, but especially incidents that involve young people whose entire futures lie ahead of them," Education Secretary Arne Duncan said in a statement Tuesday. "We want to provide as much support as we can to the students, faculty and community who have been impacted. This grant will help provide the necessary support needed to assist the university and community as they continue to move beyond the tragedies they've experienced."
REAL LIFE. REAL NEWS. REAL VOICES.
Help us tell more of the stories that matter from voices that too often remain unheard.
BEFORE YOU GO
PHOTO GALLERY
UC Santa Barbara Tragedy