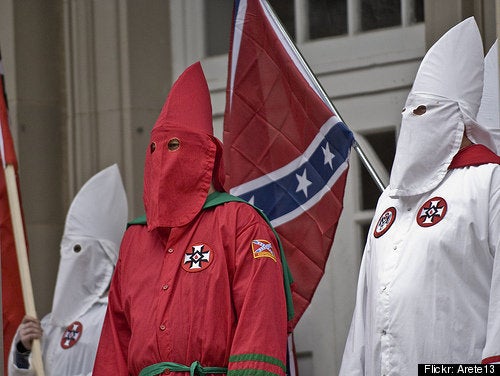 University of California San Diego police have confirmed that a white pillowcase fashioned as a Ku Klux Klan hood was found affixed to a statue in front of the Geisel Library on campus yesterday.
The Statement from the UCSD police:
UC San Diego police are investigating the discovery about 11 p.m. Monday of what appeared to be a white pillowcase that had been crudely reconstituted into a KKK-style hood with a hand-drawn symbol. It was placed on a statue outside the main campus library, and a rose was inserted into the statue's fingers.

The items have been removed and the police are processing them for evidence, including fingerprint and DNA analysis. An aggressive police investigation is underway. We will pursue this with all of our authority and individuals who are responsible will be punished to the full extent of the Student Code of Conduct and all applicable laws.

"We will not allow this incident, or any incident, to deter the progress we are making to change and heal our university community," said UC San Diego Chancellor Marye Anne Fox. "We will not tolerate these despicable actions. We stand in firm solidarity with our students and are fully committed to instituting their recommendations. We know these changes will make this university a better place and will help us improve our campus climate."

If you have any information about this incident, please call the UC San Diego Police Department at (858) 534-4359 or email detective@ucsd.edu.

This latest event is part of a wave of race-related incidents on UCSD campus. In mid-February, a "Compton Cookout"-themed party brought condemnation from school administrators and civil rights leaders. Several days later, the school's student television channel saw its funding frozen after it aired a program mocking the party. On Feb. 26, a noose was found hanging from a light inside the Geisel Library. The woman who placed it there confessed and has been suspended.
Similar racially charged incidents have occurred on other UC campuses as well in the past week. At UC Davis, a swastika was carved into a dorm-room door and the campus LGBT center was vandalized with anti-gay graffiti. On Monday, officials at UC Santa Cruz discovered a noose drawn on the inside of a bathroom door, with the words "San Diego" and "lynch" surrounding it.
Popular in the Community