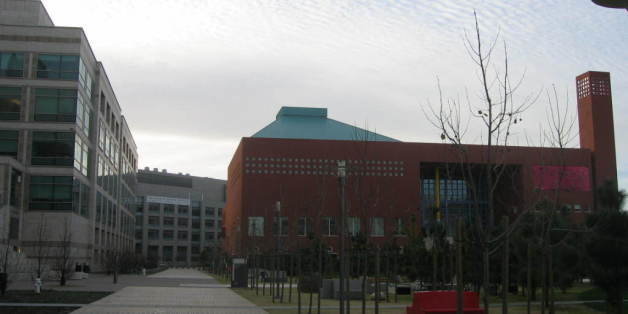 The University of California, San Francisco, asked an alleged sexual assault survivor to allow a dean access to her medical records, then dragged out the investigation for so long that the accused student was able to finish his classes before the school suspended him.
The alleged sexual assault victim, who asked to go by the pseudonym Vera, said it took her more than 70 days to get a no-contact order against the accused male student, and that the school's investigation, which was supposed to be completed in two months, instead lasted close to four. Once UCSF decided the accused had violated the university's policy on sexual assault, it took another two months to decide on a punishment, according to emails obtained by The Huffington Post.
"I asked, 'Why is it taking so long?' I bent over backwards. I was willing to take breaks in between my rotations," Vera said in an interview, referring to her work as a pharmacy student. "They literally didn't do anything to him. The most they've done in this entire process is issue this no-contact order."
The protracted nature of Vera's case has raised questions about whether the University of California system, which currently has four campuses under federal investigation, is actually making progress adjudicating sexual assault cases. A June 2014 report by a state auditor concluded that two other UC campuses, Berkeley and Los Angeles, "did not consistently complete investigations in a timely manner." In response, University of California President Janet Napolitano promised to review policy and implement changes on all campuses in the system.
Experts also say that UCSF's upfront request for blanket access to the therapy records of an alleged sexual assault victim raises serious red flags.
In late October, Vera reported to the university and local police that a fellow student had sexually assaulted her while she was incapacitated from drinking alcohol. The male student attempted to stay the night with her on Oct. 25 after they went out with friends. She said she only realized they'd had intercourse when she found a semen-filled condom in her trash, and when he told her the following day, "We kinda sorta had sex." Vera says she has memories of the male student making moves on her that night while she slept, even though she recalled telling him, "No," that she didn't want to have sex.
The same week Vera reported an assault, she began seeking counseling through the university's health and counseling services. A therapist asked her to allow a dean access to information about her mental health treatment. She revoked this access in December after consulting with SurvJustice, a nonprofit that advocates for sexual assault victims.
"I felt like it was a bit strange that they would ask such a request, but I thought they wanted the best for me," Vera said. "But I wondered, how is releasing all of my records relevant?"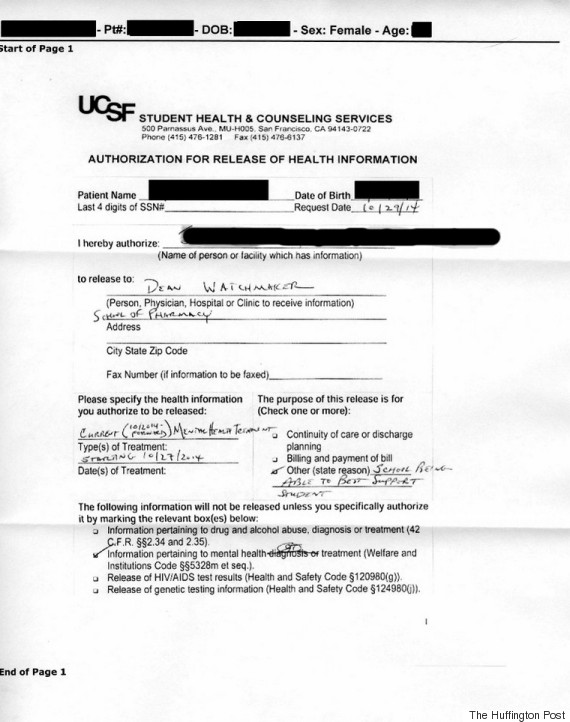 UCSF's attempt to gain access to Vera's therapy records comes after a controversy on a similar issue at the University of Oregon. In December, UO transferred a female student's medical files to the office of the school's general counsel, prior to her filing a lawsuit against the university over her alleged sexual assault by three men's basketball players. The controversy prompted state-level legislation, currently in committee in the Oregon Senate, intended to block what might be considered the unethical use of student therapy records.
Brian Mistler, associate dean of students and director of health services at the Ringling College of Art and Design, told HuffPost that even if a school has the legal right to review a student's therapy records, "allowing the release of this information will have a terribly chilling effect on use of counseling services."
Mistler, who also serves as the New College of Florida's Title IX coordinator, said that it's rare for a college to misuse medical records, and in many cases, information sharing can be greatly beneficial for the victim. However, he said, it can still have a "really dangerous effect."
"Students will use counseling because it's confidential," Mistler explained. "Once you take that away, students stop coming."
"We need to be sure, as therapists, that the student understands exactly what they're giving up [when they release their medical records]," said Maggie Gartner, executive director of student health services at Texas A&M University. In a situation where a waiver is requested up front, she said, it would be "questionable about whether it's totally voluntary."
UCSF declined to answer any questions, including those that were about school policies rather than any specific case.
"Because of applicable privacy laws, UCSF is extremely constrained in what we can comment on," said Jennifer O'Brien, UCSF's assistant vice chancellor for public affairs. "The safety and security of all members of the UCSF community is our primary concern."
The university waited close to two months after Vera reported an assault to interview the accused student, attributing the delay to the student's "prior educational and academic program-related commitments," like job interviews, and the availability of his attorney, according to a confidential report prepared by UCSF staff.
The accused student believed he had Vera's consent for intercourse, according to the same report, and he supposedly floated the possibility that Vera "sought to minimize her responsibility for having [casual sex]," or that she was attempting "to gain a competitive edge." Both Vera and the accused student are enrolled in the top-ranked pharmacy program in the country.
When asked to comment about the alleged "competitive edge" remarks, a lawyer for the accused student said that was "not [an] accurate" representation of what the student said.
"While my client and I do not wish to provide a comment, I can tell you that it is a misrepresentation," said Naomi Chung, the accused's attorney. Chung also said her client "cooperated with the university" in scheduling requirements.
The university concluded after the investigation that the accused student did not have Vera's consent to have sex, and that Vera "was incapacitated -- sleeping or unconscious -- at the time [the accused] penetrated her." The latter conclusion was based on Vera's testimony and on a review by three doctors who said she was likely intoxicated past the legal limit on the night in question, in a stage that is associated with fatigue.
In a Feb. 23 decision, UCSF said it found the accused student responsible for sexual assault, and asked to arrange an administrative meeting for mid-March, at which time the student would have to choose whether he would formally declare his guilt or innocence. UCSF let the student wait until he'd finished his classes at the end of March to respond to the charges. He ultimately pleaded no contest on April 15. A week later, the school decided to suspend the student for one year, starting on April 25.
Vera plans to appeal for a harsher sanction. She filed two federal complaints against UCSF, including a Title IX filing on April 1, before the school decided to suspend the student but after the investigation process had already stretched on twice as long as it was supposed to.
"Letting the accused individual drag out the clock for BS reasons and using the attorney really runs counter to the promptness to Title IX," said Brett Sokolow, president of the National Center for Higher Education Risk Management.
The value of the sanctions diminishes the closer the student gets to graduation, said Sokolow. He said it's possible the Department of Education will find UCSF to be in violation of Title IX, based on its failure to meet federal expectations of how quickly a school should handle a sexual assault case.

The Education Department has said sexual assault investigations should take approximately 60 calendar days, though that may be extended for complex cases. UC system policy also says these investigations should be done within two months, although it allows for timeline extensions and doesn't place limits on how long these extensions can be. Another UC campus, Santa Barbara, was criticized last year for letting a student accused of rape wait until after final exams to withdraw from the school as he faced a sanction for his offense.
"'My attorney can't come' is cause for one delay, one time, tops," Sokolow said. "Beyond that, you're playing the game."
Calling all HuffPost superfans!
Sign up for membership to become a founding member and help shape HuffPost's next chapter