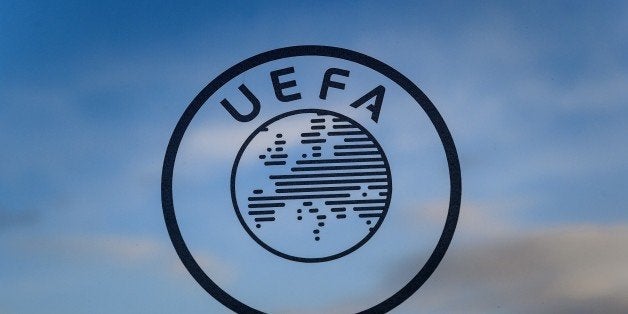 Following the ignominy that beset FIFA in the past week, and despite Sepp Blatter's unexpected but all-too-welcomed resignation, I still urge UEFA to go one step further and leave FIFA altogether! Secede from this organization that has proven to be beyond meaningful reforms.
UEFA's leadership is meeting this weekend in Berlin alongside one of the many jewels that this association's members have given the beautiful game. Possibly one billion people will watch the Champions League final between Barcelona and Juventus. Not only has this 10-months-lasting tournament become an integral part of global culture and the unchallenged epitome of football's quotidian world-wide presence; but its top teams and their players -- like the two protagonists in Berlin's Olympic Stadium -- have attained a familiarity and intimacy on a global scale that no other sports entities do. None of the other FIFA federations can claim anything remotely similar, not even the closest possible equivalent CONMEBOL, whose Copa Libertadores, UEFA's Champions League equivalent, remains mainly of local interest. Though clubs like Boca Juniors, Flamengo and Penarol play first-rate football and possess venerable pedigrees in history and identity, they simply cannot come close to the global reach (in terms of knowledge and emotional involvement) of their European equivalents like Barcelona, Real, Juventus, Manchester United, Bayern. On the country side of things, the last three World Cup winners hail from UEFA (Italy, Spain, Germany) and if one adds France and England to the mix, these five UEFA members exceed CONMEBOL's three of Brazil, Argentina and Uruguay in the annals of all-time world champions. I need not belabor the point any further that UEFA comprises football's core. With that position comes power which I would like UEFA to use to rid the beautiful game of FIFA's transgressions which have not only become shameful in a moral sense but have reached burdens that even such a beloved entity as is football (a nearly perfect inelastic good as economists would call it) might not overcome without serious damage which will go beyond the possible loss of sponsorships by the likes of Visa, Coca Cola and Adidas.
On the level of one-person-one-vote, FIFA is a real democracy in that the Cayman Islands have exactly the same weight as Germany. Were this to represent the basis of the real workings of the organization, all would be fine. But as has been evident for years this ostensibly democratic structure has been undermined by an all-powerful and unaccountable oligarchy which has flourished precisely by abusing the formal equality between Germany and the Cayman Islands via enhancing the power of the latter by employing extra-parliamentary means featuring all imaginable methods of corruption. My urging UEFA to secede from FIFA entails, of course, a fundamentally undemocratic step since this would entail UEFA's deploying its unparalleled economic, social and cultural power as its ultimate trump card for its own purposes thereby undermining a larger, more inclusive, collective thus marginalizing the weak. But with FIFA's remaining beyond reforms there are simply no other remaining options to sanitize global football's governance.
Of course, FIFA will continue to retain its monopolistic jurisdiction over the entity "Association Football". That means that were UEFA to secede, FIFA will label UEFA and its members outlaws who engage in a game that FIFA will no longer recognize officially as football. Precisely such a step of jurisdictional exclusion -- of excommunication -- led to football's demise in the United States in the 1920s, a very promising era for the game, when internecine contests in the then flourishing American Soccer League led to FIFA's declaring the ASL an outlaw thereby stripping its legitimacy as a purveyor of Association Football thus in essence eliminating the game's most visible representative in American society.
There have been a few similar cases in global football's history. But all happened in the game's peripheries and semi-peripheries like the United States was in the 1920s; none in its core. UEFA's power is strong enough to withstand any such acts of excommunication on FIFA's part precisely because on the pitch Germany and the Cayman Islands are not equivalent players. And neither are Bayern and George Town SC. At the end of the day, UEFA will win this battle in the market place because billions will want to watch UEFA's clubs and national teams, not FIFA's which means that the sponsors will flock to the former and not the latter. Above all, UEFA will prevail because its cause is just.
Calling all HuffPost superfans!
Sign up for membership to become a founding member and help shape HuffPost's next chapter