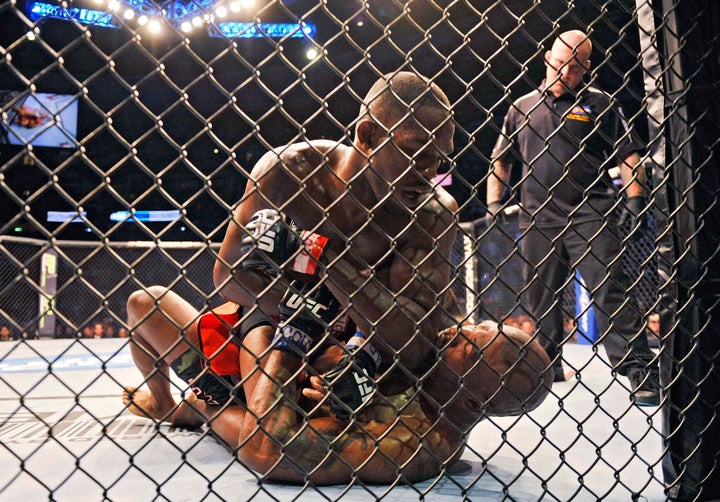 For better or worse, the heavyweights are making themselves heard again. Big, clumpy, unsightly footsteps left in the ground of combat sports, the type that stick and cast shadows over those with less power and size. And, it's true, heavyweights make the world go round. When the division is rich and ready to rumble, we smile, clouds disappear and those competing at lighter weights benefit from renewed positivity. However, when these lummoxes flop and falter, everybody bears the brunt.
Thankfully, 2012 is shaping up to be an interesting, if not glorious, year for the heavyweight division. Champions remain the same -- Junior Dos Santos holds the UFC title, and the fighting Klitschko brothers continue to dominate boxing's bleak landscape -- yet fresh heavyweight stories are abound and, rightly or wrongly, the division is once again shaking up the sporting world. Controversy is the cause, not for the first time, and, while it's tough to speak enthusiastically about matters of distaste, such qualms are soothed by a greater need to see heavyweights in action.
Of course, when the going's good, there can be no greater sight than seeing two behemoths tease concussive knockouts with the swing of a fist. While other divisions may boast faster and busier action, nobody does split-second peril and gnarly scenes like the heavyweight division. Upright to spreadeagled in the blink of an eye, heavyweights are in equal measure trained killers and dopey fall-guys, two extremes separated by a fine line and single blow to the head or body.
Roll up, roll up, if it's heavyweight action you're after, UFC 146 on May 26 could be right up your alley. The event boasts no fewer than five heavyweight clashes on its main card and vicious knockouts are a prerequisite. The UFC world heavyweight title will be contested by a combined 500-pounds of heavyweight in Junior Dos Santos and Frank Mir, while former champion Cain Velásquez battles Brazilian Antonio Silva, a square-jawed oaf going by the name 'Bigfoot.'
Another interesting match-up is the little and large pairing of Mark Hunt and Stefan Struve. The Samoan Hunt is five feet and ten inches on his tippy toes, yet more than prepared to stare up at the 6'11" Struve come May 26. It doesn't seem right or fair, but these are the heavyweights -- anything goes.
Well, to a point. After all, were that truly the case, leading heavyweight contender Alistair Overeem would remain on the card in his position as number one challenger to Dos Santos' throne. As it turned out, the Dutchman with muscles in all the right and wrong places, was found to have an abnormally high level of testosterone-to-epitestosterone ratio at 14-to-1 (the legally allowed limit by NSAC is 6-to-1) and was duly kicked off the card to be replaced by Mir, less muscles and might, but more in the way of grappling knowledge and savvy.
Overeem's withdrawal was unquestionably a disappointment for fans thrilled by the prospect of seeing him square off against Dos Santos. The pair are two of the very best strikers in all of mixed martial arts and, given their heavyweight size, perhaps the most destructive. A scrap between them would have been a sadist's wet dream, safe in the knowledge one of the two would likely be rendered unconscious at some stage or, at the very least, be left asking for directions to Queer Street. Heavyweight theatre at it's most brutal and unpredictable, two men tottering on a tight rope, well aware their jaws, no matter how strong, would struggle standing up to the force of incoming punches.
Stand-in Mir may not possess the body from a brochure, but he's bigger than he once was and, pivotally, better than ever. Moreover, he has options in a fight with Dos Santos, something Overeem, for all his power and presence, seemed to be without. If Overeem couldn't drop, hurt or stop Dos Santos with his striking, one assumed he'd be on the wrong end of a merciless beat-down. Striking is the Dutchman's go-to calling card and, while he also has many submission wins on his record, he's not the type to voluntarily choose to head north when the time comes to strike. More often than not Overeem gets his way -- after all, he's an expert, a former K-1 champion -- but this dominance would have no doubt been challenged by Dos Santos on May 26. And, though he throws less in the way of kicks, the Brazilian's boxing skills are as good as it gets in mixed martial arts and would have provided Overeem with the kind of headache he could do without.
The 32-year-old Mir, on the other hand, is adaptable, can go places Overeem couldn't, and won't have to grin and bear it if the stand-up battle becomes too much. He is a submission wizard, somebody with unparalleled grappling nous, a man who wouldn't think twice about dragging Dos Santos to the floor and sizing up his options down there. Remember, we know Dos Santos can beat the breaks off similarly sized mortals with hands and feet, but what happens when the champion is dragged from his comfort zone and robbed of the power in his fists? Thanks to Overeem's penchant for testosterone, on May 26 we will quite possibly find out.
Controversy and ill-feeling also conspired to this week rubber-stamp the heavyweight boxing showdown between British brawlers David Haye and Dereck Chisora, scheduled for July 14 in East London. Because, were it not for February's now infamous fifteen-seconds-of-mayhem-in-Munich, these unlikely opponents would never have contemplated spending eight weeks preparing to fight one another in the ring, gloves and all. The fight itself means very little. There are no titles on the line, no eliminator status attached to it, and Haye's legacy, in particular, will be in no way enhanced by the scalp of Chisora. He has beaten better men before, as both a heavyweight and cruiserweight, and will presumably receive little satisfaction from extending the losing streak of a man who has lost three of his last four bouts. When asked about the fight earlier this year, he simply laughed it off.
Nevertheless, this is heavyweight boxing circa 2012 and, as the saying goes, beggars cant be choosers. And, let's be frank, we're all beggars right now -- fans, critics and especially heavyweights, who haven't seen a star of the wattage of a Tyson, much less Ali, in decades. While the Klitschko brothers are busy lassoing the division in typically efficient, yet unexciting fashion, the rest are scrapping around to find ways to remain in the picture. Thus, if relevance is the name of the game, this fight between Haye and Chisora is about as relevant as it gets. Of course, some might argue it's all a little too relevant, but, whatever moral hurdles it's overcome -- and despite the outcry, morality and boxing were never bed partners in the first place -- millions of eyes will be drawn to the spectacle through a perverse wish to watch one heavyweight render his foe unconscious. At base level, that is the appeal of not only this fight on July 14, but fights across the world, from flyweight to heavyweight, each and every weekend. As UFC's head honcho Dana White once said, 'It's in our DNA, man.'
Granted, this innate need to watch two men disfigure one another can be a difficult thing to admit and embrace, but it's there, buried deeper in some than others, and anybody who pays to watch, or is paid to watch fight sports will, on some level, be able to relate. Haye versus Chisora is a fight built on this dirty desire for violence, as well as many millions of pounds. It is a fight between two fighters who genuinely hate one another -- ordinarily the required recipe for many a great boxing showdown -- and, under normal circumstances, we'd count ourselves lucky to have such a dynamic. This is as violent as heavyweight boxing has been for years and, irrespective of how we got to this point -- neither pleasant or recommended -- a need to see two heavyweights, with hate as common ground, trade punches far outweighs any concern one might have for the oh-so-bright future of a sport frequently bringing itself into disrepute through mismatches, stinking scorecards, proliferation of titles and inherent greed.
The sport, and its heavyweight division in particular, has succumbed to a blackout of late and, if nothing else, Haye versus Chisora at least shines a skewed light on what has for so long been dark and forgotten. Seventeen thousand tickets were reportedly sold for the event on Tuesday. Forty thousand will be gone by July 14. And, lest we forget, over ten million people watched Haye and Chisora's first fight, however ugly or short. Therefore, in an era when many believe Mike Tyson and Lennox Lewis still rule the division, this marks some kind of momentary breakthrough and acts as further evidence that, when all is said and done, fight fans simply want to see fights, the bigger, the better.
UFC 146 is live on Pay-Per-View May 26; the Haye vs Chisora US TV partner is to be announced.
REAL LIFE. REAL NEWS. REAL VOICES.
Help us tell more of the stories that matter from voices that too often remain unheard.