*Scroll down for photos and video*
For me, Uffie defines effortless. As she puts it, she can "live the hell out of every moment," and she's so laid-back that she thought nothing of sipping a Jamba juice during the entire shoot. Uffie is so comfortable in her skin that the drink became as important and alluring an accessory as her beloved Fendi heels or Chanel mesh head piece. She can pull a Gucci Collection dress of feathers and sequins out of a suitcase and look like a goddess, bare-legged and barefoot. Living out of a suitcase is her modus operandi, as she is usually on tour. This makes her lamé hooded jumpsuit perfect for either getting rolled in a ball or performing live. Keep reading below.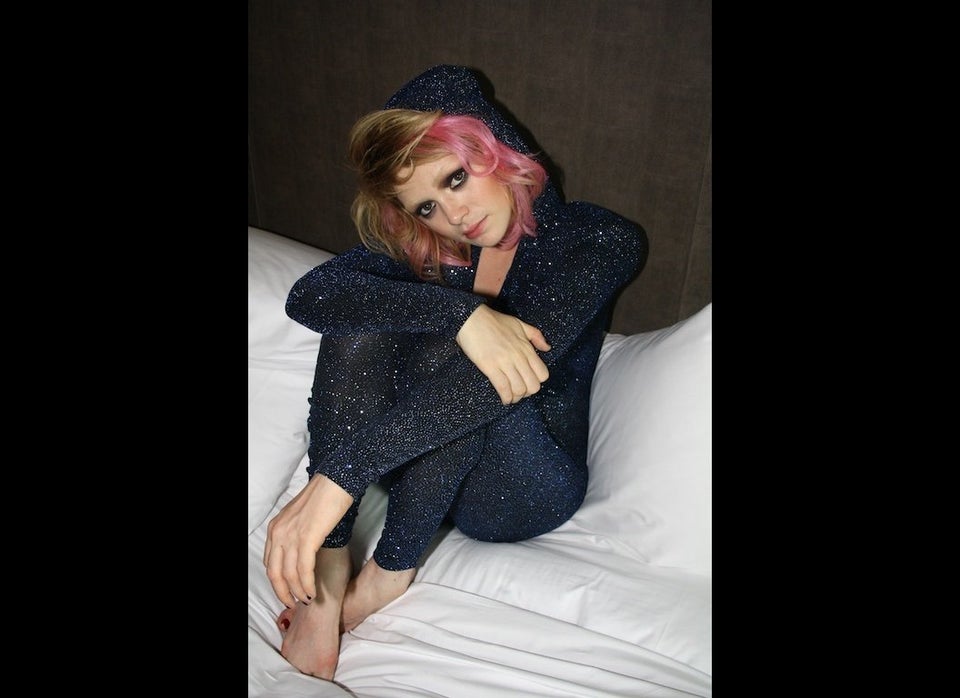 Uffie says that one of her most exhilarating experiences on the road was New Year's Eve, when she played three festivals, without sleep, throughout Australia: Perth, Melbourne and Sydney. She loves the feeling of being "lost in translation" in Japan as much as being grounded and taking care of her baby daughter, Henrietta, who she refers to as Henry. Whether skydiving, vintage shopping or making music, Uffie lives for letting moments turn into adventures. Having spent part of her childhood living on a boat that sailed around the world until it crashed in a typhoon, it is easy to see where her carefree spirit began.
Uffie was fully present and in the moment with us, refreshingly without a team primping or prepping her. She feels that being on stage is a matter of sinking or swimming and that the adrenaline rush makes you go for it, but with us she was fully at ease lying on a bed in red cutoffs and an off-the-shoulder sweatshirt. Every bit the super star, she spoke of how on any given day she could be as happy looking homeless as she is wearing pretty things.
"I live in a constant state of evolution, always changing my mind. I truly believe that you should live the hell out of every moment and push it to its max. The one thing I need to survive is craziness." -Uffie