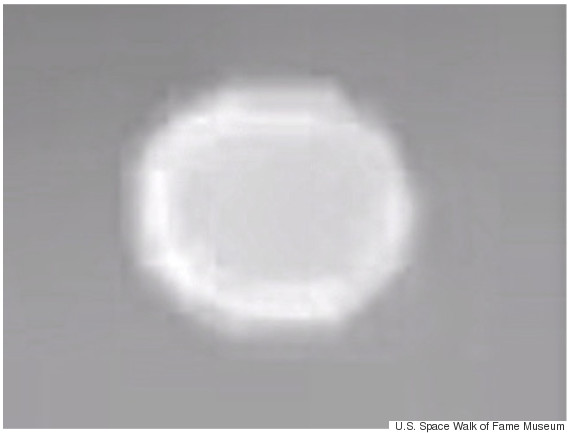 Surveillance cameras at Florida's Space Walk of Fame Museum turned up something that's causing a bit of a stir -- an unidentified flying "orb."
The object in the picture above resembles a typical circular unidentified flying object as reported by so many people around the world. But don't let your eyes fool you.
"We can't explain it. Nor can the fellow who put in the [survellance] system for us," Charlie Mars, president of the museum, told CBS Orlando affiliate WKMG-TV.
Mars said that the lights and air conditioning system were turned off when the video was recorded, which leads him to conclude the lit orb isn't a glare or dust ball.
"There are many items in here that were brought in by people who are no longer with us. They could be coming back to check on it! We have had a number of things like that that have occurred over the past 10 or 12 years that we don't have an explanation for."
So, what are we really looking at here? UFO? Dust particle? Ghost?
Watch the strange orb here
As the short video unfolds above, an object quickly enters the museum display room, moves toward the center of the screen, and makes an abrupt turn, heading back in the direction from which it came. It then appears again from the bottom right of the picture, and begins to arc toward the left before simply vanishing.
"It's probably dust that got caught in an updraft. I know they said they didn't have the air conditioner on, but it doesn't take much of an air current to move a speck of dust," said Ben Hansen, an ex-FBI special agent and former lead investigator of the Syfy Channel series, "Fact or Faked: Paranormal Files."
"When it's close to the camera and you're filming with illuminated light -- in this case, an infrared LED I'm guessing is near the lens -- it's the perfect condition for catching dust orbs," Hansen told HuffPost in an email from Australia, where he gave presentations at Paracon, a paranormal conference in that country.
"There are many things that can cause an air current in a sizable building. Differing air pressures are the reason architects place air return vents between rooms. Even if heating or air conditioning are turned off, slight breezes can always flow between rooms or from ceiling spaces above," Hansen said.
Hansen also offers an explanation for why the aerial orb seems to vanish.
"The orb appears to have a cyclical motion, which is common for an updraft and downdraft of air that forms like a small eddy would in water. As it seems to dissolve, it's because it's now too distant from the lens to reflect enough light to register on the camera's sensor."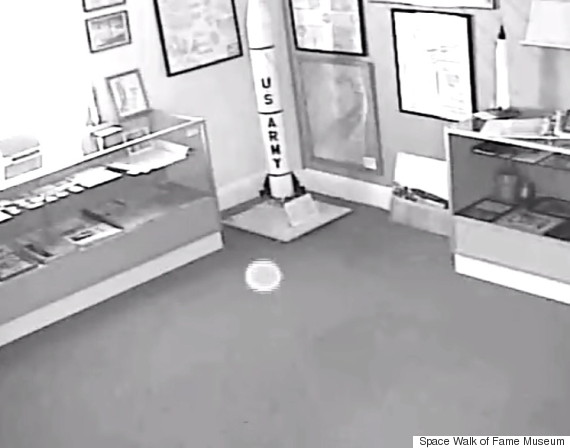 The Titusville, Florida, museum offers public displays and memorabilia related to America's space program, covering the flights of Mercury, Gemini, Apollo and Space Shuttle missions. On May 12 and again on May 15, the surveillance video system captured the orb-shaped objects moving around inside the museum.
While the dust particle explanation sounds quite logical, Mars still likes the idea of the original mystery of it all.
"We love having something come in that is unexplainable, and it gives us the chance to interchange with each other and talk about what it could possibly be."
Before You Go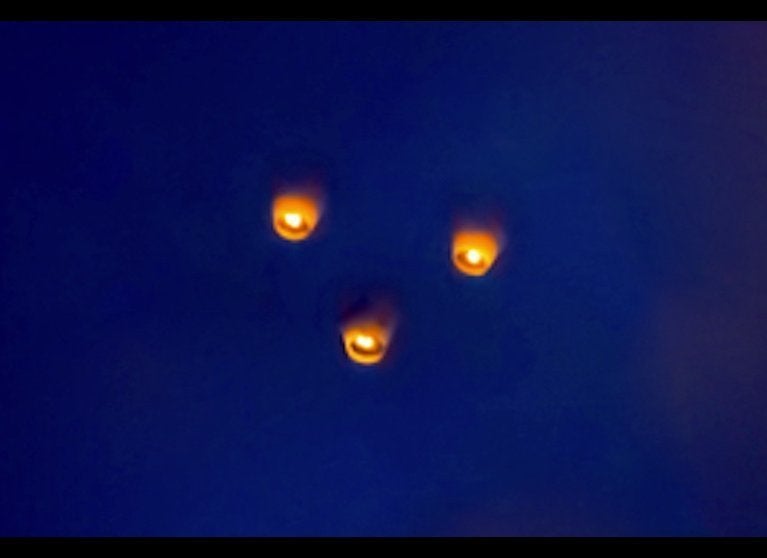 UFOs? Maybe They're Just...
Popular in the Community