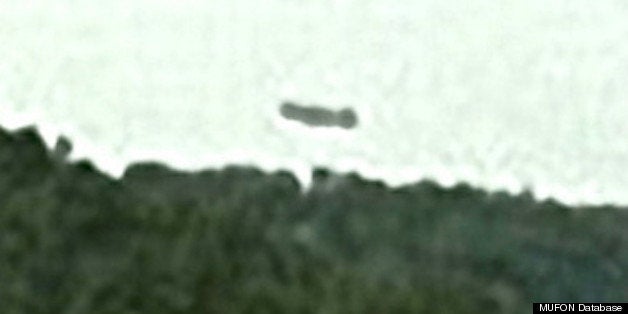 UFOs photographed in the U.K. and U.S. days apart have yet to be identified, which isn't to say that they might be from another planet. We just don't know yet.
The most recent case happened this week in Somerset County, Pa. The identity of the man hasn't been released while the case is under investigation by the Mutual UFO Network (MUFON). He saw the object on Monday and in his short written report to MUFON the next day, he wrote:
Driving tractor and trailer south in PA. Looked up and saw object hovering over mountain top. About that time, other truckers were heard on CB chatting about seeing the same thing. The object was quite a distance away but was still very visible. So actual size was very big. Not sure exact location, however it was close to the Allegheny Tunnel.
The image below shows a long shot taken from inside the witness' truck: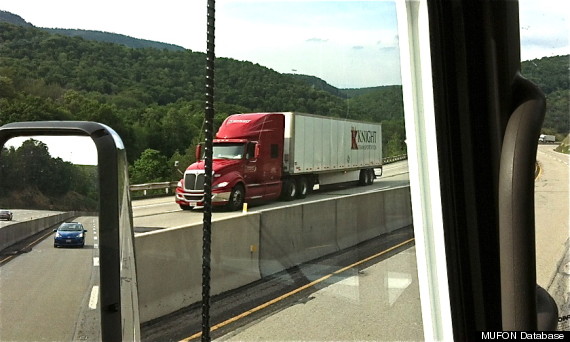 The following image is a close-up of the object hovering above the treeline: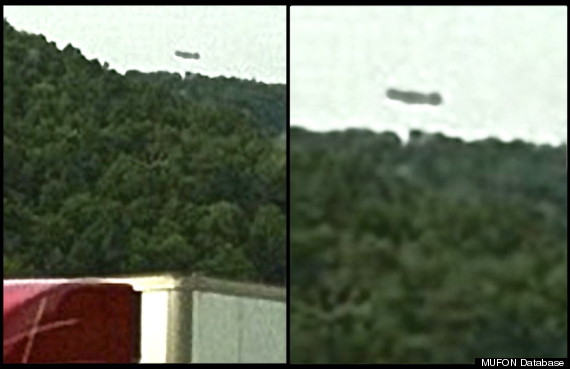 "It was a cigar-shaped object. But you have to be careful about the cigar shape -- there could be wings on an object that you just can't see because of the angle, but it's a still frame, so we're taking the witness' word that this thing was hovering," said Roger Marsh, editor of the monthly MUFON Journal and also the national UFO examiner at Examiner.com.
Marsh lives near the part of southwestern Pennsylvania where the aerial object was photographed.
"The first thing I would do is look for probably dirigibles in the area, and we do get them flying through this region. Something at that distance -- even a 747 -- can look like a cigar-shaped object, but obviously they're not going to be standing still in the sky," Marsh told The Huffington Post.
Three days prior to the photo taken of the object in Pennsylvania, across the Atlantic Ocean, two glowing white-colored discs were photographed from a pub in Bracknell, U.K. and remain unexplained.
According to The Reading Post, Steve Lambert snapped a picture of two very bright lights in the sky near the Running Horse Pub located west of London.
"They were there for less than five seconds, quicker than any normal aircraft," Lambert said. "I have seen a lot of funny things in the sky and I have always practiced trying to take a photo quickly on my mobile phone. I am interested to see if anyone knows what it is."
The two Bracknell UFOs are seen in this short video:
From an investigator's point of view, Marsh likes this U.K. UFO case.
"It's interesting for some of the same reasons as the Pennsylvania case. One, it's a daylight sighting, and two, these two objects are low to the ground. But they look like they're lit, even in daylight, which raises an eyebrow for me. And we only have the testimony from one person saying the objects were moving faster than any known aircraft.
"The witnesses don't always get it right."
Calling all HuffPost superfans!
Sign up for membership to become a founding member and help shape HuffPost's next chapter
BEFORE YOU GO
PHOTO GALLERY
UFOs? Maybe They're Just...