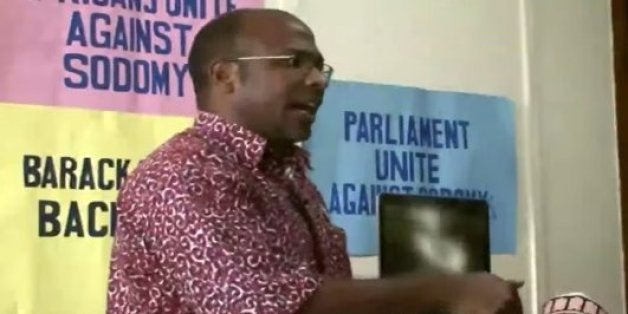 In an article for Uganda's First Class Magazine, writer Paul Kaliisa, of Mbarara University of Science and Technology, claims Ssempa spreads "gayism" through his lectures and gay porn screenings at churches. Under the African nation's Anti-Homosexuality Act, which was signed into law February 2014, Ssempa could potentially get jail time for allegedly encouraging homosexual behavior -- precisely what he claims to advocate against.
[Ssempa] has on a number of occasions showed gay porn to members of the congregation on a projector. He explains to the Church what the homosexuals do step by step baring all and hiding nothing. Pastor Ssempa has homosexual porn on his laptop and all his gadgets. He almost seems obsessed with it. ... Pastor Ssempa easily comes off as Uganda's number one and strongest fighter homosexuality but in truth, he is Uganda's number one promoter of the vice. He is promoting the things of these monsters and destroyers of man-kind [all sic].
Even prior to the passage of Uganda's Anti-Homosexuality Act, engaging in homosexual acts was a crime punishable by 14 years to life in prison, according to CNN. But under the new bill, supporters of gay rights, as well as those who encourage homosexual behavior, can be punished by years in jail.
Lesbian, gay, bisexual and transgender activist and blogger Melanie Nathan weighed in on the new allegations against Ssempa, saying this could be the one positive thing to come out of what she calls the "onerous Anti-Gay laws of Uganda."
"The less we hear about how Martin Ssempa perceives homosexuality with his phoney disgusting and graphic depictions, the better off all gays around the world will be," Nathan wrote on her blog on April 21. "And if Mr Pooppoo Ssempa ever utters a word about anal sex, sodomy, lesbianism or as they term is [sic] 'gayism' again, we have no doubt there will be a knock on his door from the M7 police patrol."
Ssempa made headlines in 2010 when footage surfaced of a hate-filled speech he gave at a Uganda church in which he showed graphic gay pornography to a crowd and described acts such as fisting and anal licking and claimed that gays "eat the poo-poo" during sex.
"Showing pornography in church in the presence of minors is twisted homophobic propaganda, where homosexuality is equated to pedophilia and pornography," Nthateng Mhlambiso, a representative of the African gay rights group Behind the Mask, told the BBC of Ssempa's presentation.
WATCH: Footage from Ssempa's "eat the poo-poo" lecture.
Popular in the Community