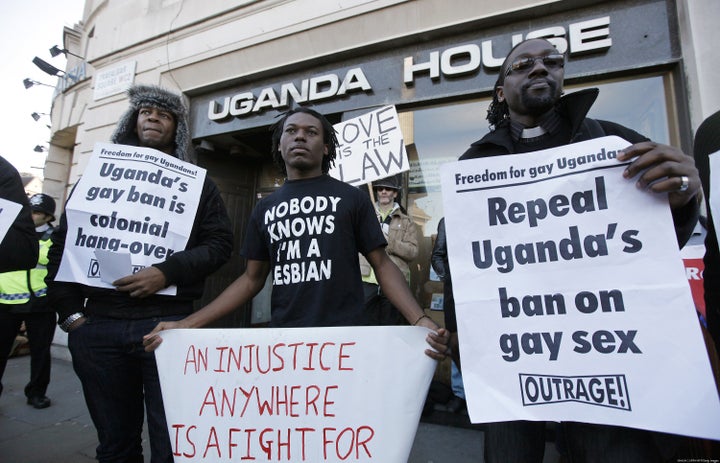 If David Bahati succeeds in passing the death penalty for homosexuals in Uganda, we need to pray for our own deliverance in the United States. Analysts tell us that at least 10 African nations will follow his lead immediately. Lesbian, gay, bisexual and transgender people in Uganda are already in hiding or on the run. Children, women and men infected with HIV/AIDS are being denied treatment. Zimbabwe is already on a parallel track. We don't think of Bahati in the same way that we think of Mugabe of Zimbabwe -- one smiles and says he loves gay people. The other reeks of violence. Yet, they are the same wolf at our door.
If Bahati succeeds, we will have allowed him to set the gold standard for wide-spread consumer adoption of sanctioned genocide of lesbian, gay, bisexual and transgender people. He and his USA-based radical fundamentalist/evangelical cronies have achieved critical mass in Uganda (more than 90 percent of the people say that homosexuality is a sin and a crime). His message has been clear, consistent and unwavering -- the three tenants of great marketing.
If he succeeds, we can credit our own citizens within the anti-gay movement who have funded and elevated him to rock star status. And, we can credit ourselves for the lives of women and children and men that will be lost in Uganda and in the other African nations who plan to follow Bahati's lead. We have not sent a message that the human rights of gay people are important enough to place U.S. or United Nation's sanctions against Uganda.
In fact, we have encouraged Uganda's trajectory of violence by sending a message that we are divided over basic human rights for gay (LGBT) people. Some of our states have equal marriage, most do not. Some of our cities protect employment for LGBT people. Most do not. We do not effectively prosecute hate crimes. We have just completed elections that were predictable trajectories for the radical religious right. LGBT advocacy organizations do not agree on the messaging that is best to create dialogue with our opponents and, as a result, have limited impact. Those of us who believe in the worth and dignity of every human being and a welcoming God who calls us to love our neighbor lost our way on equal marriage, on employment non-discrimination and Don't Ask, Don't Tell. Our response to this loss was a bit of a collective sigh, but not much else.
We need to get it together. The wolf is at our door and he is very hungry.
I have one idea about one way to to assemble ourselves to push back against the monstrous influence of Bahati and his co-conspirators. My proposal has a track record of modest success in 50+ cities around the world. It comes out of my own practical experience as an ordained, progressive Christian minister and my upbringing as an evangelical and very conservative Christian in the American South.
It is called the Would Jesus Discriminate? Campaign. One discrete measurement of the outcomes of the campaign in Indianapolis demonstrated a 16 percent improvement in attitudes toward gay people after 12 weeks. This program is not designed for the "movable middle." The voting bloc of evangelical, fundamentalist and conservative people is winning. Bahati is winning. Can we afford to continue to write them off? Our ignoring of them seems to be feeding them.
What makes the WJD Campaign work?
1. Not being afraid to invoke the name and example of the Great Includer, Jesus(more than 90 percent of all Americans recognize His name and associate particular behaviors with His name)
2. Inviting people you know to consider and answer for themselves the simple question of Would Jesus Discriminate?
3. Systematically applying the market-proven methodology of consumer adoption in localized markets where neighbors observe neighbors and talk to them about making choices
Most consumers are not early adopters. They want to see if a person who takes a risk is ridiculed or revered. If not, once critical mass is obvious, the majority of people jump in too. We do not have to let the Bahati-effect take root in America. I believe that we must invoke the name of Jesus, as Lawrence Morley says, to create a "revolt [that] must come from the mind: a growing unease and dissatisfaction with things as they are."
You can invoke Jesus's name without being Christian or even a person of faith just like you can invoke the name of John Kennedy without being Catholic. Ask yourself the question, Would Jesus Discriminate? and then ask your neighbor. Take time to listen and share what you believe is right for all people.
The Rev. Dr. Martin Luther King Jr. says it best: "In the end, we will remember not the words of our enemies, but the silence of our friends."
Be a friend and speak up.

Popular in the Community