TUMANGO, Uganda – Nurse Oweka Johnson pulls his goggles down onto his face and revs the engine of the motorbike, ready to roar off into the dust.
Each day Johnson drives far out into the bush of northern Uganda to provide lifesaving health care to scores of children suffering from a baffling condition known as nodding syndrome.
The neurological disorder is often ignored, as many of the thousands of children affected live in Uganda's remote north, a land at peace but struggling with the legacy of long years of civil war. It's partly because of the area's remoteness that the causes of the syndrome remain a mystery.
Though limited in its spread, nodding syndrome is devastating to the tiny communities that are affected. Scientists first recorded cases of nodding syndrome in Tanzania in the 1960s, but it is not clear whether that outbreak is related to the one in Uganda. (Neighboring South Sudan has also reported cases, but the ongoing conflict there makes the extent difficult to assess.)
Photographer Sumy Sadurni and I had come to find out more about what was behind a strange syndrome that has left thousands of children crippled and in pain. And joining Johnson on motorbikes was the only way to reach the remote farms at the end of narrow tracks.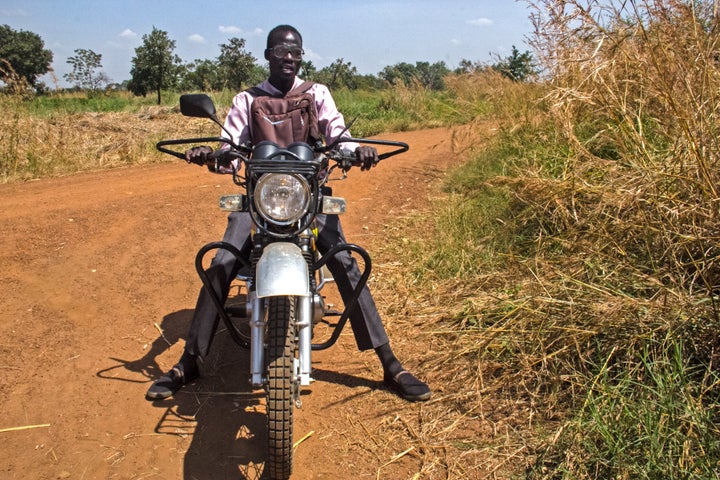 "I bring them the anti-convulsion drugs," Johnson shouts, as clouds of orange dust rise high into the air.
Without these pills, the children would soon die from the intense seizures. Nodding syndrome has no known cure.
Joe Otoo, a 59-year old volunteer health worker, claims to be the first person to report Ugandan cases of the disease.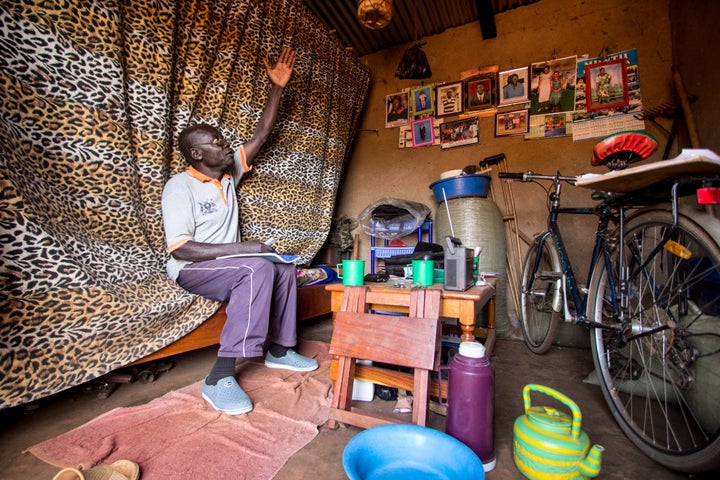 It was 1998, and northern Uganda was in the grip of a brutal insurgency. Tumango was at the epicenter of an army crackdown against the Lord's Resistance Army, a rebel group also known as the LRA.
As the land burned, nodding syndrome developed amid the nearly 2 million people forced into crowded government-run camps.
"I was called to Tumango because of odd reports [that] three children were sick," Otoo said, recalling his visit to a scattered collection of thatch huts to investigate.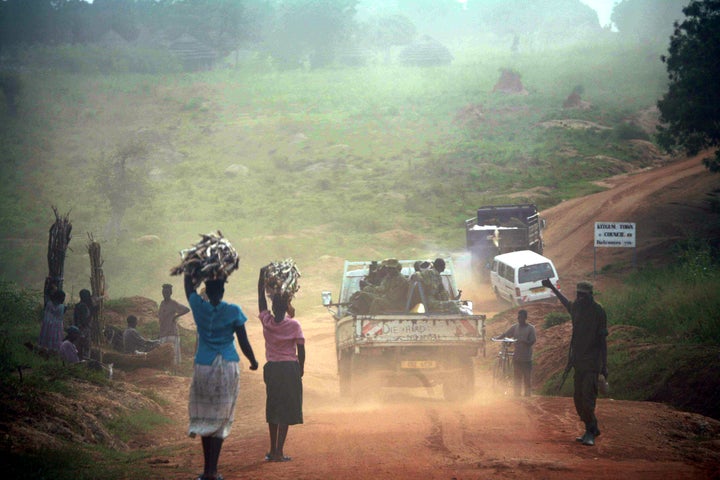 "When food was brought for children, they began to nod their heads, then sleep," he said, copying how the seizures looked by banging his head forward. "It was a strange disease, something no one had seen before."
The smell of food triggered the seizures, with a child's head slowly nodding forward, then growing in intensity. The nodding eventually develops into an uncontrolled seizure. Epilepsy was well known, but the traditional treatments of crushed roots used to calm patients proved useless against this new problem.
The unexplained condition now affects about 3,300 children in northern Uganda, with around 5,200 with epilepsy that resembles nodding syndrome.
Otoo opens his ledger of cases: page after page, each with hundreds of names.
Dozens have died, many from complications related to the seizures. They include Otoo's son, Oroma Ronald, who fell sick at 8 and died a decade later during a seizure.
"He started nodding, too," he said, running his hands over the faded photograph of his child. "It made me sad, because I knew what it meant for him."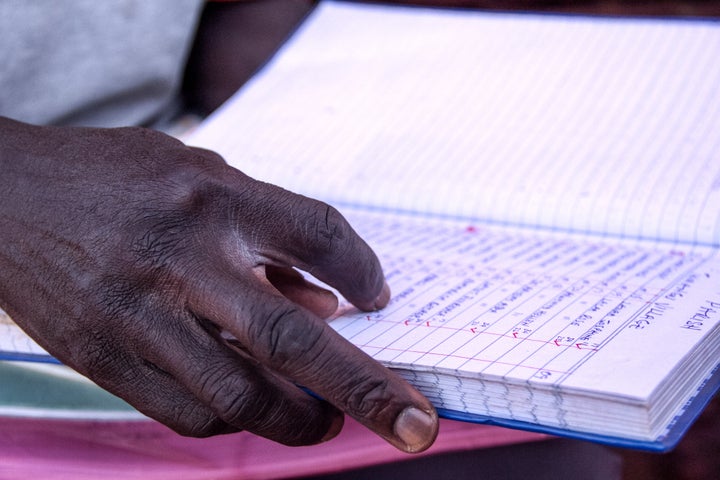 Many scientists, and the Ugandan government, believe nodding syndrome may be connected to parasitic worms spread by the black fly. These parasites cause the disease known as river blindness, which is a known threat to millions of people in more than 20 countries, mostly in tropical regions of Africa.
Distrust of the government, however, has led some to question those conclusions. Locals have noted that river blindness was a problem long before nodding syndrome was identified, across a much wider geographic area. They wonder why nodding syndrome would suddenly appear in such a specific location in East Africa.
"We have always had black fly, so why has it made the children suffer from nodding here?" asked one parent, who was fearful of publicly challenging the government's official line blaming black fly. "In the end, all we care about is the health of our child."
Some skeptics have blamed poisoned food in the camps, or they believe it's due to fallout from explosions during the fighting. Others see the nodding children as spirits of those never buried in the massacres of the war.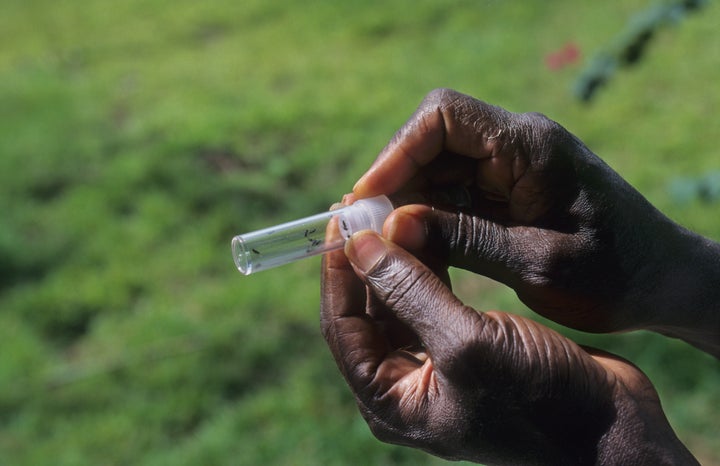 Of the three cases Otoo recorded in 1998, two have since died. But the third, a woman called Abalo Monica, has survived.
We left Otoo behind and went to find her. After an hour of driving, we turned down the thinnest of tracks, weaving between mango trees and sunflower plants that towered above us.
Monica, now in her early 20s, was sitting outside her home, a thatch hut she shares with her smiling, year-old son Otema.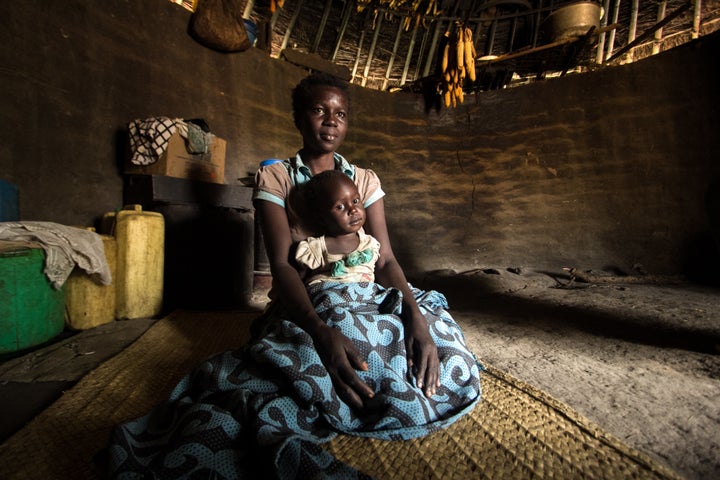 "It was as though invisible hands had grabbed me," Monica said, recalling the first seizures and intense hallucinations she suffered from the syndrome. "I dreamed that men came out the termite mounds, calling out my name over and over. 'Monica! Monica!' But I refused to join them."
Today, she still has fits, but drugs keep the worst symptoms at bay.
Johnson is worried, however. Funding for the care he provides is at risk of being cut, as a U.S.-based charity that supports the only care center for the children is struggling to raise cash.
"Without this help, the children will die," he said.
This article is part of HuffPost's Project Zero campaign, a yearlong series on neglected tropical diseases and efforts to fight them. The series is supported, in part, by funding from the Bill & Melinda Gates Foundation. All content is editorially independent, with no influence or input from the foundation.
Calling all HuffPost superfans!
Sign up for membership to become a founding member and help shape HuffPost's next chapter
BEFORE YOU GO
PHOTO GALLERY
Neglected Tropical Diseases