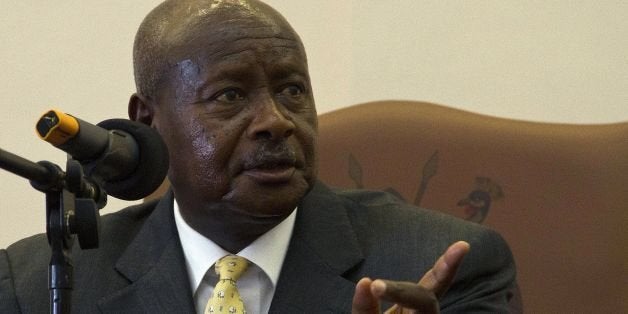 Uganda's president believes gay oral sex can give you worms.
On Monday, President Yoweri Museveni signed one of the harshest anti-gay bills into law. The legislation calls for, among other things, life imprisonment for "aggravated homosexuality" (repeated gay sex between consenting adults), as well as acts involving a minor, a disabled person or someone with HIV. First-time offenders can be tossed behind bars for 14 years.
"Homosexuals are actually mercenaries. They are heterosexual people but because of money they say they are homosexuals. These are prostitutes because of money," the evangelical Christian politician said, per the Agence France-Presse. He also took issue with the act of gay oral sex, saying, "You push the mouth there, you can come back with worms and they enter your stomach because that is a wrong address."
While Western nations have denounced the law, Museveni said the West is guilty of "social imperialism."
"If the West does not want to work with us because of homosexuals, then we have enough space to ourselves here," he said, the AFP reported.
On Tuesday, a local tabloid called Red Pepper published an article praising the homophobic bill and listing the names of Uganda's "200 top" gays. Ugandan gay rights activist David Kato was killed after a different tabloid published a similar list in 2011, according to The Associated Press.
A Pew Research Center survey released last June revealed 96 percent of Ugandans don't think homosexuality should be accepted by society.
Calling all HuffPost superfans!
Sign up for membership to become a founding member and help shape HuffPost's next chapter