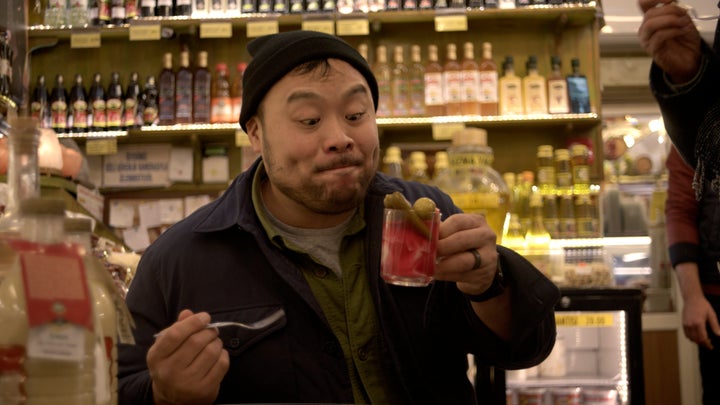 What's up: Netflix's "Ugly Delicious" is a food and travel show hosted by chef David Chang.
Chang highlights various cuisines that he thinks don't get enough credit. He pairs with celebrity buddies, then eats the foods and explains their merits.
How it starts: Chang uses recorded video and audio to recreate an emotional moment: him and his wife telling their parents that they are having a baby. This personal story serves as the launch point for an episode about parenting while working in the grueling restaurant business.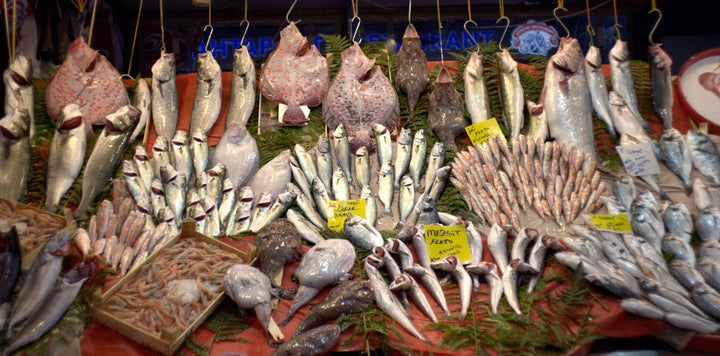 Sum-up: I'm a big fan of Chang's podcast, "The Dave Chang Show." On that, he balances talking about his personal life, cooking tips and interviews with successful people who have unconventional ideas.
"Ugly Delicious" has a similar format, as it balances the universal appeal of food and travel with celebrating the underrated.
Unfortunately, "Ugly Delicious" rarely rises to the unique and vital heights of the podcast. Most of "Ugly Delicious" mirrors the fairly standard food and travel show format. All of these shows have an inherent voice saying over and over, "You should really try this!" And this show does the same.
That said, "Ugly Delicious" does a commendable job in making a case for the cultures it champions. Chang enlists a long list of credible voices ― from writers to chefs to celebrities ― on each topic he covers.
Although I might be disappointed the show isn't as good as something else Chang puts out into the world, that assessment is based on my very high personal expectations. For those unfamiliar with Chang, I think this show will have a lot to offer.
Heads up: The first episode centers around parenting while working in the restaurant business. It also focuses heavily on Chang's inner turmoil as he worries about becoming a good father. It's sweet to the point that it's saccharine. It's also a pretty unoriginal look at the excitement around becoming a first-time parent.
The episode has quality moments that focus on interviews with other chefs who juggled cooking with parenting. But the episode runs nearly an hour when it should have been half that.
Chang is excited to share this significant moment in his life. And it's admirable whenever a creator tells a more personal story. But the story of new parents being excited for children is one of the oldest in human history, and the episode treats the situation as novel. This episode could have been the season closer, but I think this will be a turn-off to those just checking out the show.
I was delighted to see that the second episode gets back on track. Unfortunately, the season is only four episodes, making the premiere a quarter of the material.

Close-up: In the second episode, Chang travels to Mumbai with Aziz Ansari. At a market with a local food writer, they taste short, sweet type of banana. The food writer tells them that longer bananas are bred for American consumption and are a worse product.
After tasting the shorter banana, both Chang and Ansari joke about not being sure what to believe: Is this shorter banana actually better? Or is championing it more of a local pride thing?
The show then cuts to a detailed animation involving bananas with faces. Through narration over the animation, the show gives a history of banana production and trade throughout the world.
Chang is not afraid to say when he thinks something might be BS, even when he's ostensibly celebrating the material. In this moment, the show does a steady job of oscillating between the travel, food, comedy and informational elements of the project.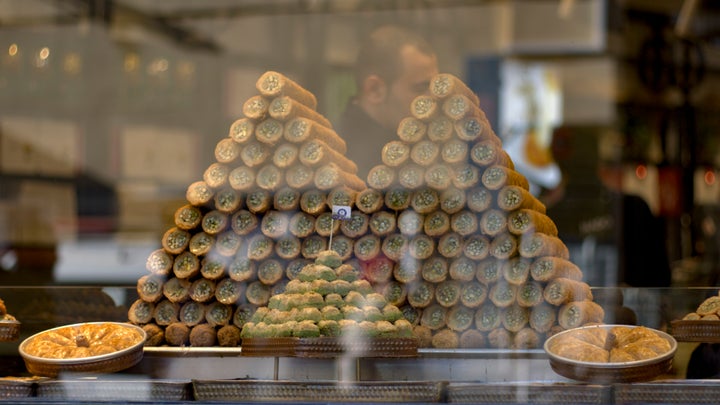 History: Chang opened his first restaurant, Momofuku Noodle Bar, in 2004. The Momofuku company has said the term means "lucky peach." But the inventor of instant noodles, Momofuku Ando, also shares the name.
Comparable stories: "Ugly Delicious" loosely follows the structure of food and travel shows that include a host and a buddy experiencing cultures around the world. Anthony Bourdain's shows are certainly an influence.
The characters and money: As this is a docu-series, there are no characters. But I'm leaving this category because the show makes brings up money again and again. Chang often asks why restaurants can't charge more for these foods, compared to, say, Italian. Chang wants other foods to be valued more.
Bonus: Chang appeared on "The Late Show" to talk with Stephen Colbert earlier this week. You can watch the interview here:
Trailer:
A Couple Of Netflix News Stories From This Week
1. The Obamas, Netflix and the Russo brothers are teaming up for a movie adaptation of the book "Exit West." Riz Ahmed will star in this story about a global refugee crisis. President Barack Obama featured the book on his annual reading list in 2017.
2. "Saturday Night Live" parodied the popular Netflix show "Love Is Blind" last weekend. Although the sketch didn't make it to air, the show released the sketch on YouTube. Here's the video:
March 1
"Always a Bridesmaid"
"Beyond the Mat"
"Cop Out"
"Corpse Bride"
"Donnie Brasco"
"Freedom Writers"
"Ghosts of Girlfriends Past"
"The Gift"
"Go! Go! Cory Carson" (Season 2, Netflix Family)
"Goodfellas"
"Haywire"
"He's Just Not That Into You"
"Hook"
"Hugo"
"The Interview"
"Kung Fu Panda 2"
"Lemony Snicket's A Series of Unfortunate Events"
"Life as We Know It"
"Looney Tunes: Back in Action"
"Outbreak"
"Resident Evil: Apocalypse"
"Resident Evil: Extinction"
"Richie Rich"
"Semi-Pro"
"The Shawshank Redemption"
"Sleepover"
"Space Jam"
The Story of God with Morgan Freeman" (Season 3)
"There Will Be Blood"
"Tootsie"
"Valentine's Day"
"Velvet Colección: Grand Finale"
"ZZ Top: That Little Ol' Band from Texas"
"Taylor Tomlinson: Quarter-Life Crisis" (Netflix Comedy Special)
"Lil Peep: Everybody's Everything"
"Castlevania" (Season 3, Netflix Anime)
"Mighty Little Bheem: Festival of Colors" (Netflix Family)
"Guilty" (Netflix Film)
"I Am Jonas" (Netflix Film)
"Paradise PD" (Part 2, Netflix Original)
"The Protector" (Season 3, Netflix Original)
"Spenser Confidential" (Netflix Film)
"Twin Murders: The Silence of the White City" (Netflix Film)
"Ugly Delicious" (Season 2, Netflix Documentary)