Andrea J. Fulton says her new comedy, "Ugly is a Hard Pill," focuses on the intimate secrets of an African-American couple looking for love in all of the wrong places. It's hardly a radical motif, but the veteran playwright ("One Drop") hopes the ensemble show breaks fresh ground as an emotional, yet comedic, exploration of sexuality in modern urban culture.
"Knowing that many people are complex and do not fit neatly into one category or another, I wanted to write something that appealed to everyone, regardless of their sexual preference," Fulton, who is openly gay, told The Huffington Post. "The goal was to be inclusive instead of exclusive."
Sexuality may be a prominent theme in "Pill," which opens at New York's Theater for the New City on Dec. 19, with straight, gay and bisexual relationships all represented throughout the plot. In Fulton's words, however, labels end up being the least of her characters' concerns; in fact, she hopes the show underscores how lesbian, gay, bisexual and transgender (LGBT) couples have "the same challenges and rewards" as those in straight relationships.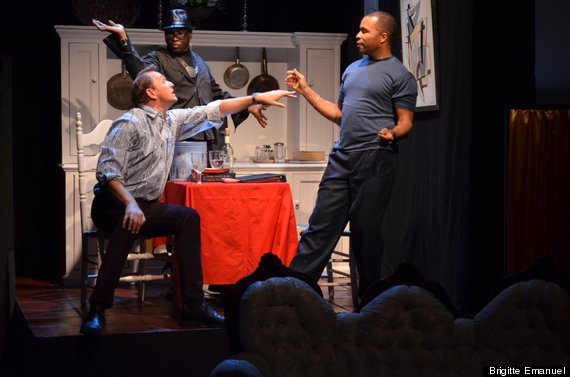 In an email with HuffPost Gay Voices, Fulton spoke at length about "Ugly is a Hard Pill," and how she hopes audiences feel "entertained, enlightened and inspired," finding a laugh and maybe even a refreshed take on the social significance of sexuality.
The Huffington Post: What inspired you to write "Ugly is a Hard Pill," and how did the idea for the show evolve?
Andrea J. Fulton: My last full-scale play was a period piece and it involved my family history, so I decided to write something totally different and set this play in modern day. Since I had been approached by a friend, who writes for a gay magazine, she seemed disappointed that as a gay woman, I had not written something for the LGBT community. So, this time around, I felt I would allow myself to do something that included issues involving sexuality.
After deciding that, I thought of the concept of karma and "the secret" and my belief that good attracts good. I thought about my spiritual beliefs and how all that dovetails together and how it can and likely does for others, too. I wanted to remind those of all beliefs of the power within. When I tied it all together, "Ugly is a Hard Pill" was born.
Obviously, the portrayal of LGBT lifestyles and same-sex relationships onstage has become quite popular both on and off-Broadway. What sets "Ugly is a Hard Pill" apart from other stage plays which deal with similar subjects?
I am proud to be inclusive. I am proud to create something for people like me but also for people different from me. Regardless of sexual preference, I want all people to connect to and be inspired by this play. The main message is to be reminded of the power we have to impact our own lives and the lives of each other. This is not a message for any particular group but one to be utilized by everyone, regardless of the particular group with which they may identify. It's human more than sexuality focused.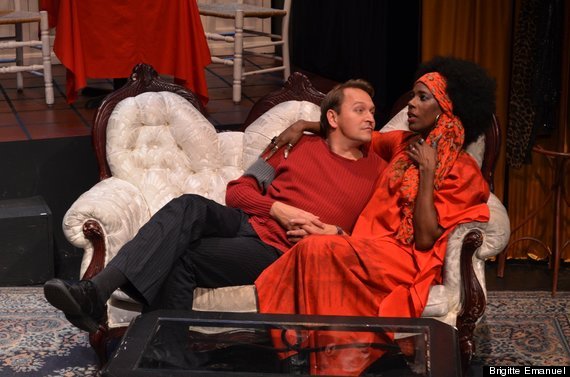 Which aspects of LGBT life did you hope to explore with "Ugly is a Hard Pill"? What other aspects would you, as a playwright, like to see more of onstage?
The play explores dating, friendship, love, frivolity, greed, promiscuousness and commitment to self and others, regardless of sexual orientation. In that way, it underscores that LGBT life is everyday life which has the same challenges and rewards as anyone else. This humanization was important to me, to show as much as people may be different, they can also be the same.
In your own words, how would you describe the message of the show?
The message is that there are so many things that are more important than your sexuality. The regard that we have for ourselves and others is what matters most. I want people to come away with a respect and appreciation for themselves and others, realizing the similarities we share are more significant than the differences.
What are your hopes for the show beyond the New City production?
I want to present the show to as many people as possible. I would like to see it on a bigger stage and if possible televised. But I do not think televised stage plays translate well. I think the way to maximize its effectiveness on television or on the screen would be to change the format to make it a movie or possibly a weekly sitcom.
"Ugly is a Hard Pill" plays New York's Theater for the New City from Dec. 19 through Jan. 12. Check out more information on the show here.
Calling all HuffPost superfans!
Sign up for membership to become a founding member and help shape HuffPost's next chapter
BEFORE YOU GO
PHOTO GALLERY
"Ugly Is A Hard Pill"