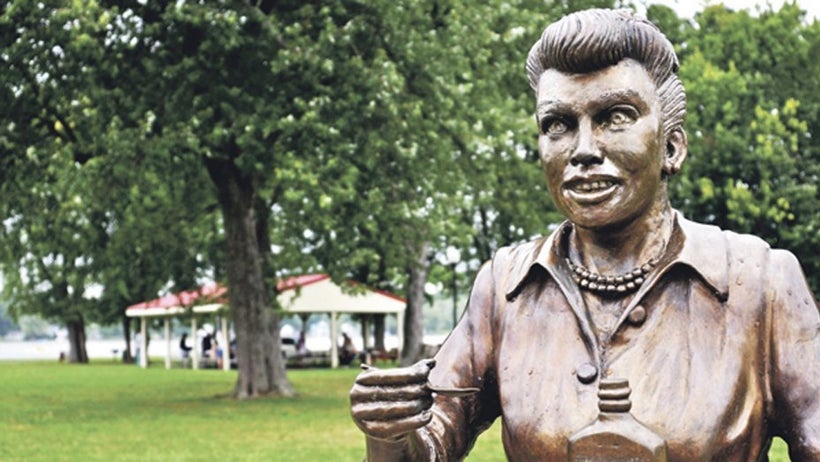 Anyone familiar with comedy knows the late great Lucille Ball was the queen of comedy. If you don't believe me, ask your grandparents. Better yet, go to YouTube and search for "I Love Lucy" videos. One of the greatest episodes ever was when Lucy and her sidekick Ethel Mertz worked together on a chocolate assembly line.
So what better way to honor the greatest comedienne ever? Simple, just build a statue in her honor at Lucille Ball Memorial Park in Celoron, N.Y.
No big deal. Just hire a sculptor to create a perfect likeness and then have a ceremony. Unfortunately, someone forgot to share this with Dave Poulin, the original sculptor.
Instead of unveiling a masterpiece, he created a monster-piece that scared birds and children away. And if the park had any muggers, they also fled. So for years, "Scary Lucy" was the park's main attraction. I wonder if Poulin thought he was commissioned to make Lucy Van Pelt instead of Lucille Ball.
The original sculpture bared no likeness to Lucille Ball. Instead it resembled something from a Freddy Krueger movie. Had "Scary Lucy" greeted Ricky Ricardo at the door, he would have returned to Cuba and never came back.
Thankfully, for Lucy's 105th birthday, sculptor Carolyn Palmer created a statue capturing the late comedienne's likeness. Palmer's creation has Lucy in a polka dot dress and pearl necklace.
So what about "Scary Lucy?"
The town kept the first sculpture. Besides, "Scary Lucy" had found its own crowd. But where should it go? Here are a few suggestions for the "Scary Lucy" sculpture:
Turn it into a scarecrow

Make it a place for visitors to hang their jackets when it gets cold

Target practice for water balloons, Nerf guns and paintball guns

Rent it for Halloween

Hang a basket from it and make it a birdbath
Lucy's fans now have a sculpture resembling Lucille Ball. Hopefully, she has kept her sense of humor in Heaven. Most likely, she is laughing about the entire incident.
REAL LIFE. REAL NEWS. REAL VOICES.
Help us tell more of the stories that matter from voices that too often remain unheard.
This post was published on the now-closed HuffPost Contributor platform. Contributors control their own work and posted freely to our site. If you need to flag this entry as abusive,
send us an email
.