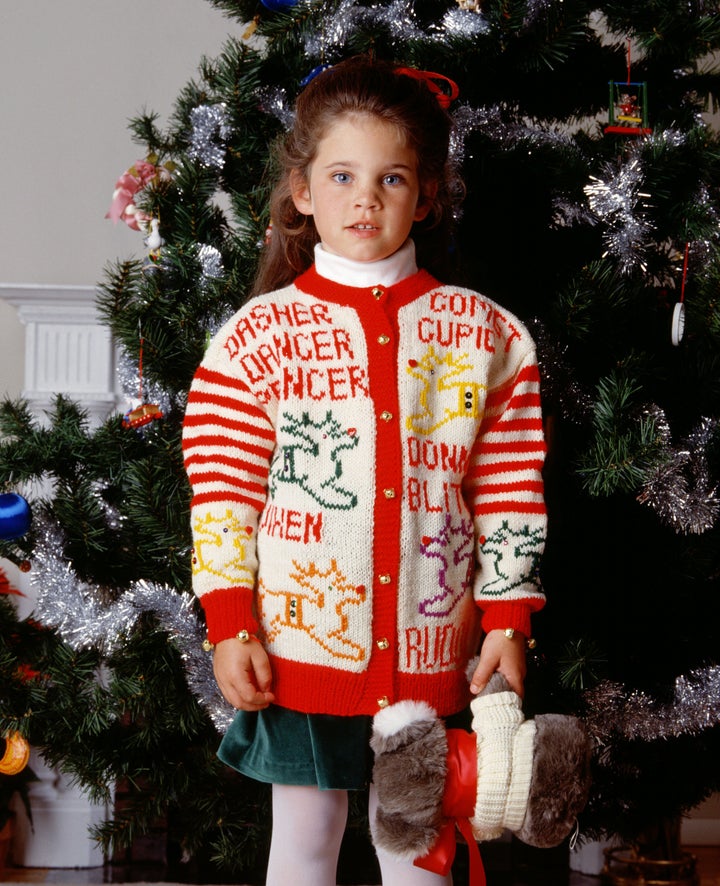 As a publicist, I am constantly scouring the Internet for new and unique sites that might be interested in covering my clients. A couple of weeks ago that search brought me to HuffPost Women, where I expected to find stories about relationships, careers, self-perception, etc. As you see, all of that is here. What I didn't expect to see as I scrolled down the page was a picture of my seven year old self. In the ugliest Christmas sweater that has ever been. On the Internet.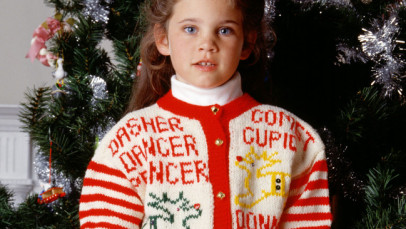 I know, it's not exactly a sex tape. Still, there was a backstory, and one I hadn't chosen to share with the world wide web.
How could this be? I wondered. Where did they find this photo? We publicists try our best to stay out of press, dodging camera crews and photographers behind our clients on the red carpets (example: me behind my client Mavis Staples and "The Situation" at the Grammys). But now here I was, staring back at myself from the homepage of Huffington Post Woman.
Although I hadn't seen the photo in years, I recognized it instantly. It was neatly tucked away under my bed with all other remnants of my 15 minutes of fame. Starting in the mid-80's, from the time I was 5 to my mid-teens, I was one of Ford's top child models. Mugging for the camera was practically my full-time job. When I was 10, I was chosen as the model for the Pleasant Company's Felicity doll making me the toast of the 4th grade, as American Girl Dolls were all the rage (and still are). In fact, I often see little girls in NYC carrying the dolls or mothers toting the bags fresh from the American Girl flagship store, and I have the urge to stop them and say, "Do you recognize this face? I know I've aged a bit, but I'm the original Felicity doll! Sure, I'd be happy to sign your doll's belly." Of course, I stop myself, because that would be pretty creepy and insane.
The day that HuffPost Women posted my photo, I went home and looked through my portfolio and found my print of it. It was from Needlepoint Magazine's Nov/Dec 1988 issue, and I was actually on the cover. (This seemed like no big deal back then, but now that I know from my adult line of work what a huge get a cover is, I'm pretty impressed!) I flipped through the pages and saw myself in many ugly Christmas sweaters, tacky red velvet holiday dresses and even some matching mother/ daughter Christmas outfits. While none of those outfits was nearly as appalling at the time, I can't say I miss them - or modeling, really.
I really loved being in all of those spreads, and if I had grown to be five foot eight, I'd probably still be doing it now, but I don't think about that much -- unless of course I come across my photo on the internet. I'm happy with my 5 ft 2 frame and the career I've chosen. I do something I'm really passionate about: I work with some of the most amazing bands out there. A music lover really can't ask for more.
The day after I saw my photo on this very site, I emailed my HuffPost editor friends and told them the story and asked where the hell they found it. Turns out, my likeness has become immortalized in stock photos on some service they use. So if any of the other photos from my former life made it in there you won't see the last of me.
Let's just hope none of my pre-teen swimsuit shots surface anytime soon.
PHOTOS: Carrie Tolles, Child Sweater Model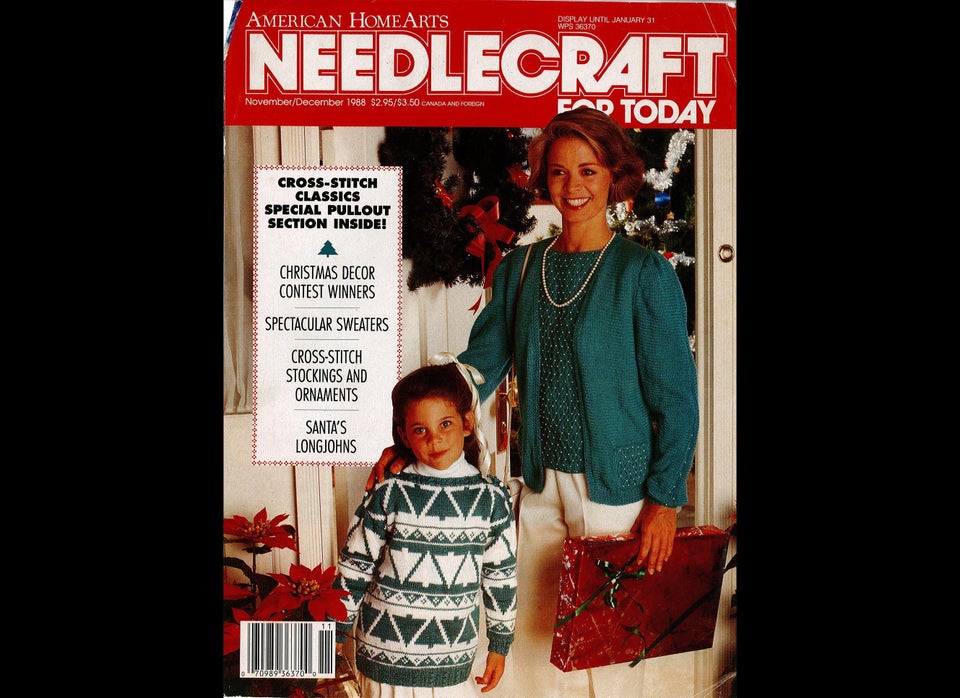 Carrie Tolles, Child Sweater Model
Related
Popular in the Community