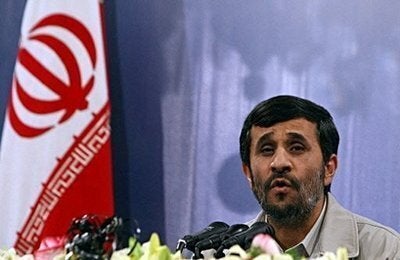 Susan Rice, President Obama's new Ambassador the United Nations and a member of the cabinet, today for the first time spoke publicly about the Iran nuclear issue. During the long campaign for the presidency, President Obama repeatedly vowed to begin negotiations, to talk to Iran (even as he backpedaled on tea with President Ahmadinejad), "without preconditions" as he put it. Obama recognized that the failed Bush policy of only agreeing to talks with Iran if they first agreed to what the desired outcome of the negotiations would be for the U.S. (i.e. if they mothballed their uranium enrichment program), had produced no results, and his pledge to change directions had been met with some enthusiasm in Tehran.
The new US ambassador to the UN said Monday that Washington was committed to direct, "vigorous" diplomacy with Iran over its suspect nuclear program but warned Tehran of increased pressure if it refuses to halt uranium enrichment.

Susan Rice told reporters that President Barack Obama's administration looked forward to "engaging in vigorous diplomacy that includes direct diplomacy with Iran, as well as continued collaboration and partnership with" the five permanent members of the UN Security Council and Germany."

"We will look at what is necessary and appropriate with respect to maintaining pressure toward that goal of ending Iran's nuclear program," she added following her meeting with UN chief Ban Ki-moon to present her credentials.

"Dialogue and diplomacy must go hand in hand with a very firm message from the United States and the international community that Iran needs to meet its obligations as defined by the Security Council and its continued refusal to do so will only cause pressure to increase," Rice added.
And this from the AP on our very own Huffington Post:
But U.S. Ambassador Susan Rice warned that Iran must meet U.N. Security Council demands to suspend uranium enrichment before any talks on its nuclear program.
Huh? What happened to talks with "no preconditions"? If this is indeed the Obama doctrine on Iran, then I'm afraid it will, as it has in the past, get us absolutely nowhere with the Iranians. Iran has repeatedly said it will not accept any preconditions for talks, and has repeatedly said it will not suspend uranium enrichment. And the U.S. has to stop pretending that Iran's refusal to abide by Security Council resolutions makes them a rogue state, as if none of our allies have ever refused to comply with UN resolutions (242 anyone?). If the Obama administration is serious about working towards a solution to the Iran problem, it might want to reconsider its approach at the U.N., a place, incidentally, where Ms. Rice can simply walk down a hall and have a chat with the Iranian ambassador anytime she wants.
Calling all HuffPost superfans!
Sign up for membership to become a founding member and help shape HuffPost's next chapter