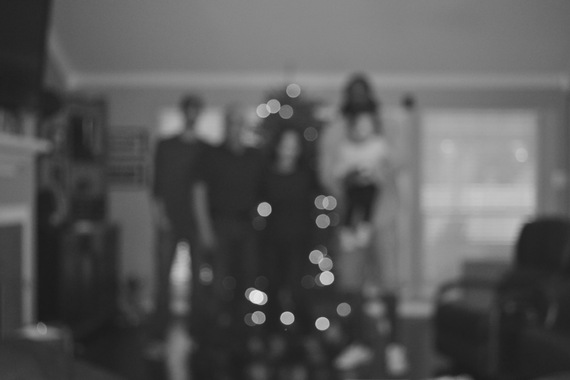 Due to the fact that Lifetime and various Discovery Channels still make shows about ghosts and haunted houses, I'm going to assume I'm not the only one watching them. While I'm loyal in my viewership, I doubt the sporadic TV watching I've done since becoming a parent is keeping these shows afloat. These quality television programs have done so much for me. They've let me pass judgment on people from the comfort of my own home, they've provided a scale of how much more attractive the actor version of myself will be if I am ever the subject of a TV movie, and they annoy my husband to the point that he leaves the room and I have the big TV all to myself. But lately, these shows have hit a little too close to home. Allow me to present the evidence and please forgive the lack of suspenseful music, as we are currently listening to Mickey Mouse sing a song about heavily processed, tube-shaped meat.
1. Mysterious drawings. Last week, I found drawings scrawled on the inside of two cabinet doors. They seem to depict a rudimentary dwelling of some sort. Possibly a house. And they have strange stick figures I can only assume are skeletons. Also, there is a monstrous creature that I would identify as a dog, but for the giant teeth and lack of a fourth leg. I'm pretty sure it means our house was built on an Indian burial ground, but who could know, as the pictures are basically impossible to date. Currently, we still reside in the house because it remains to be seen if the spirit is sinister in nature or just making its presence known.
2. Suspicious Animal Behavior. We all know animals are the first to be aware of changes in their environment. Our family dog has become quite skittish. He follows me around constantly, seemingly for protection. It's like he's afraid of something.
3. Mysterious Stacks of Household Items. A classic sign of a Poltergeist, I've begun to find items stacked precariously around the house. For the last few months, I've been finding items out of place. Things move mysteriously, but when questioned, no one seems to know how they got there. But now, lost items are turning up in stacks. Stacks of books garnished with kitchen utensils and half finished glasses of orange juice. Missing jewelry suddenly reappears atop piles of laundry and beauty products. What does this mean? Perhaps we have angered the entity with our morning routines of hygiene? And why does it keep stealing my watch? Are we running out of time?
4. Strange and Unidentified Fluids. Yesterday afternoon as I folded laundry, I noticed a mysterious stain on the wall behind the couch. Upon further inspection, the stain originated from a reddish glaze-like substance that smelled faintly of strawberries. After looking even closer, there were what appeared to be tiny handprints amongst the stained portion of the wall. Ectoplasm, perhaps? Mixed berry applesauce? Without proper equipment, there's no way to tell.
5. Electronic Malfunctions. It's common knowledge that spirits are able to make their presence known through the use of electronics. In our house, every television seems to turn itself to the same channel. You may be watching a historical documentary about aristocracy in the United States, such as The Real Housewives of New York, when you get a phone call. After a frantic search for your cell phone in which you discover your iphone is actually the keystone in an arch made of a dried apple core and what used to be the guest bathroom soap dish, you return to the living room only to find the television on an entirely different channel. Yes, it's Disney Junior. And yes, Doc McStuffins appears innocent enough, but why is her stethoscope magic? Was it given to her by a witch? Is she a "witch doctor"?! So many unanswered questions.

Currently, my husband, our dog, and I live in constant fear. The only person in our house immune to the trappings of the supernatural appears to be my daughter. Perhaps she's befriended the negative energy and is going to scare the daylights out of my husband and I, who have been successfully conditioned by Hollywood, when she begins mentioning an imaginary friend. Or could this whole ordeal take an even darker turn, as I've come to suspect that we may indeed have a presence in our home. A malevolent force hell-bent on destruction and chaos. I think we have...
To read more from Liza, visit her blog.
Popular in the Community