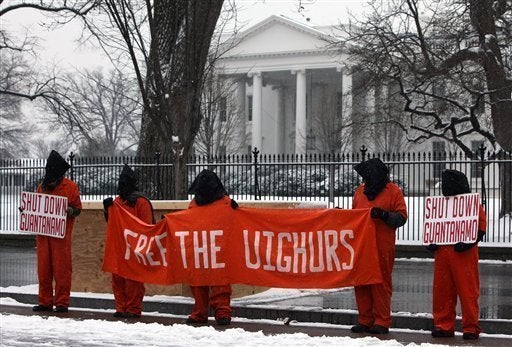 Chinese Muslims known as Uighurs, detained for more than six years and counting at the American prison at Guantanamo Bay, are firing back at Newt Gingrich, who has accused them of terrorist ties and says that releasing them into the United States would endanger the country.
The seventeen Uighurs told their translator, Rushan Abbas, how they felt when they heard Gingrich's remarks. Abbas has been working with them in Guantanamo since 2002, initially contracted by the Department of Defense. The Uighurs' rejoinder to Gingrich is the first quasi-interview with detainees still imprisoned in Guantanamo.
The Bush administration has cleared the Uighurs for release; five have already been released to third countries. If returned to China, there is a high probability they'd be tortured. A vibrant Uighur community in Northern Virginia has offered to take them in, but Gingrich and others are objecting.
"Why is that our problem?" Gingrich wondered in a recent TV interview. "Why are we protecting these guys? Why does it become an American problem?"
Gingrich pushed further in an op-ed, claiming that '[b]y their own admission, Uighurs being held at Guantanamo Bay are members of or associated with the Eastern Turkistan Islamic Movement (ETIM), an al Qaeda-affiliated group designated as a terrorist organization under U.S law."
No, they have never admitted that, says Abbas, adding that the Uighurs call the claim "baseless, factless slander against them." Abbas returned from Guantanamo Monday. She now works with the Uighurs' defense attorneys, but said that her comments to the Huffington Post were not intended as advocacy on their behalf.
The Uighurs call relatives in the United States and Europe often, she says, so stay up on the news. They were surprised to hear the accusation from the former Speaker of the House.
"Why does he hate us so much and say those kinds of things? He doesn't know us. He should talk to our attorneys if he's curious about our background," Abbas relates. "How could he speak in such major media with nothing based in fact? They were very disappointed how Newt Gingrich was linking them to ETIM which they never even heard of the name ETIM until they came to Guantanamo Bay."
The Uighurs are apparently under the misconception that American columnists are fact-checked for accuracy. "They just cannot understand," she says. "How come the media doesn't even verify the story? How could they just publish something like that without checking whether what he says is true or not?"
The Uighurs, before the outburst by Gingrich, were unfamiliar with the former speaker. "Whoever told them this news explained to them he was Speaker of the House and a very high profile person during the Clinton administration," says Abbas.
"Such a high profile person speaking such lies about us," she says they fretted. "They are concerned about their safety where ever they go."
A Gingrich spokesman did not return an e-mail requesting comment. The Uighurs were picked up by bounty hunters in Afghanistan who sold them to the U.S. military.
"I hope that some of them will be released to the United States," says Kadeer, who now lives in Northern Virginia, through a separate translator.
Gingrich has been joined by Rep. Frank Wolf (R-Va.) and Sen. Jim Webb (D-Va.) in objecting to the Uighurs' relocation to the United States. Those objections are weighing on the administration.
Wolf spokesman Dan Scandling noted that Wolf is a champion of the Uighur cause and fought for the release of Kadeer from a Chinese prison. But he isn't convinced of their innocence. "We have had several conversations with people in the intelligence community who have told us otherwise," said Scandling. Wolf represents Langley, Va., where the CIA is headquartered.
Wolf "has not said they should not be released, just that they should not be released into the United States," said Scandling.
Wolf, in objecting to the Uighurs, said that they are fundamentalist Muslims and once smashed a TV because a woman on the screen was baring her arms.
Abbas, however, says that the detainee who went off on the TV has already been released to Albania and that it had nothing to do with any bare arms. Rather, he had repeatedly requested to speak to camp supervisors and had been ignored, so he chose to cause a scene. Scandling said Wolf's account of the TV smashing came from a story in the L.A. Times.
The coming of the Obama administration brought the Uighurs hope. They were "extremely happy" about his election and had "huge faith in President Obama," Abbas says.
They began counting the days after inauguration. They still have hope, she says, but its wearing thin. "Here we are approaching June now. When is this going to happen?" she says they wonder.
Obama has pledged to close the prison by January 2010. The Uighurs don't see how that's possible.
"If we are the innocent ones from day one -- and for the past six years, and the government knew we were innocent -- if we are still here, how he is going to deal with the 240 prisoners and shut down the base by next January?" Abbas says they ask. "They're a little bit skeptical about it actually happening."
Popular in the Community