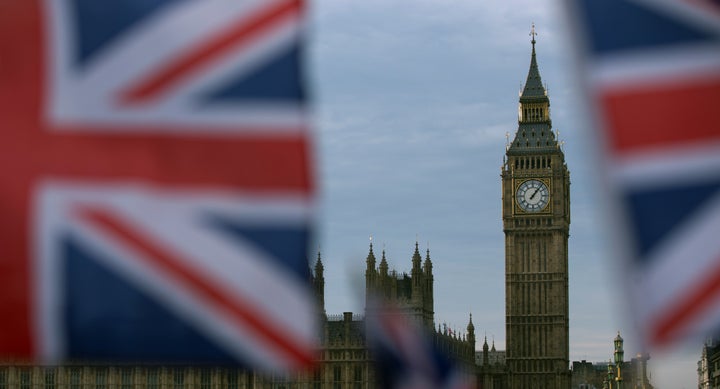 The U.K. votes on European Union membership Thursday, and polls indicate it could go either way. A large majority of Americans think discrimination against Muslims is increasing. And Clinton's lead over Trump currently looks solid. This is HuffPollster for Wednesday, June 22, 2016.
POLLS INDICATE A CLOSE "BREXIT" VOTE - HuffPollster: "There have been 65 polls of the British citizenry since HuffPost Pollster started tracking them on April 1, but polls aren't providing much insight into which way voters will swing. The combination of pre-existing polling issues and a one-time special interest vote is proving particularly vexing to pollsters. The HuffPost Pollster model estimates that if the election was held today about 46 percent of Britons would vote to leave the EU, and 45 percent would vote to remain. The probability that leave is in the lead is about 78 percent, but it wouldn't be surprising for the June 23 vote to go either way. But those numbers have wavered — just last week, the polls appeared to swing even farther toward 'leave.' Polls since Member of Parliament Jo Cox's murder, which could have been connected to her outspoken support for staying in the EU, have inched back toward 'remain.' But the trajectory of the race is different depending on what polls you look at. There's a substantial split between live interviewer polls and polls done over the internet, and splitting the polls along that cleavage results in completely different views how opinions have shifted….Another big factor in whether the polls will be accurate is how their estimates of voter turnout will compare to what actually happens on Thursday." [HuffPost]
Polls have differed by mode - The Economist: "Online polls have canvassed voters more often than telephone polling. This is mainly because of their relative ease, lower cost and quick turnaround. A detailed study of EU referendum polling by Populus concluded that while both methods had shortcomings, telephone polling, which favours Remain, tended to reflect the British public better when compared with the online alternative, which favours Leave. ICM, another pollster, started to simultaneously poll using both online and telephone methods in April. Even after post-fieldwork adjustments for each poll's perceived failings the differences were in line with the Populus analysis. Polling techniques explain some of this divergence. Removing a 'Don't know' option from the online questionnaire tilts results toward Remain.  And adjusting the sample to reflect the liberal hard-to-reach voters has the similar effect. The fact that telephone polling seems more accurate gave confidence to the Remain campaign. The only big unknown was the undecided: around 15% of voters.  Yet previous studies seem to favour Remain's cause here too. Several have shown that on election day late deciders tend to shift to favour of the status quo." [Economist]
Most Britons disapprove of European Union leadership - Sofia Kluch and Linda Lyons: "While recent reports suggest the 'Brexit' vote will be too close to call, Gallup in February and March found firm majority disapproval of the EU's leadership among Britons. Fewer than four in 10 Britons (37%) approved of the EU's leadership at the time -- consistent with Britons' dismal approval ratings for almost a decade….Britons' approval ratings of the EU's leadership have been consistently lackluster since 2008, when Gallup started asking them this question, ranging between 29% and 39%. But notably, Britons' ratings of their own country's leadership have not been high over the same period. In fact, at several times, their ratings of their own leadership were marginally lower than their ratings of the EU -- including in the years leading up to the 2010 election that resulted in the Labour Party losing majority control. Since then, Britons' ratings of their own leadership have been somewhat higher than those of the EU's leadership. However, what looks to be a fairly stable trend in EU leadership approval masks a sharp contrast between views of younger and older Britons." [Gallup]
MOST AMERICANS THINK DISCRIMINATION AGAINST MUSLIMS IS RISING - HuffPollster: "Seventy percent of Americans believe that discrimination against Muslims in the nation is increasing, according to a new HuffPost/YouGov poll conducted in the wake of the Orlando shooting. Fifty-four percent of Americans say that Muslims currently face 'a lot' of discrimination, little changed from a survey last March in which 55 percent said the same….Americans' own views of Islam remain generally negative. Fifty-eight percent report an unfavorable view of Islam, unchanged since last December, while just 25 percent say they have a favorable view. Opinions are deeply divided along partisan lines. Republicans are both more than three times likelier than Democrats to hold strongly unfavorable views of Islam and more than twice as likely to say there's not a lot of discrimination against those who practice the faith. Fifty-one percent of Republicans, but just 22 percent of Democrats, say that Muslims are more likely than other American citizens to have sympathy for terrorists." [HuffPost]
If most polls are showing Clinton up by 5-7 points, why is the Pollster chart only showing her up by 4? - The simple answer is that the chart estimates the candidates' trends separately -- considering only the numbers for Clinton in estimating the Clinton trend line, and only the Trump numbers for the Trump trend line. The margins between the candidates are calculated from the model-produced trends. That means that the average margin between the candidates in the polls might not match the trend line margin that the model produces. Right now, that's happening because the poll numbers are varying quite a bit for each candidate. For example, Trump's vote support in polls that were released in the last week ranges from a low of 32 percent to a high of 45 percent. Clinton's support ranges from 41 percent to 50 percent. So the current model estimates of Trump at 40 percent and Clinton at 44 percent make sense, even if the margin is smaller than what many of the individual polls are showing.
HUFFPOLLSTER VIA EMAIL! - You can receive this daily update every weekday morning via email! Just click here, enter your email address, and click "sign up." That's all there is to it (and you can unsubscribe anytime). 
WEDNESDAY'S 'OUTLIERS' - Links to the best of news at the intersection of polling, politics and political data:
-Donald Trump's image has declined, while Hillary Clinton's remains steady. [Gallup]
-Eitan Hersh argues that this year could see more competitive elections than usual. [538]
-In the wake of the Orlando shooting, Americans say they trust Trump more than Clinton to keep them safe. [Morning Consult]
-Marco Rubio holds a 7-point lead against Patrick Murphy in a hypothetical Senate match-up in Florida. [Quinnipiac]  
-Seth Masket explains why most California Republicans will likely forgo voting in the Senate race. [Vox]
-Alexandra Filindra explains how racial prejudice helps drives opposition to gun control. [WashPost]
-The proportion of same-sex cohabiting couples who are married has increased by 11 percentage points in one year. [Gallup]
Calling all HuffPost superfans!
Sign up for membership to become a founding member and help shape HuffPost's next chapter