Gourmet Burger Kitchen (GBK) has become the first major fast-casual burger chain to use a mobile app to take reservations at its 62 restaurants across the UK.
Instituted in early November as a way to ease holiday crowding, the table-booking function is continuing. Customers who log into the GBK smartphone/tablet app can select a location, meal, time and number of people (although large parties may need to book by phone still). "We started it over Christmas & it worked rather well," the chain announced on its Facebook page.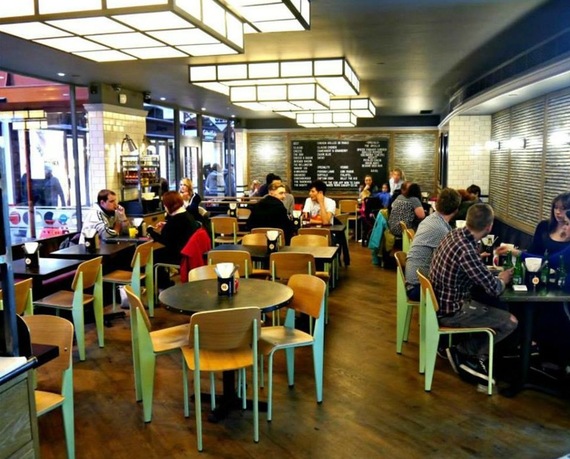 GBK partnered with online booking system liveRES to develop the booking program, which provides the chain with valuable customer data. Katie McDermott, GBK marketing director, is quoted on the liveRES website as saying, "More and more customers are choosing to book online either at home on their PC or on the move over a mobile device. We are pleased to be working with liveRES on a reservations system that works well for both our staff and our customers."
Founded by three New Zealanders in 2001, GBK serves a range of upscale burgers made with grass-fed British beef. The 4 oz. Classic (with house mayo, relish and lettuce) is £5.05 ($7.63US). The current special (below) is The St. Morish (6-oz, beef patty, raclette cheese, truffled mushrooms, baconnaise, chilli chocolate ketchup and onion jam) is £9.95 ($15 US).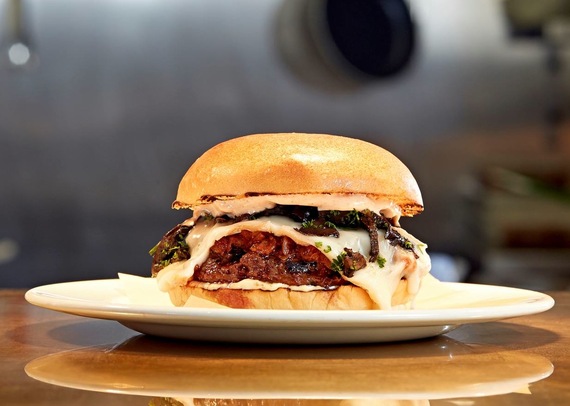 Meanwhile, beacon technology, another digital tool being used in the UK, was tested during the holidays by McDonald's. I'll let UK digital agency Hiveworks explain how beacons work: "Beacons are a new class of short-range, low-powered transmitters that can push notifications to mobile devices when they come within 70 metres of the Beacon. They use Bluetooth Low Energy (BLE), an open standard which enables short-range wireless communication using a fraction of the power of standard Bluetooth. Thanks to the low power usage, small beacon transmitters can run for up to two years on a single cell battery."
TechnoBuffalo reports that McDonald's deployed beacons across several test restaurants for four weeks through a partnership with Piper. Consumers received coupons, alerts or other communications when they came within proximity of the beacons. TechnoBuffalo says more than 18,000 people took advantage of the coupons and McDonald's restaurants saw an 8% sales gain for McChicken and 7.5% for Chicken McNuggets.
McDonald's CEO Don Thompson recently told analysts that the chain intends to launch a global digital app as part of its effort to improve customer experience and engagement. "In the U.S., it will include promotional offers, also some mobile payment opportunities such as Apple Pay and also some things possibly with our e-Arch Card," Thompson said in October.
Popular in the Community