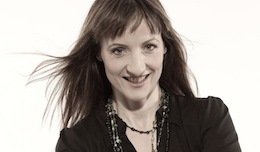 When Servane Mouazan started a network 12 years ago for those in social entrepreneurship -- then just a nascent field -- she noticed something interesting: Only women were signing up.
Women, she observed, seemed to have a profound interest in businesses with a mission, perhaps because of their innate quality to be caretakers.
"There's this sort of natural tendency of spotting things that are not going well around us and willingness to transform them, to fix them," Mouazan says. She decided to make her U.K.-based organization, Ogunte, exclusively focused on supporting, connecting and promoting women social entrepreneurs.
Indeed, while male-owned business around the globe still outnumber those owned by women, the gap is closing in some countries when it comes to social entrepreneurship. In the U.S., Latvia, Finland and China, the rate at which women and men start social ventures is about equal, according to the latest GEM Report on Social Entrepreneurship. In countries like Russia, Malaysia, Lebanon, Israel, Argentina and Iceland, women are already surpassing men in that industry.
In general, social entrepreneurship -- whether it's men or woman starting the enterprises -- appears to be flourishing in areas with established ecosystems and strong government support. Another report, by Janelle Kerlin of The Urban Institute of Washington, D.C., suggests that social startups in Western Europe have a tendency to thrive, because of government initiatives that encourage social enterprise investment, offer flexible tax structures, and support public training and research.
Mouazan, who was born in France and has worked throughout Europe, considers the U.K. one of the leaders in social enterprise. She credits part of the success to England's history with the co-operative movement, which started over a century ago and spread to other European countries. The co-operative model places more emphasis on benefits to customer members rather than big profits to shareholders.
According to the 2013 State of Social Enterprise Survey, currently there are 70,000 social enterprises in the U.K., contributing more than £24 billion (about $39 billion) to the country's economy.
"The U.K. is certainly a great testing lab for social enterprises," says Mouazan. "But Europe in general is certainly very open to the concept and it's a great movement to be part of."
Since its inception, Ogunte has supported more than 2,750 people focused on social and environmental change. It connects newbie social entrepreneurs with mentors, peers and angel investors, and provides programs and workshops focused on technical expertise and personal development.
Mouazan says Ogunte's "Make a Wave" incubator program -- unusual for its niche focus on aspiring female social entrepreneurs -- helps women learn the basics of starting a mission-based business. The program has supported 30 women and helped them receive funding for their social ventures. Next year, Mouazan says "Make a Wave" aims to reach 250 aspiring female social entrepreneurs throughout the U.K.
The incubator addresses some of the main challenges for women, including "a lack of financial literacy, which makes it hard to access finance," she says. Women in the program go through intensive coaching so they are better equipped to handle funds raised through crowdfunding platforms, angel-investor networks or micro-loan programs.
Financing can be "a poisoned gift," says Mouazan. "You really need to spend a lot of time in mentoring [women] and make sure they understand how they're going to make that money back."
Ogunte is also working to increase the visibility of female angel investors and venture capitalists, offering special training programs for women interested in supporting social entrepreneurs.
Private support for social enterprise is something more commonly seen in the United States. According to the Urban Institute study, financing from private individuals or organizations is often the driving force behind social entrepreneurship in the U.S., in part because the government is "relatively uninvolved." In contrast to Western Europe, the majority of American social enterprises are set up as nonprofits and are subject to loosely defined tax laws dating back more than 50 years. The landscape has started to change in recent years, however, with the introduction of B corporations, which allow socially conscious businesses to keep the focus on their missions while still making a profit.
But one way U.S. social enterprises stand out, the report found, is they focus more on revenue generation than their European counterparts, perhaps not surprising for a predominantly capitalist economy.
In her work, Mouazan says she often needs to remind women that they must embrace making a profit in order for their social ventures to have bigger impact.
"If you're not sustainable, you're not going to be able to help others," says Mouazan.
Her goal is to help 5,000 women by 2015 start and run successful social enterprises and create a collaborative movement that can accelerate social and environmental change worldwide.
Related