A new report from the United Kingdom's National Crime Agency found that at least 60 people have died in Britain from overdoses potentially related to fentanyl since December, raising fears that the dangerous synthetic opioid is becoming increasingly available in the country.
While the spread of fentanyl contributed to a surge in overdose deaths in North America over the past few years, drug treatment organizations said it's been largely unknown to the British public.
"Drug-related deaths are increasing" in the U.K., said Dr. Prun Bijral of Change, Grow, Live, a nonprofit organization that focuses on substance abuse. "But if fentanyl comes, then we're talking about a different league of problems."
Fentanyl, as well as its more potent analogues such as carfentanil, is often cut into heroin and sometimes other drugs such as cocaine. Its presence can make it harder to judge dosage and easier to overdose.
Fatal overdoses related to synthetic opioids, including fentanyl, increased 73 percent in the United States last year, killing nearly 10,000 people. Canada is also struggling to address a surge in overdose deaths and an influx of fentanyl, with Minister of Health Jane Philpott calling the issue "arguably the greatest public health crisis we face."
Britain has also seen overdose deaths rise in recent years, but until late 2016 the National Crime Agency noted only a limited presence of fentanyl. How the drug is coming into Britain now and whether authorities have done enough to stop the influx remain unclear.
"That's one of the intelligence gaps," National Crime Agency spokesman Lawrence Gibbons said. "We've had an impact, but how big or how significant that impact is yet to be measured."
It's also uncertain just how much fentanyl is already in the U.K. drug supply. The new National Crime Agency report states that the number of potential fentanyl-related overdoses so far this year may increase as blood samples are back-tested.
Addiction support services suggest that opioid users may be taking fentanyl without knowing it.
"We're not seeing people going out seeking fentanyl," said Rick Bradley, manager at the U.K. drug and alcohol treatment charity Addaction. "What we're seeing, in the last six to 12 months in particular, is that people are maybe using substances where fentanyl is being inadvertently used."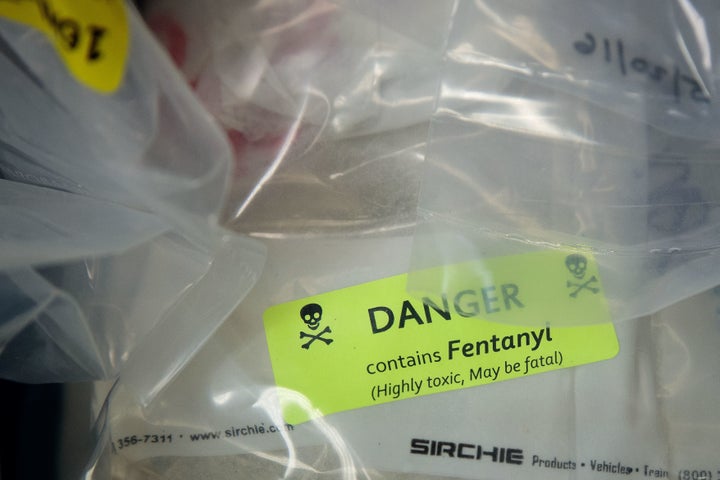 While the National Crime Agency report has drawn media coverage and public attention this week, addiction services and health workers said they've long been aware of the issue and looking for ways to prepare. Change, Grow, Live is considering offering drug testing specifically to determine when fentanyl is present, Bijral said, as well as working with government officials and other organizations to find a unified approach.
Change, Grow, Live is also distributing kits with naloxone, a drug that can reverse opioid overdose. A 2015 U.K. law made naloxone available without a prescription for at-risk individuals, and over the past year Change, Grow, Live has handed out more than 13,000 kits.
"Just like first aid is taught in schools and is universal, we'd like that to be the case with naloxone," Bijral said.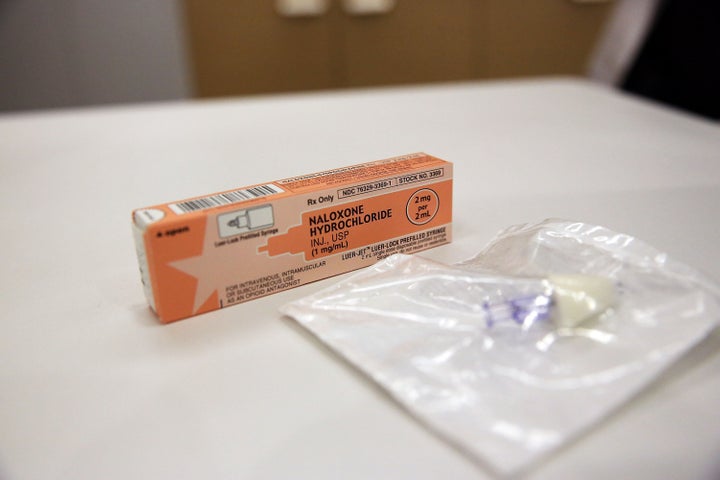 Officials at Change, Grow, Live and other aid organizations have also been looking at the way Canada is approaching the crisis, taking note of the various harm reduction and drug testing services the country has in place.
One of Canada's more controversial approaches is the safe injection site, which allows for supervised drug use, as well as testing and counseling services. The success of the sites in reducing overdose deaths has led Canada to approve more facilities in cities across the country.
The U.K. last year approved its first supervised injection facility, in Glasgow. The center, which is not yet open, was established partially in response to a rise in the city's HIV rate in 2015. Although Glasgow hasn't seen fentanyl enter the local heroin supply yet, public health official Dr. Emilia Crighton said the center will help opioid users and could expand its services in the event of a fentanyl crisis.
"People are more likely to die if they're not engaged in services, so having effective addiction services is the most effective thing we can do for this group and help them recover," Crighton said.
The rise in fentanyl-linked deaths this year should be seen as an early warning, according to health officials.
"We definitely need to be ready so that if it does get any worse, we're prepared for that," Bijral said. "That's the opportunity we've got now while it's at the stage it is. We've got to get everything ready just in case."
Jack Sommers contributed reporting from London.
Popular in the Community