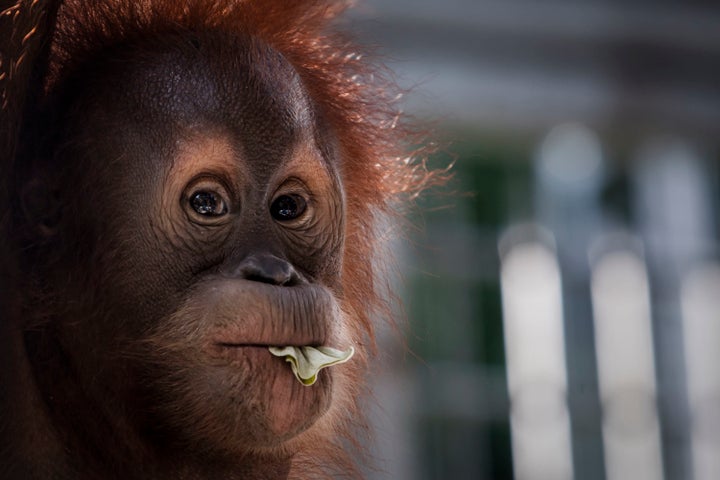 Many people are just finding out about palm oil, the world's most widely used vegetable oil, thanks in part to major British food retailer Iceland's recent announcement that it will ban the use of palm oil in its branded products. The grocery chain cites palm oil's association with rainforest destruction and the growing threat of orangutan extinction as reasons for the ban.
Iceland is not wrong. We stand at the brink of losing major species like Sumatran orangutans, tigers, elephants and rhinos in the wild, in part because of irresponsible palm plantation expansion.
Palm oil, an ingredient in more than half of all packaged goods in the average grocery store, is seemingly here to stay. Grown and produced responsibly, that wouldn't necessarily be a problem. But, as a matter of urgency, the palm oil industry needs to make substantial changes. And if we really want to get conflict palm oil out of what we buy, we are going to need more than one-off boycotts.
Iceland's effort is a powerful symbolic move ― and the company managing director's statement that the grocer's leaders "don't believe there is such a thing as guaranteed 'sustainable' palm oil available in the mass market" should be a wake-up call to the leading but woefully inadequate certification scheme, the Roundtable on Sustainable Palm Oil. But, unfortunately, a majority of the palm oil industry is doing nothing but expanding into new forest territories.
What's worse, the destruction of carbon-rich peat forests persists as palm oil expands, which is terrible news for the global climate. Peat forests have high fire risk – fires on peat are almost impossible to put out once they start. They are critical carbon sinks, safely storing greenhouse gases out of the atmosphere. Each hectare of tropical peat drained for plantation development emits an average of 55 metric tons of CO2 every year, roughly equivalent to burning more than 6,000 gallons of gasoline. A recent case of clearing 10,000 hectares (24,710 acres) of peatland is equivalent to 550,000 metric tons (606,270 U.S. tons) of CO2 emissions every year. (For comparison, the average passenger vehicle emits about 5 metric tons (5.5 tons) of CO2 each year.)
The company ultimately responsible for clearing that peatland – the Salim Group – and its billionaire owner Anthoni Salim are facing pressure as a result, and Citigroup just announced it will stop funding to IndoAgri, a palm oil subsidiary of the Salim Group.
Like Iceland's ban on palm oil, Citigroup's action is a strong and perhaps necessary first move, but more is needed to ensure the future survival of rainforests. Brands, ultimately responsible for the ingredients in their products, need to come clean about their sourcing, secure reforms of their suppliers and, if they can't, cut out bad actors. In order to boost the supply of truly responsible palm oil, efforts like The Palm Oil Innovation Group must be supported and scaled up to become the market norm.
There also is a growing need for coherent governmental policies that accelerate the recognition and protection of rights of communities near palm oil development ― including community land tenure. Local communities are some of the best forest defenders, and support for traditional forms of self-governance is a critical way for communities on the front lines of palm oil expansion to resist corporate expansion and deforestation onto their traditional lands.
If we want to create real change for the world's forests and climate, we need to change the industry from the plantation ground-up, and time is running out.
For more content and to be part of the "This New World" community, join our Facebook Group.

HuffPost's "This New World" series is funded by Partners for a New Economy and the Kendeda Fund. All content is editorially independent, with no influence or input from the foundations. If you'd like to contribute a post to the editorial series, send an email to thisnewworld@huffpost.com
Popular in the Community