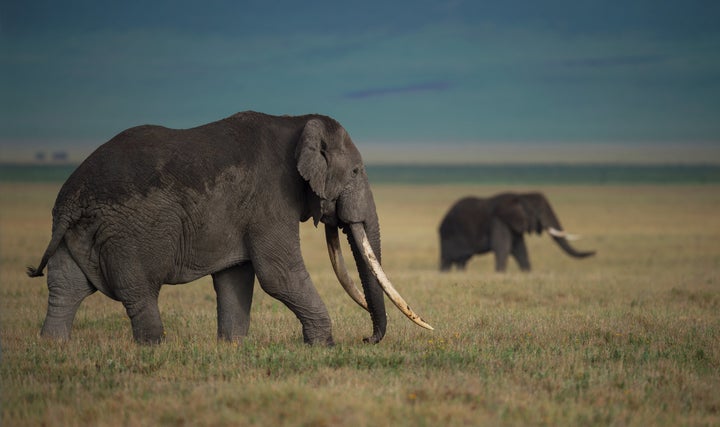 The United Kingdom on Tuesday said it plans to introduce one of the world's most rigorous bans on ivory sales in an effort to stop the slaughter of elephants and combat a rampant illegal trade in animal parts.
"Ivory should never be seen as a commodity for financial gain or a status symbol, so we will introduce one of the world's toughest bans on ivory sales to protect elephants for future generations," Michael Gove, Britain's environment secretary, said in a statement. "The ban on ivory sales we will bring into law will reaffirm the UK's global leadership on this critical issue, demonstrating our belief that the abhorrent ivory trade should become a thing of the past."
Elephant poaching has been in decline over the past five years thanks to a rise in trading bans and fierce environmental action. But tens of thousands of the animals are still poached every year for their tusks at a rate of about 55 per day.
The international commercial trade in ivory has been illegal since 1990, but many countries have long allowed antique ivory to be traded with some conditions. The U.K. has allowed ivory products crafted before 1947 to change hands freely, along with some items made afterward that have government permits.
However, environmentalists say such loopholes allow poachers and traffickers to pass off new ivory as legitimate.
The new provisions will almost completely close the gaps and only allow the sale of a small class of products, including antique items made with less than 10 percent ivory, musical instruments made prior to 1975 with similar compositions and the "rarest and most important items of their type" that are at least 100 years old. Accredited museums are also excluded.
Anyone found in violation of the new laws can face an unlimited fine and up to five years in jail.
Environmental groups called the new laws "exceptionally strong" and a "huge step for elephants."
"To save elephants, we must stop the killing on the ground, and stop the trafficking of and demand for ivory. Closing all domestic ivory markets globally must be our goal," Cristián Samper, president of the Wildlife Conservation Society, said in a statement. "The United Kingdom's bold announcement today heeds the call from the majority of African elephant range states to put an end to ivory markets and raises the chances of recovery of this iconic species."
The U.S. announced its own sweeping ban on the commercial trade of ivory in 2016, but it was partially lifted last month by the Trump administration after the U.S. Fish and Wildlife Service opened the door to some trophy hunters hoping to import the tusks of animals they kill abroad.
"This ban makes the UK a global leader in tackling this bloody trade," Tanya Steele, the head of the WWF's U.K. office, said in a statement. "But if we want to stop the poaching of this majestic animal, we need global action."
Related
Popular in the Community