Anna Whitehouse, aka Mother Pukka and Instagram megastar mum, is offering an exclusive behind-the-scenes look at her life beyond Instagram as part of a new charity campaign. The campaign is in support of UK charity the PANDAS Foundation for postnatal depression, and aims to challenge the myth of perfect parenting on social media. Alongside us, fellow mums Hannah Veale and Amy Malloy, she is asking fellow parents to take to social media to celebrate the exact opposite instead: imperfect parenting.
Instaparents
This is the generation of the social media parent. It is where we go to for advice, to share photos of our family and to view photos of others' families. The exponential increase in sharing on social media in recent years has led to an unprecedented amount of insight into other peoples' lives outside our immediate social circles. The rise of the "insta-mum" on Instagram in particular has created a wealth of beautifully photographed homes, children and aspirational lifestyles. To many, this offers a great deal of inspiration and beauty, and a valuable source of community and support. However, there is a danger that it can also create unhelpful feelings of inadequacy in parents that their life doesn't look like that, whether they are suffering with a mental illness or not. 'I don't feel that happy all the time - should I?', 'my baby doesn't smile that much - she's always crying - I must be doing something wrong?', 'my house will never look like that' and so on. This can all lead to thoughts of 'Does this mean I'm a failure?'.
In the words of Katherine Stone, post-natal OCD survivor and founder of US non-profit Postpartum Progress, "Hopping on Facebook or Instagram can make you feel connected, understood and supported. And sometimes it can also make you feel like crap."
Anna explains, "I think the power is we see these distorted images of parenthood and that messes with people's heads when you are in a dark place. It shouldn't be this perfect pixelated world that we're looking at. It can be a perfect photograph of mother and child, but with a caption that really says where they're at. And I think we're moving more towards that."
"I have a very distanced, quite contrived Instagram." she continues. "I don't take photos in the moment ever because I'm scared of missing the moment. I made a very, very strategic decision […] But the fact is, my life's a mess and I'm looking forward to sharing that."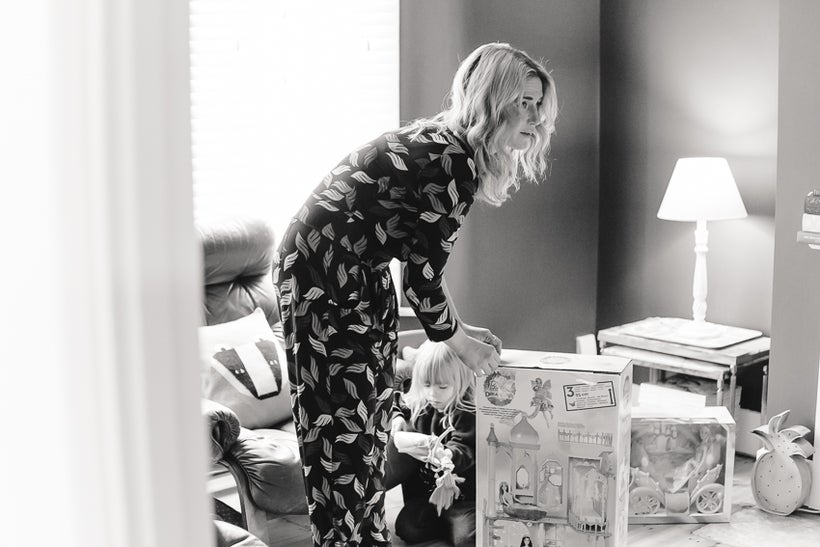 Last week, singer Adele was the latest celebrity to speak out publicly about her battle with postnatal depression after the birth of her son, Angelo. She says it was only when she finally confided to a fellow friend about it that she realised she wasn't the only one, she wasn't alone. In a recent survey of 1000 mums, PANDAS Foundation discovered that 80% of those mums felt alone and that there wasn't enough support inherently available in the online community.
Picture perfect?
The campaign was conceived to help all parents, suffering like Adele or not, know that they are not alone and life isn't as picture perfect for everyone else as it might appear. Everyone has their own battle, their own reality which they find to be lacking against a standard they set for themselves. This reality might not be one they always share. The perceived standard of happiness, of cleanliness, of order, that must be achieved is merely pixels deep. The reality is different.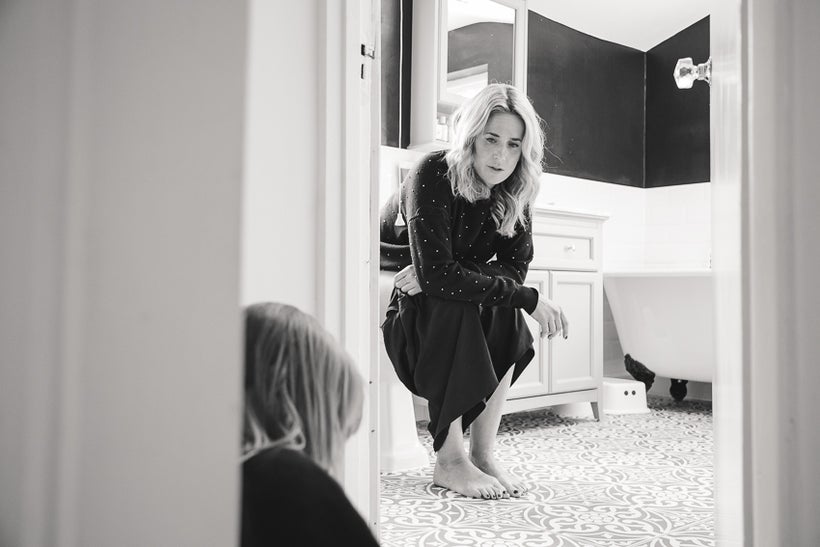 Hannah, our photographer's inspiration came directly from this picture perfect impression. "The current family photography trend which clearly has its roots in the likes of Pinterest and Instagram, is for family images taken at home - the light, airy bedroom, the immaculate living room and the trendy monochrome Skandi-inspired nursery. I love creating beautiful images for clients but I am a documentarian at heart and crave realism. I recently had a little boy and suddenly there aren't enough hours in the day. Quite often the things that slide are keeping a clean house and my own personal grooming! I became determined to create a personal project around the reality of parenting in the early years. What if we showed this side of life? The hardships, the tantrums, the eye bags. Could that not still in a way be beautiful, and aren't these memories we'd treasure just as much in the long run?"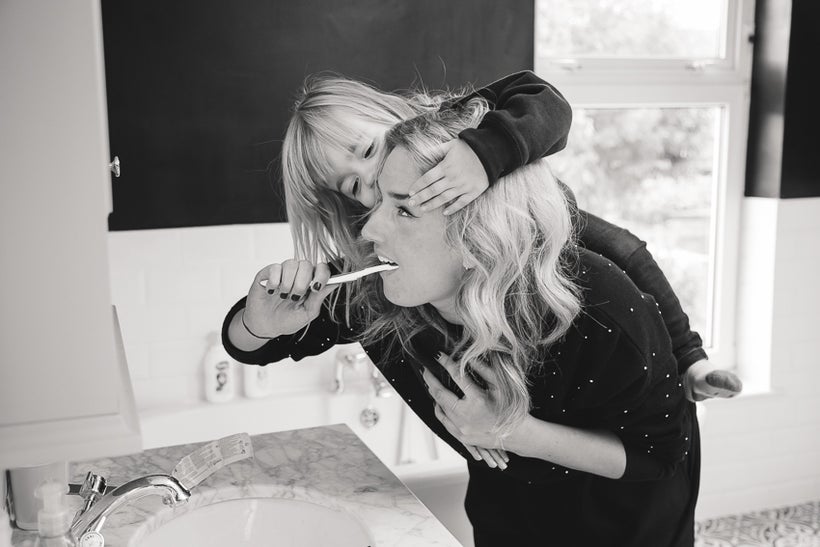 But what is that reality? What IS imperfect? Well, that is unique to each and every one of us. We all set standards for ourselves in our heads and in parenthood, be these inspired by our own expectations or those we feel around us. It's often the gap between reality and those standards that gradually widens. It's the point where the very striving to reduce that discrepancy is making you unhappy that we wish to tackle, and to for a while, at least, reduce any perceived pressure on social media to be anything other than amazing you, as you are, spotless house or not. We wish to say 'you know what? It's ok. Everyone else is striving and failing too. Be kind to yourself.' For Anna, it's soggy cheerios in a bowl that's been there for three days that she hasn't even noticed. It's washing up left undone. It's old flowers in stale water ("But I'm still, like, 'the flowers are there - psychologically I feel like I've got flowers in the house'")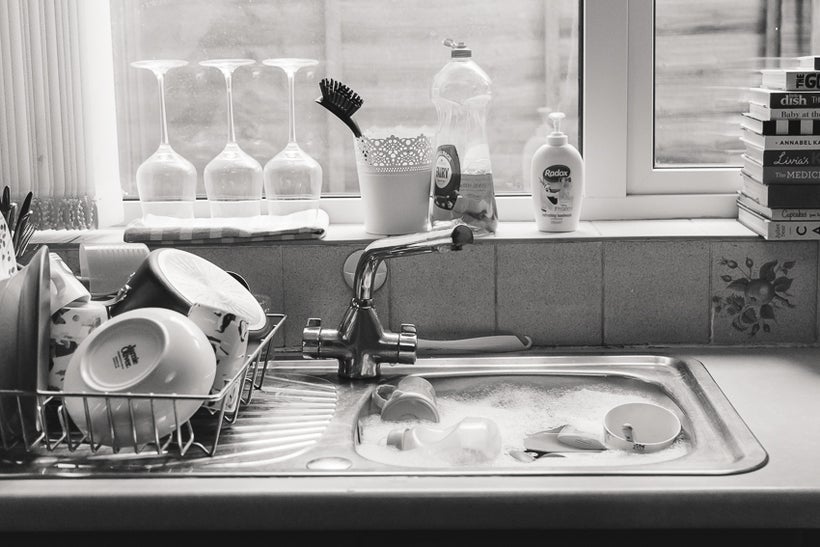 Imperfection is more achievable because it is normal. It is human and it is all around us. It just is what it is. For a little while, we want to shed a light on that reality, and to create a positive, supportive and accepting online space. To celebrate the beauty and the humour in the everyday and, in doing so, show those that need to hear it that it's ok not to be ok.
Gone are the days of the insta-perfect parent. Gone are the days of comparing yourself on social media. Gone are the days of striving for an unattainable standard.
Here in their place are the days of accepting you, just as you are. Here are the days of celebrating soggy cheerios and messy houses. Here are the days of a new perfection in parenting and imperfection is where it's at. Imperfect is the new black.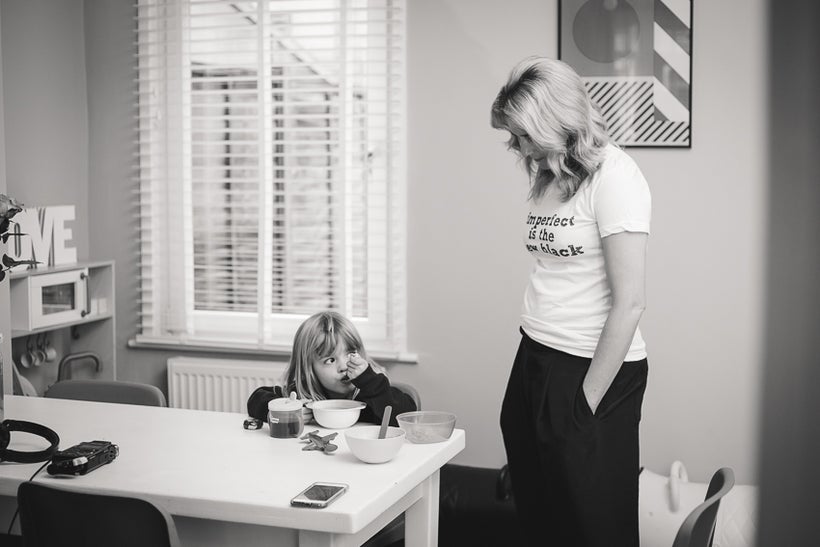 How do I get involved in the campaign?
Alongside raising awareness and shifting attitudes, the aim is to raise much-needed funds to help the PANDAS Foundation charity to support women suffering from postnatal depression.
Photograph an 'imperfect' moment in your day.
Post the photograph to Facebook or Instagram with the hashtag #ImperfectIsTheNewBlack
Text donate to PANDAS Foundation (Text PANDAS £3, £5 or £10 to 70660)*
Tag nominate three mum/dad mates to do the same.
Read the full interview with Anna (Mother Pukka) here.
*Texts cost donation amount plus network charge. PANDAS Foundation receives 100% of your donation. Obtain bill payer's permission. Customer care 01691 664275 (Charity No. 1149485).
If you feel like you may be suffering from symptoms of pre or postnatal depression and would like more information or to talk to someone, visit www.pandasfoundation.org.uk or contact your GP.
Calling all HuffPost superfans!
Sign up for membership to become a founding member and help shape HuffPost's next chapter
This post was published on the now-closed HuffPost Contributor platform. Contributors control their own work and posted freely to our site. If you need to flag this entry as abusive,
send us an email
.