• An armed man attempted to storm the Parliament building in London on Wednesday after ramming into pedestrians on a nearby bridge.
• Four people were killed: the attacker, a police officer, a 43-year-old mother, and a man in his 50s.
• Police arrested eight people following overnight raids and are investigating the incident as an act of terrorism.
An armed assailant drove into pedestrians on the Westminster Bridge on Wednesday afternoon, then stabbed a police officer while trying to storm the city's Parliament building, killing three people and injuring around 40 more. Twenty-nine people were still being treated at hospitals across the city on Thursday, including seven in critical condition.
Authorities searched at least six addresses across the country with possible links to the suspect. Police said they believe the attacker, who was fatally shot by officers, was inspired by terrorism abroad but acted alone. Prime Minister Theresa May said that suspect was British-born and had been known to intelligence officials.
The vehicle plowed into the crowds on the bridge shortly before 3 p.m., and drove onto the busy sidewalk in front of the gates of Parliament. Witnesses said the assailant then ran out of the car and rushed through the gates wielding a knife. The assailant fatally stabbed one of the police officers protecting Parliament before being taken down.
The police constable who was killed was identified as Keith Palmer, 48, who worked for the London Metropolitan Police Diplomatic Protection Group. Aysha Frade, a 43-year-old mother of two, was identified as one of the two civilians killed in the bridge rampage. Frade was a teacher at DLD College London, located just across the river from Westminster, the school's principal said. The remaining victim has not been identified but police said it was a man in his 50s. Police had initially said five people, including the attacker, were killed, but revised that figure on Thursday.
The injured include three police officers who were hit by a car while on their way back from a commendation ceremony. French authorities confirmed three French students also suffered injuries.
Note: This article contains graphic photos that may be upsetting to some readers.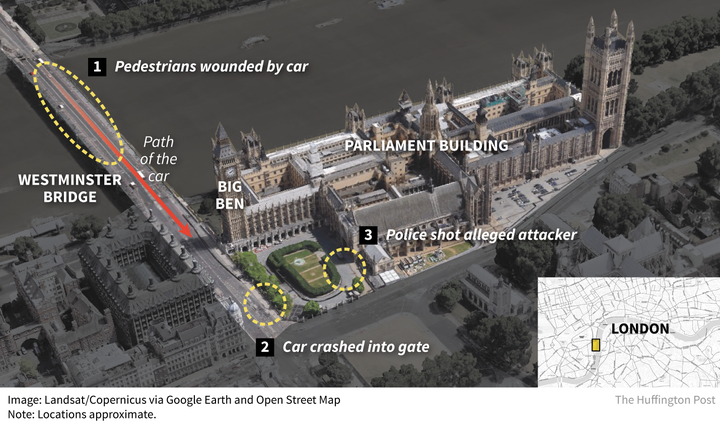 Footage from the scene on Westminster Bridge showed pedestrians rushing to help those injured in the chaos, including some victims who appeared to have severe wounds.
"I was just outside Westminster tube station when I heard an almighty crash and a vehicle that looked like a 4x4 had crashed into railings. There was smoke coming from underneath the bonnet. I saw a pedestrian or a cyclist who had clearly been hit," Alan Parry from Sky Sports News said. "The driver sprinted away from the scene. That was followed by four what sounded very much like gunshots. Then all of a sudden all hell was let loose and police descended everywhere. The whole area was locked down."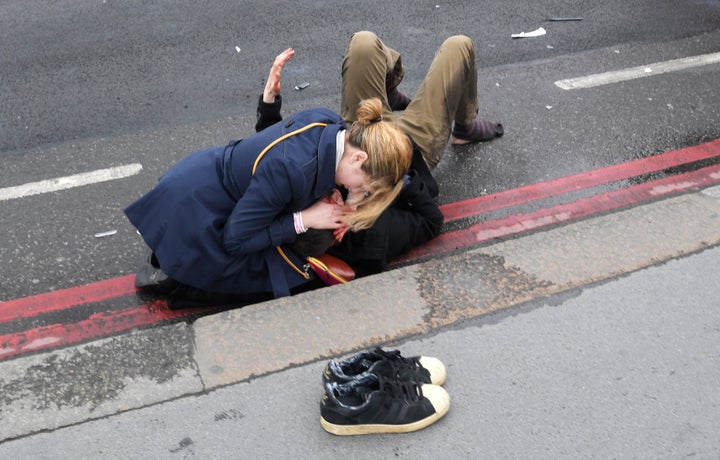 As Parliament went on lockdown, hundreds of politicians and reporters huddled inside the building.
"I heard what sounded like an explosion and raised voices outside Parliament, and so I rushed to the window," HuffPost U.K. reporter Owen Bennett recounted. "I saw people running past the entrance to the New Palace Yard entrance to Parliament, and then at least one person try to turn into the Yard itself. A police officer chased this person and wrestled them to the ground. Shots were then fired, I can't remember how many, and I didn't see who fired them."
Jonathan Reynolds, a Labour Party member of Parliament, hurried through the chaos to find his 2-year-old son, Seth, in Westminster Palace's nursery.
"We are a little shaken, but secure and defiant.""
"I think everyone who works in Westminster has prepared themselves for a day like this, hoping it would never come .... It is clear this was a very serious incident and that swift action from the security services saved many lives," he added. "We are a little shaken, but secure and defiant."
Wednesday's incident targeted the area of London where business, government and tourist activity all converge. It's probably best known for Elizabeth Tower, with its Big Ben clock, that's part of the Palace of Westminster, but visitors are also able to regularly tour the Houses of Parliament. Even disruptions that may appear minor, such as closed roads and tube stations, can bring this part of the city to a relative standstill.
Wednesdays also are particularly busy for the British government ― May was in the middle of a voting session before plainclothes police officers whisked her back to safety at 10 Downing Street.
In a news conference Wednesday night following an emergency Cabinet meeting, May called the attack "sick and depraved."
"Terrorists chose to strike at the heart of our capital city where people come together to celebrate the values of liberty, democracy and freedom of speech," she said. "That is why it is a target for those who reject those values, but let me make it clear today as I have had cause to do before: Any attempt to defeat those values through violence and terror is doomed to failure. Tomorrow morning, Parliament will meet as normal. We will come together as normal."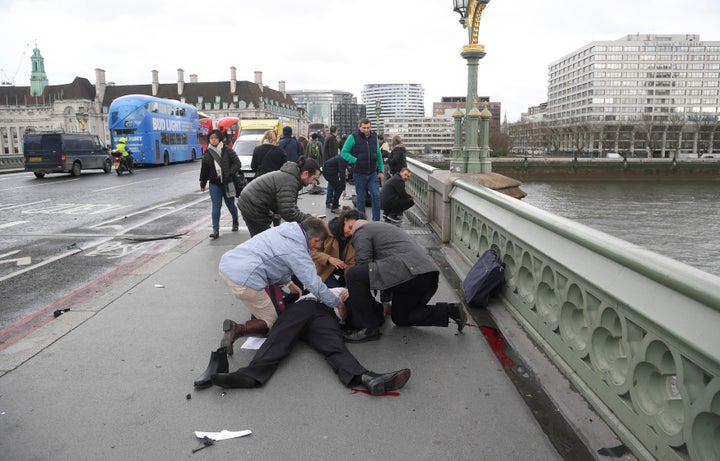 Following the incident, leaders around the world expressed their condolences for the victims and their support for British leaders.
The White House said U.S. President Donald Trump was briefed on the situation and spoke with the British prime minister. "The city of London and Her Majesty's government have the full support of the U.S. government in responding to the attack and bringing those to justice who are responsible," White House press secretary Sean Spicer said.
"We condemn these horrific acts of violence, and whether they were carried out by troubled individuals or by terrorists, the victims know no difference," U.S. Secretary of State Rex Tillerson added.
Canadian Prime Minister Justin Trudeau said on Twitter that Canada and the U.K. stand together. "Our thoughts are with the victims of today's attack in London & their families. Canadians remain united with the people of the UK," Trudeau tweeted.
The attack also resonated in Belgium, which on Wednesday marked the anniversary of a terrorist attack in Brussels. On March 22, 2016, suicide bombers killed 32 people at the national airport and a Brussels subway station. Belgium Prime Minister Charles Michel expressed his condolences on Twitter.
Wednesday's tragic incident is the deadliest attack on British soil since July 7, 2005, when al Qaeda suicide bombers targeting London's transportation system killed 52 people and wounded more than 770.
Although major attacks have hit other European nations, including France, Belgium and Germany, in recent years, Britain has avoided another terrorism event on that scale. But England has not been completely immune to extremism and has reported foiling more than a dozen plots since 2013. There have also been a number of isolated killings and attack, including the murder of Member of Parliament Jo Cox last year, a stabbing attack at Leystone station in 2015 and the murder of 25-year-old British soldier Lee Rigby in 2013.
Wednesday's attack in London bore similarities to the attack on Canada's Parliament in Ottawa in October 2014, when a lone gunman opened fire near the Parliament building and fatally shot a soldier before being killed by a sergeant-at-arms.
See photos of the scene in London below: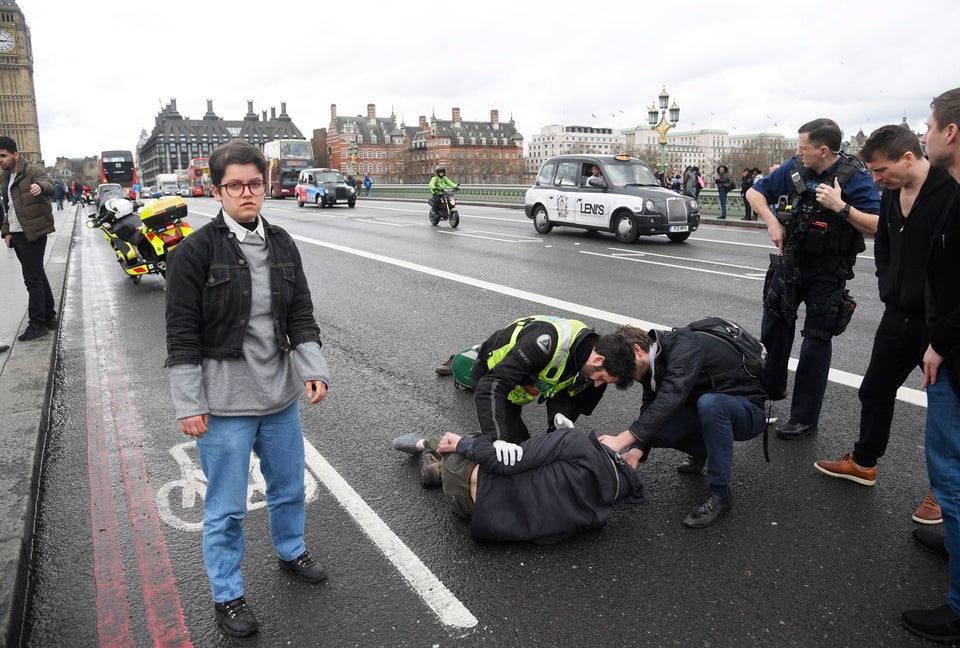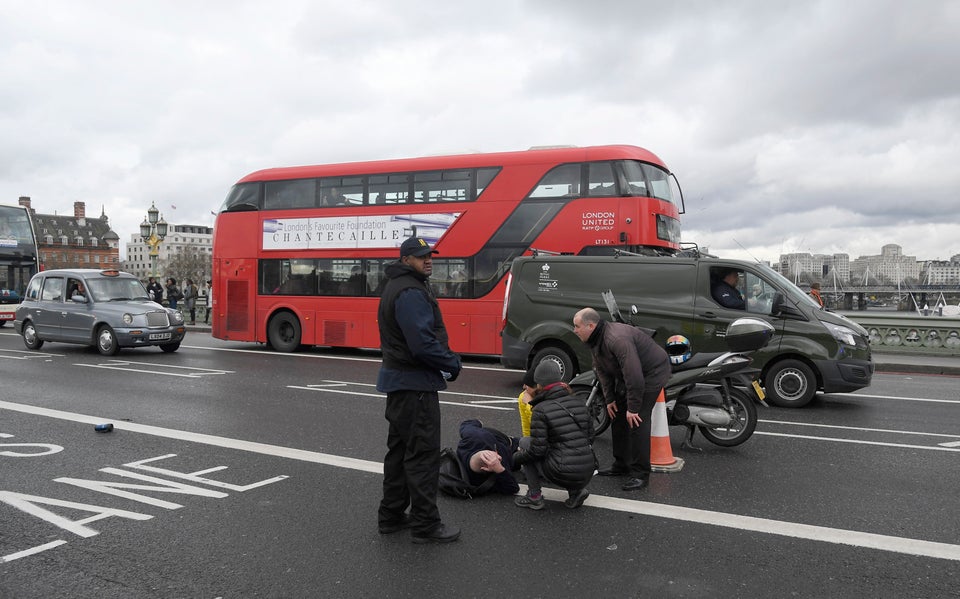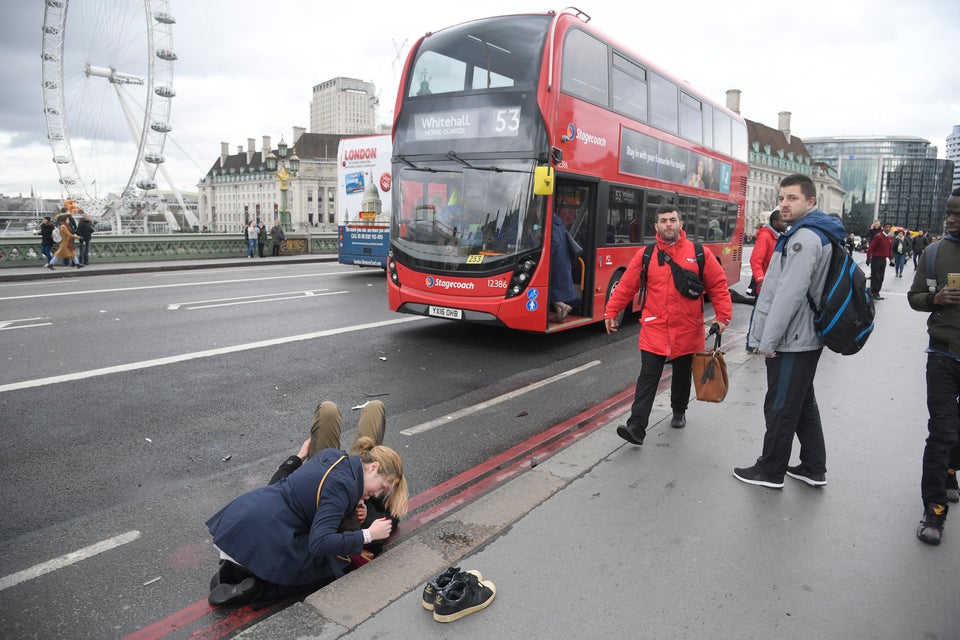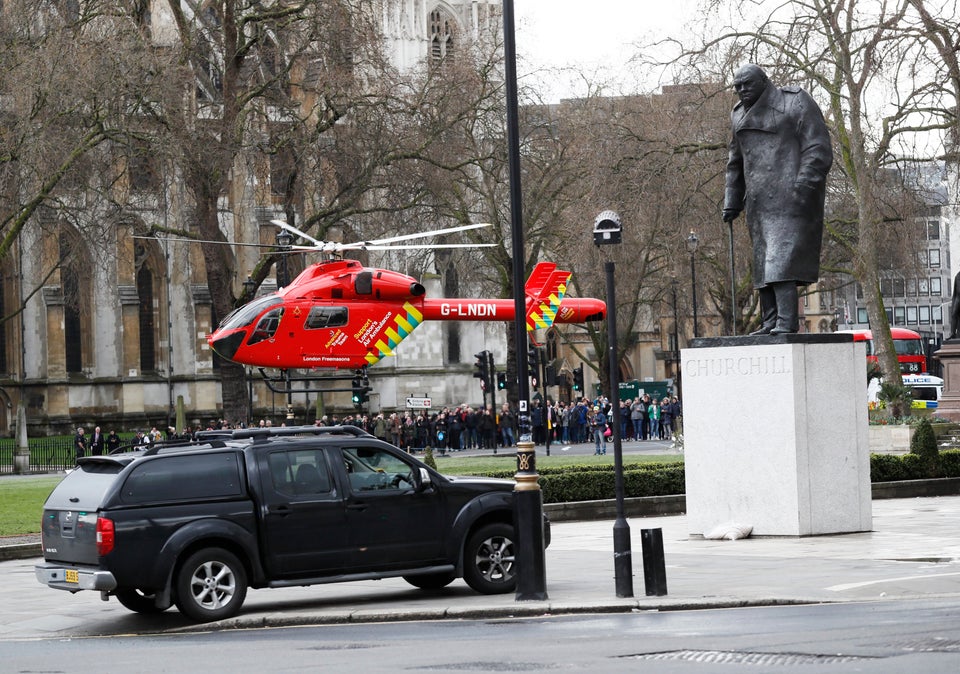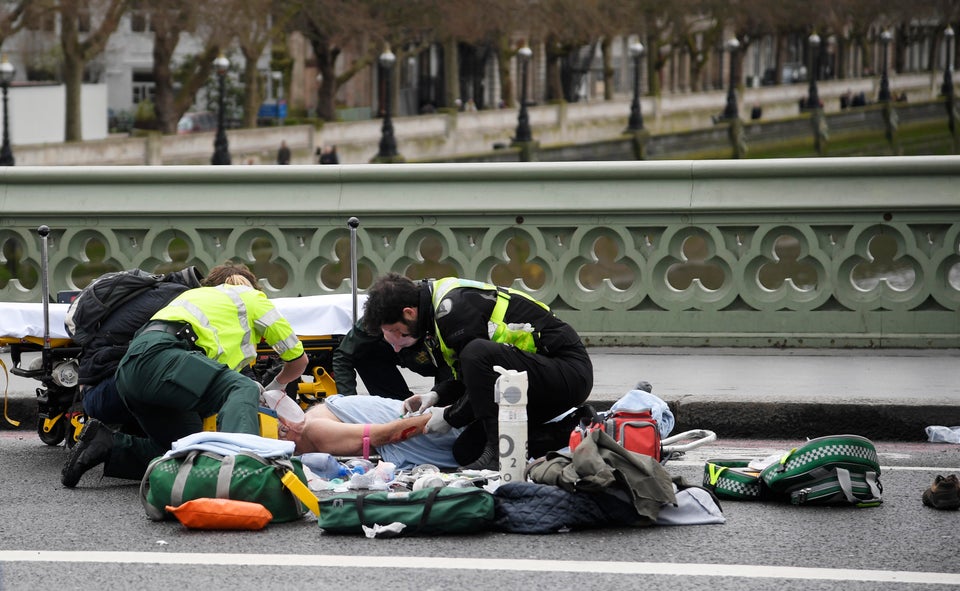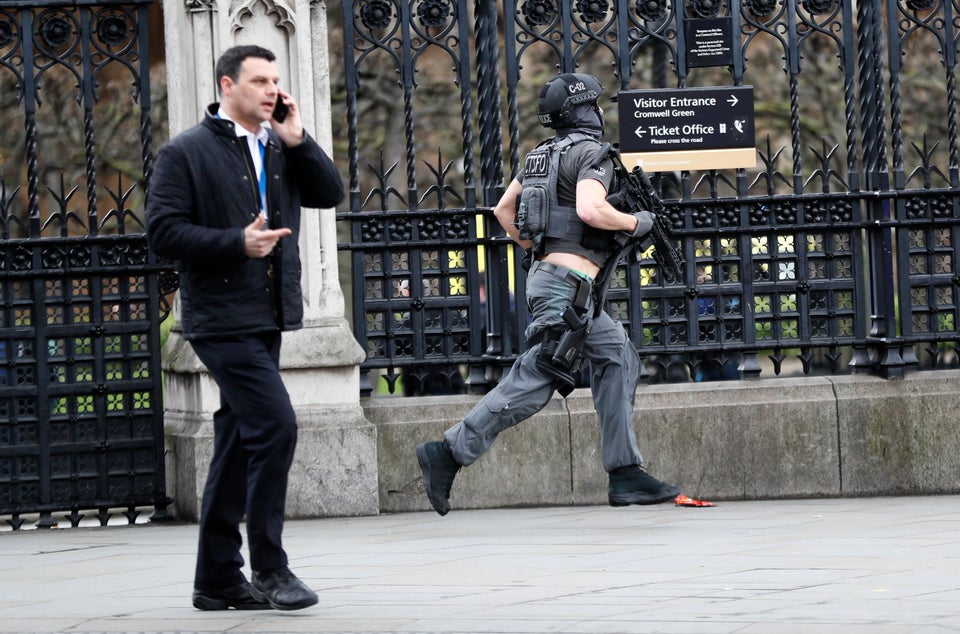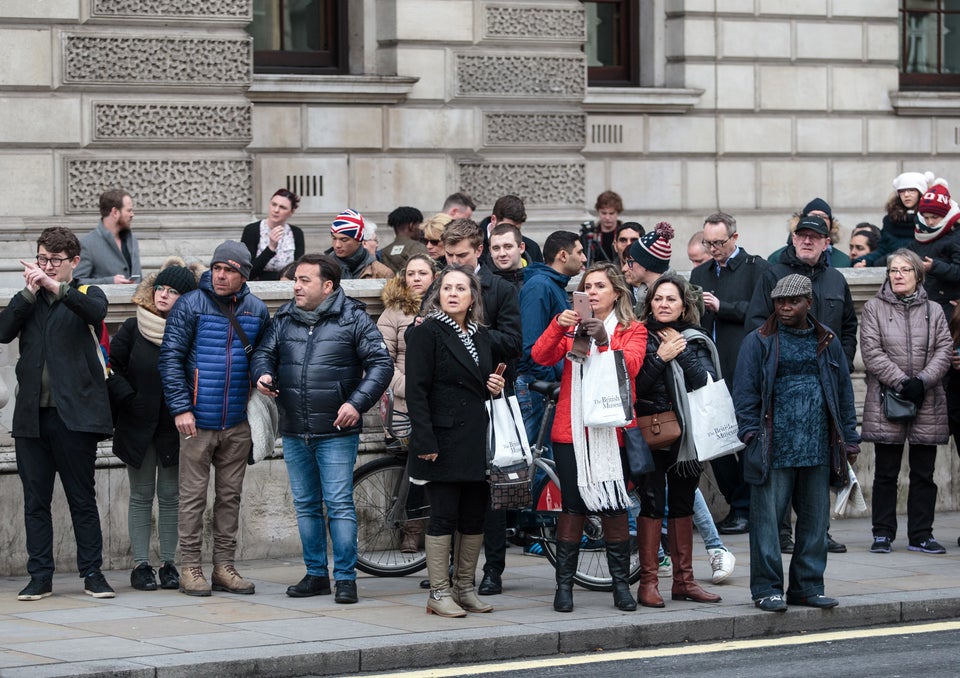 Jack Taylor / Getty Images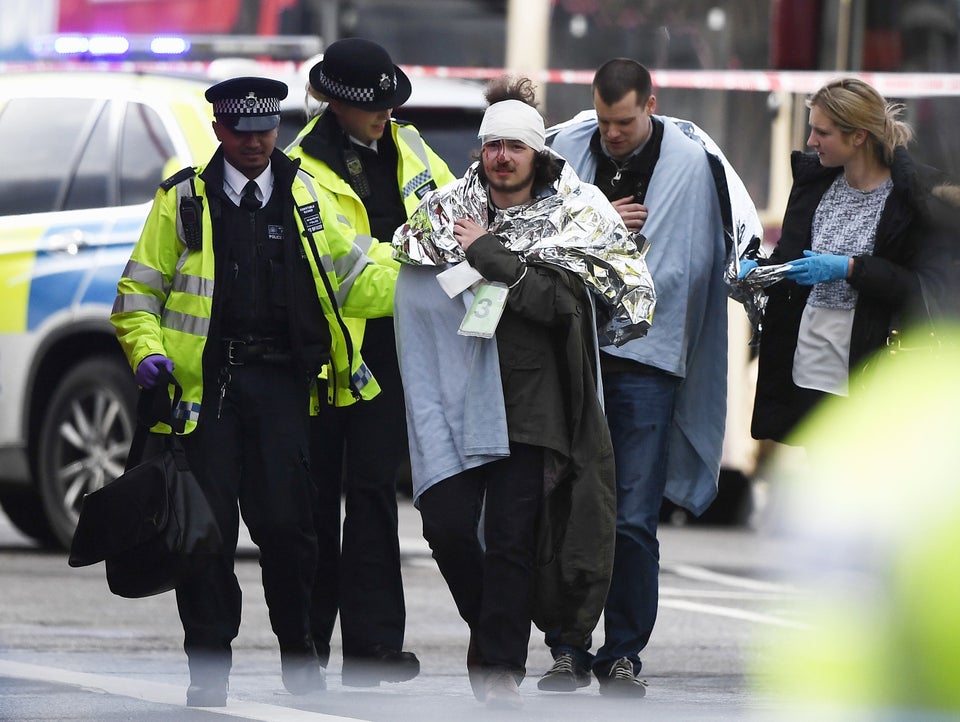 Carl Court / Getty Images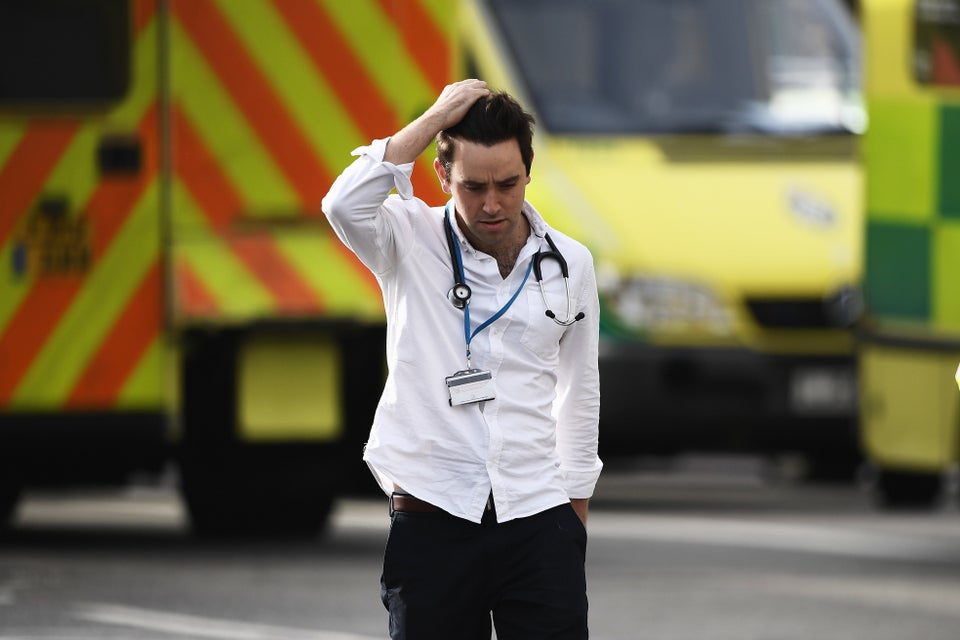 Carl Court via Getty Images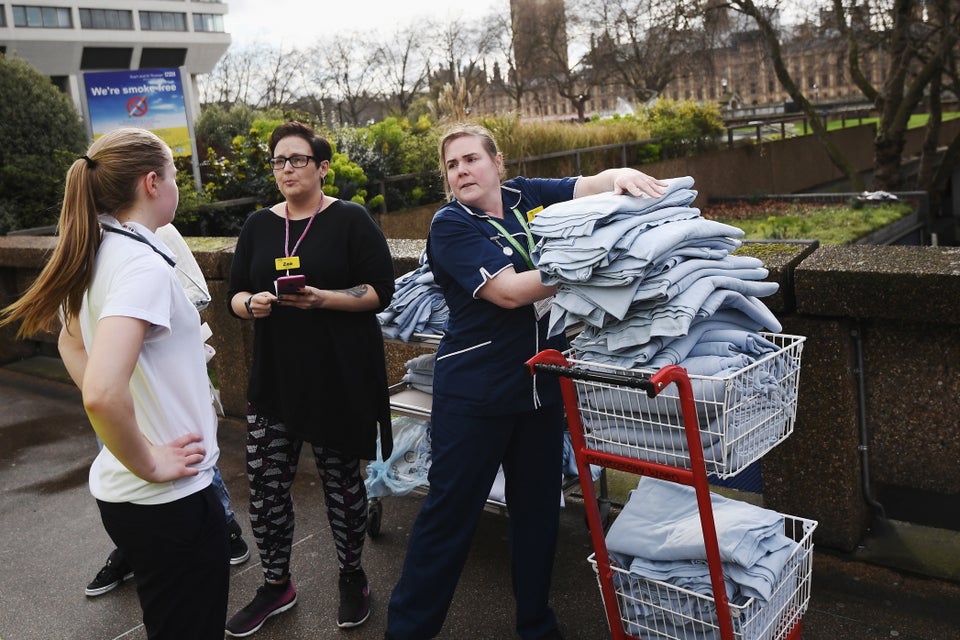 Carl Court / Getty Images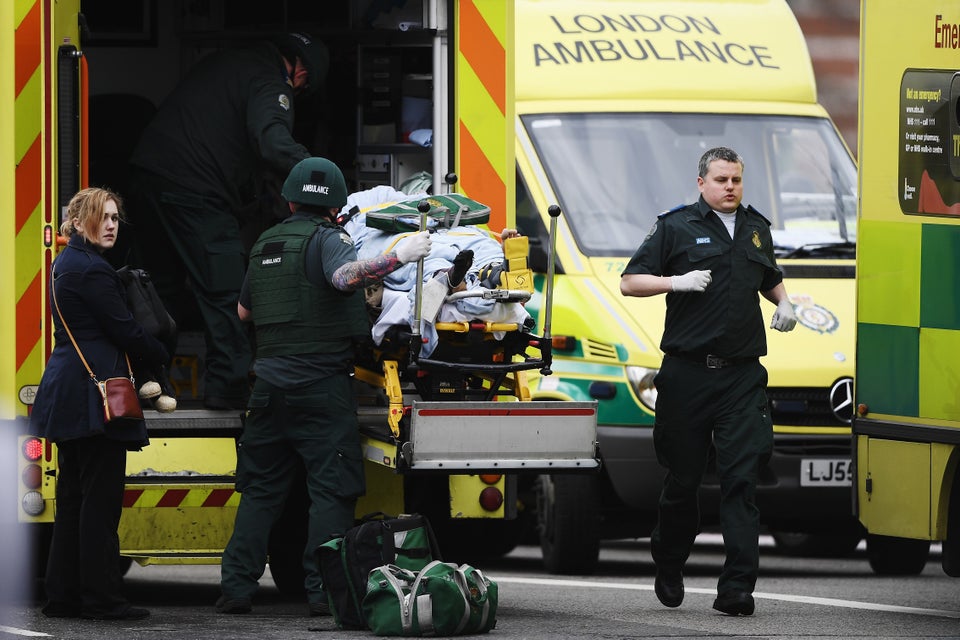 Carl Court / Getty Images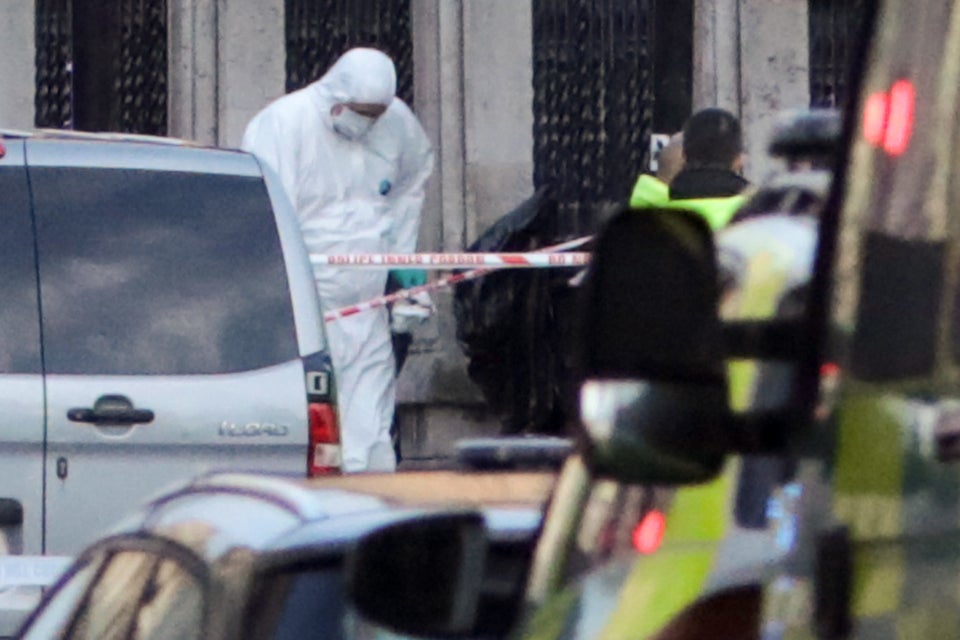 Bloomberg via Getty Images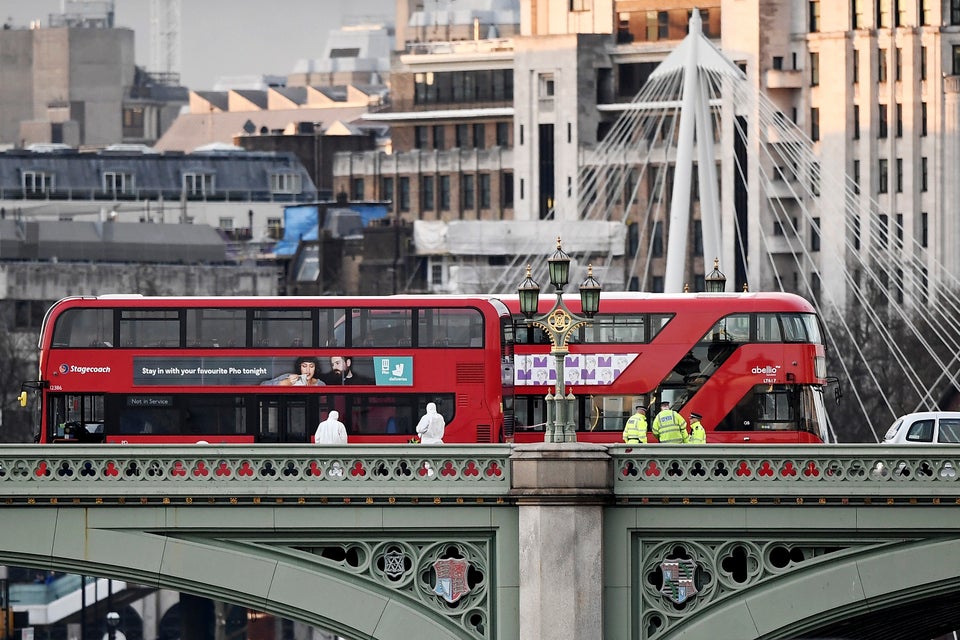 Carl Court via Getty Images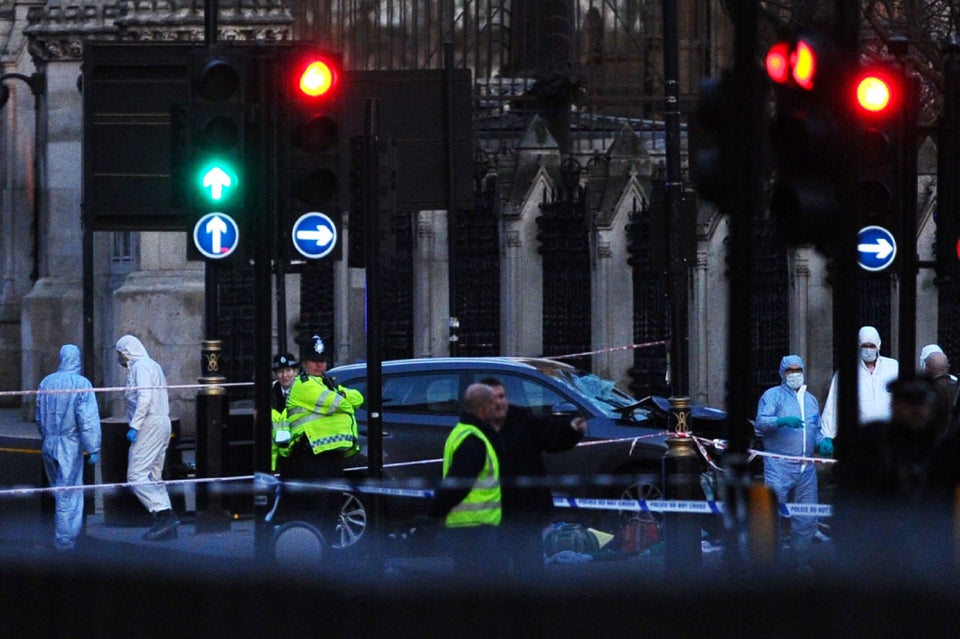 DANIEL SORABJI / Getty Images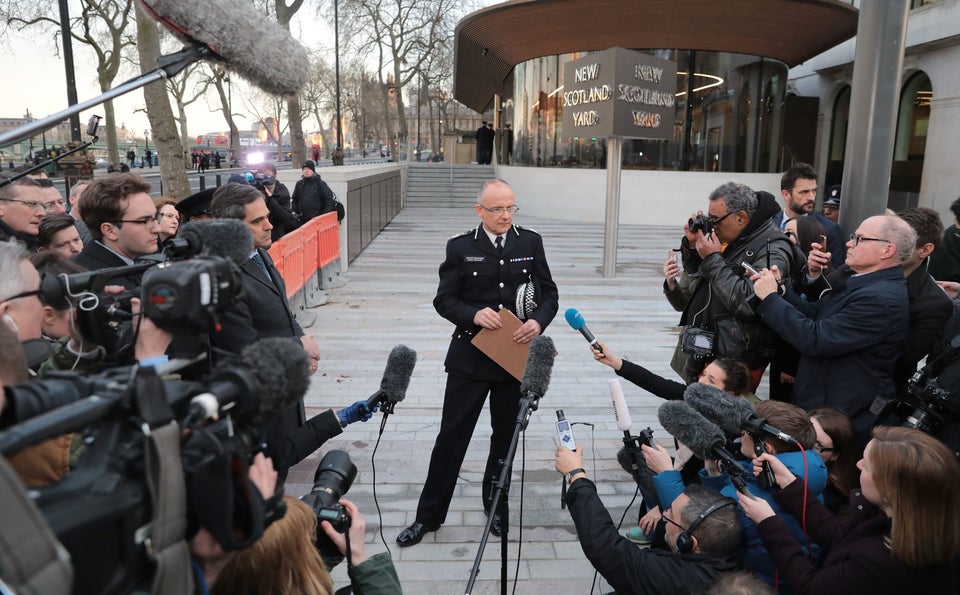 Jack Taylor / Getty Images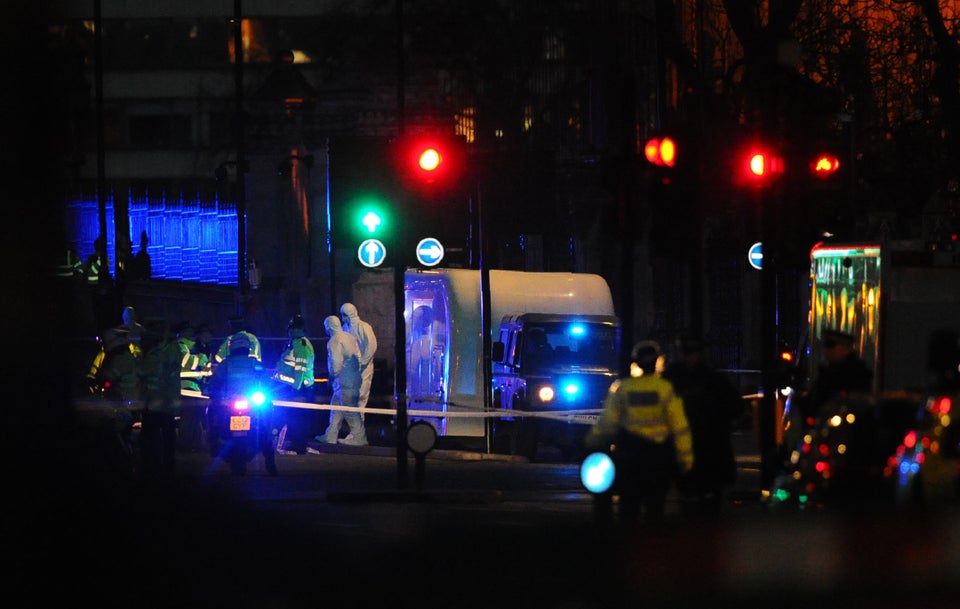 DANIEL SORABJI / Getty Images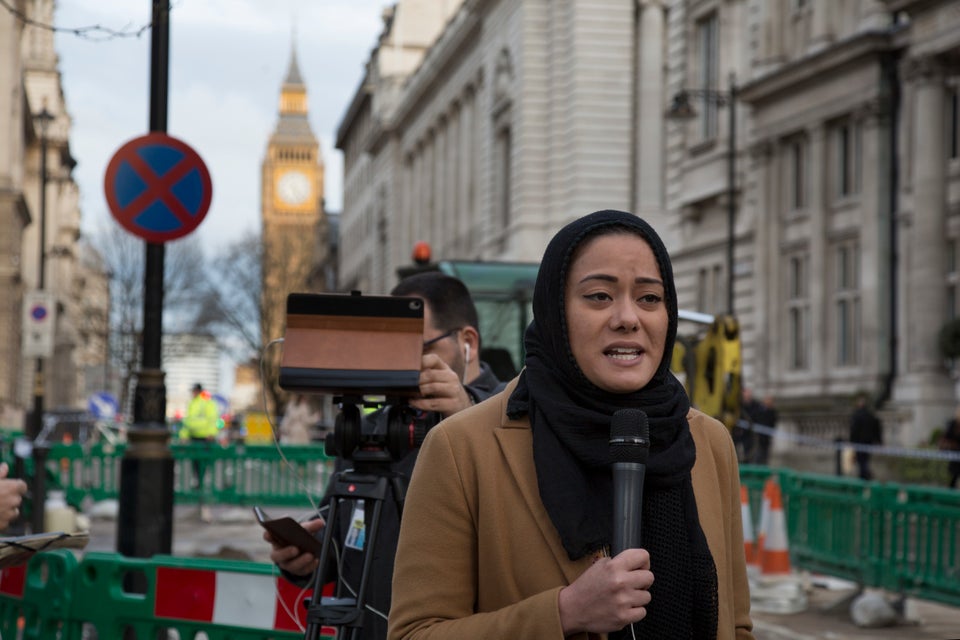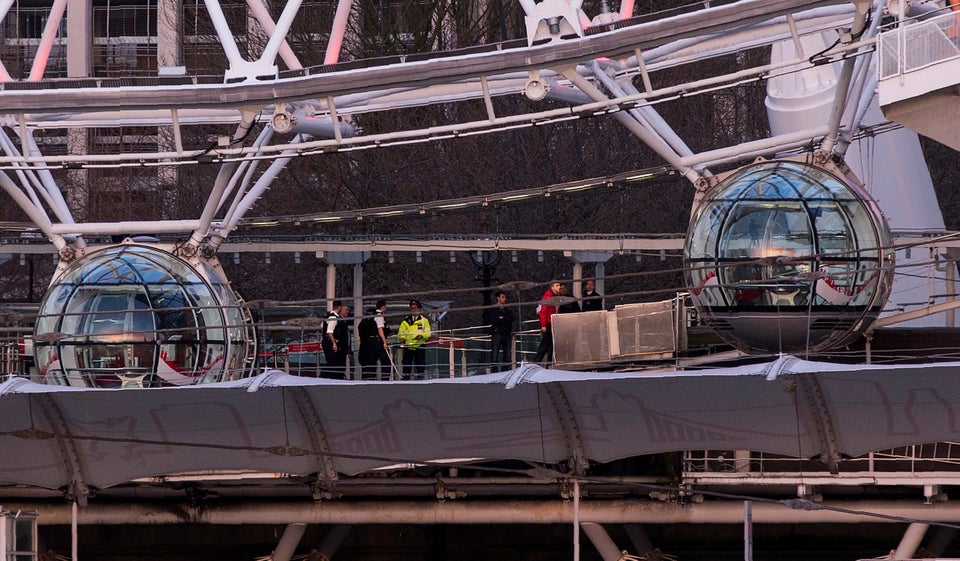 This story is developing. Please check back for updates.
Popular in the Community