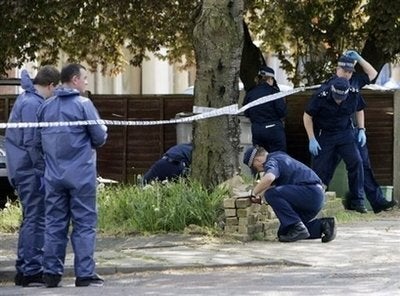 An average of five people are knifed to death in England and Wales every week, as latest figures show that fatal stabbings are at a record level.
Police recorded 277 fatal knife attacks in 2007-08 - the highest since records began in 1977, according to statistics from all but one of 43 forces in England and Wales.
Last night, the Conservative Party, which obtained the figures, called for a new drive to curb knife crime, criticising the "short-term, ad hoc" operations of recent years. The Government will today propose tougher community sentences for knife-related offences. But the Tories insisted there should be an automatic presumption that anyone convicted of having a knife would go to jail.
The police figures showed that the number of people stabbed to death rose from 201 in 1998-99 to 277 over the past year. In the Metropolitan Police area, the number rose from 68 in 2006-07 to 86 this year. The figures are based on crimes initially recorded by officers as "homicide caused by a sharp instrument" - which includes knives and other weapons. Every force apart from Bedfordshire supplied statistics. The final breakdown of knife killings, which will take into account the decisions of prosecutors and courts, will be published by the Home Office next month.
The shadow Home Office minister, James Brokenshire, said: "Knife crime claims too many lives and ruins countless others, yet under Labour it has soared. The Government's only response is short term, ad-hoc police operations, the results of which they spin and manipulate anyway.
"Combating knife crime requires concerted action in the long and short term, not just spin. As well as deploying police on to the streets as the norm, we would introduce an automatic presumption of jail for knife possession - this may be harsh but it is absolutely necessary.
"We must also address the underlying causes of crime, like drugs, family breakdown and gang culture. These are issues Labour has ignored for 11 years but which undermine all our other efforts to combat knife crime."
Sixty-six young people met violent deaths in the past year, with two-thirds of them fatally stabbed. The Home Office has made knife crime a priority for police, with stop-and-search operations being stepped up in 10 problem areas. But ministers were rebuked this month for their "irregular and selective" use of statistics after the Prime Minister and the Home Secretary said official figures showed a steep drop in stabbings in the targeted areas.
Yesterday, the Home Office insisted that violent crime had fallen by a third in the past decade, and that its efforts to police knife-crime hotspots were a success. A spokeswoman said: "We remain concerned about serious violence and in particular knife crime. That is why we are taking targeted action in 10 areas under the Tackling Knives Action Programme (TKAP). Already this is showing results - 17 per cent fewer serious knife crimes against young people in TKAP areas. More than 2,200 knives have been seized [in] targeted stop-and-search operations."
Ministers want to tighten penalties for people found guilty of carrying knives. Under new sentencing guidelines, a jobless offender given a community punishment for a knife offence would have to perform at least 18 hours of unpaid work a week, instead of the present one day a week. David Hanson, the Prisons minister, said such a sentence would be "tougher and more effective".
Calling all HuffPost superfans!
Sign up for membership to become a founding member and help shape HuffPost's next chapter