UK Street Artist HUSH deftly synthesizes his adoration for graffiti tagging, Street Art aesthetics and eastern images of feminine beauty and sensuality.
In "Twin," his show on view now at New Image Gallery in West Hollywood, he happily employs a mash-up process that borrows heavily from graffiti's mark-making and dog-eared textures of urban decay, easily sliding back and forth between paint, collage, and de-collage to achieve his sense of balance.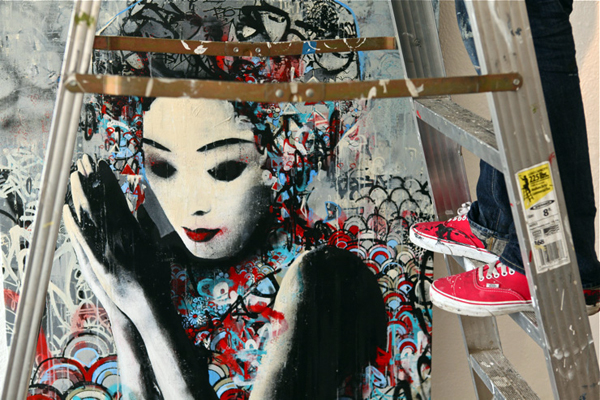 A detail from HUSH (photo copyright Todd Mazer)
With a number of shows (in New York City, Miami, London, Basel, San Francisco and Berlin) and street pieces under his belt, the British native is also quietly achieving a mastery of his technique, as urban turns urbane in the finely sprayed misty glow surrounding these peaceful idyllic visages, rising from the blue cacophony.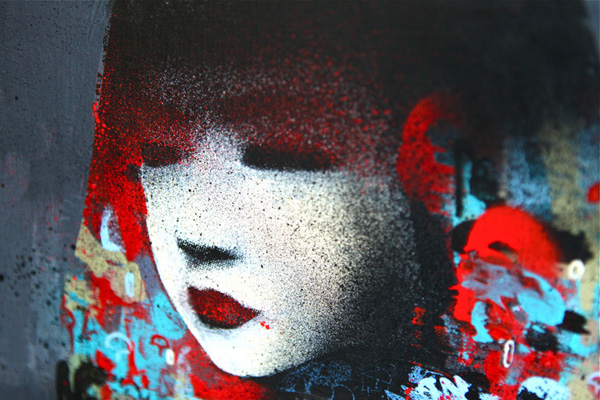 A detail from HUSH as he climbs to install at New Image Gallery (photo copyright Todd Mazer)
"Tagging, Graf, Street Art and art; each is always a choice, an action," the free expressionist HUSH told us when discussing his work, and his open approach to borrowing from comic books, graffiti method spray painting, and traditional Japanese iconography.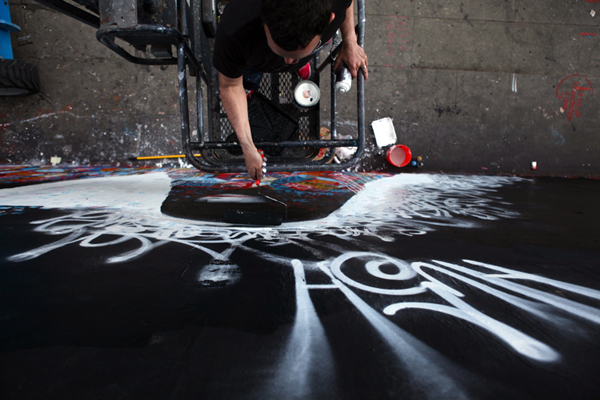 HUSH from above on the street in Los Angeles (photo copyright Todd Mazer)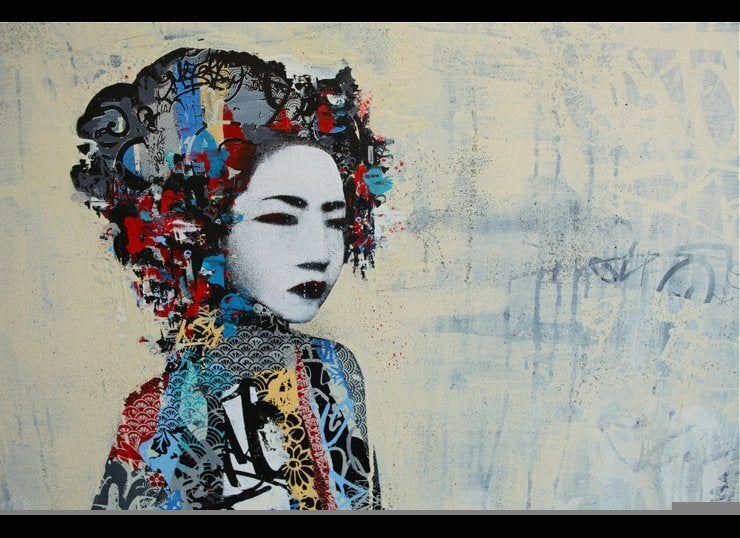 Street Artist HUSH: Blue Geishas and Graff Tags
About his latest work, Hush explains, "An outline around a tag in one of my recent paintings for example references a painting I like from Fiona Raes that I saw recently, while at the same time it references a outlining of a (graffiti) throw up."
New Image has been mining the margins of graffiti and Street Art since the mid-nineties, producing shows for artists like Bäst, Cleon Peterson, Clare Rojas, Date Farmers, Ed Templeton, Jo Jackson, Neck Face, Os Gemeos, and Retna, so owner Marsea Goldber knows what she is looking for and how to create a charged environment for artists to stretch in.
"Hush has a down-to-earth, hard-working, vibrant spirit," Marsea explains, "I've liked his work for a long time - The first time I saw his work was at the "Cans Festival" which Banksy put on in London four years ago. When I saw his colorful, ornate murals in the long tunnel I was beyond impressed."
As his work mutates and configures across mediums, one might wonder how much of the final piece has meaning to him and whether it is an involuntary stream of favorite symbols and techniques combined and recombined. "I feel like my works have matured and I'm creating my own visual language, even though it's probably only me who understands it," he says smiling.
"It's funny - I've had this work in my head for the last few years but it's just fitting into the story now. I think I've got until the year 2014 in paintings now but I'll have to take you through it in real time... I'm looking forward to showing how it all pans out in the future though."
**********************"Twin" by HUSHis on view now through June 18New Image Art Gallery7908 Santa Monica Blvd.West Hollywood, CA 90046
Related
Popular in the Community