British police are investigating an explosion in a West London subway station that injured at least 22 people during rush hour on Friday morning. The incident, which authorities are treating as terrorism, caused a fire on the train and sent a crowd of panicked commuters fleeing the scene.
Major attacks have hit European nations such as France, Belgium and Germany in recent years, but the United Kingdom had ― until this year ― mostly avoided large-scale terror events since the series of suicide bombings in London that killed 52 people on July 7, 2005.
Here is a timeline of some of the major extremist attacks to hit Britain in the last 12 years:
2017 ― Finsbury Park Mosque Attack
A man driving a van struck pedestrians leaving Finsbury Park Mosque in North London on June 19, injuring at least 10 people. The assailant's motive remains under investigation, but it is believed that he was self-radicalized into an extremist hatred of Muslims. 
2017 ― London Bridge And Borough Market Attacks
Three men plowed a van into pedestrians on the London Bridge on June 3 before exiting the vehicle and stabbing other people at a restaurant in Borough Market, less than half a mile away.
Eight people were killed and nearly 50 were injured. The self-described Islamic State claimed responsibility.
2017 ― Explosion After Ariana Grande's Manchester Concert
A suicide bomber detonated an improvised explosive device near the Manchester Arena on May 22, moments after pop singer Ariana Grande wrapped up a concert at the venue. At least 22 people, including children, were killed, and 59 were injured in the explosion. Most victims were leaving the concert hall when the attack took place.
Manchester police identified the attacker as 22-year-old Salman Abedi, a British national whose parents came to the U.S. from Libya. Abedi was killed when the bomb was detonated. ISIS claimed responsibility for the attack in a statement released the following day.
The incident, which targeted young concertgoers and their families, was the deadliest on British soil since 2005 London bombings.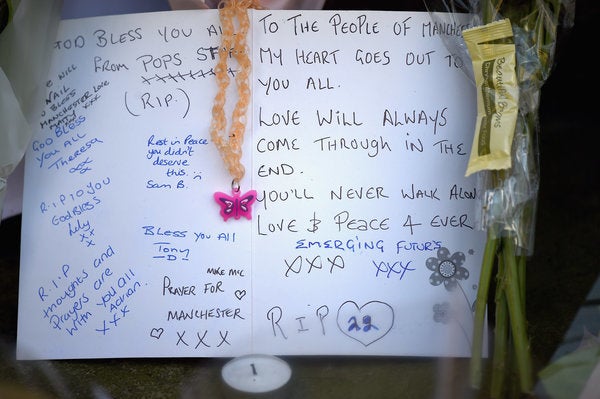 2017 ― Westminster Bridge Attack
On March 22, a car attack on London's Westminster Bridge and a stabbing at Parliament killed five people and left dozens injured. Khalid Masood, a 52-year-old man from South East England, carried out the attack. Masood was once a peripheral figure in an investigation related to violent extremism. He was shot and killed outside Parliament during the attack.
ISIS claimed responsibility for the attack, but British authorities later found no evidence that Masood had any direct association with the militant group.
2016 ― The Murder Of Jo Cox
Far-right extremist Thomas Mair fatally shot and stabbed Member of Parliament Jo Cox on June 16 last year, in the village of Birstall. The attack came during the height of tensions ahead of the 2016 Brexit referendum, and Mair was heard shouting "Britain first" and similar nativist slogans before the murder. Cox was pro-immigration and a supporter of the Remain movement for the U.K. to stay in the European Union.
Police found Nazi memorabilia after raiding Mair's house, and it was later revealed that he had online ties to far-right and white supremacist groups. Mair, 53, was sentenced to life in prison for the killing, after doctors found no evidence that his mental health was poor enough to relieve him of responsibility.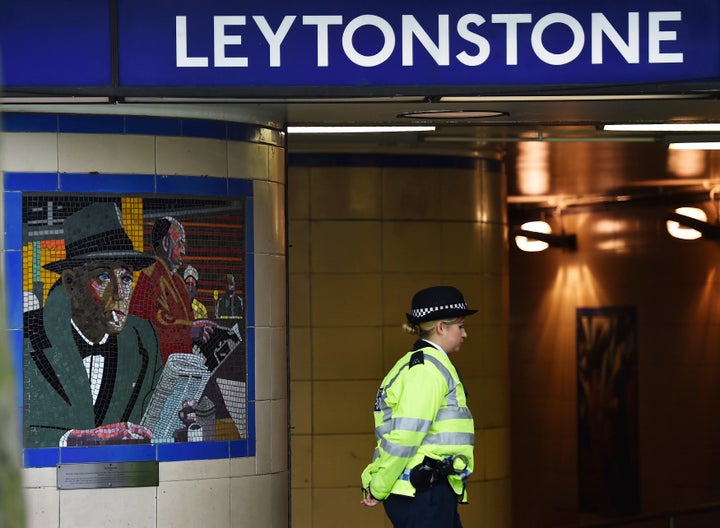 2015 ― Leytonstone Station Stabbing
An attacker stabbed multiple people in the Leytonstone Underground station in East London on Dec. 6, 2015. Muhiddin Mire, a 30-year-old taxi driver diagnosed with paranoid schizophrenia, randomly targeted people in the station in what he later claimed was revenge for Western airstrikes in Syria.  
In footage of the attack, commuters can be heard screaming at Mire to put down the knife. One man calls out "You ain't no Muslim, bruv." People on Twitter later took up the phrase as a way to emphasize that Mire's actions didn't represent Islam.
Mire was convicted of attempted murder and multiple counts of attempted wounding. Two doctors who reviewed the case disagreed on whether his mental illness, as opposed to his extremist beliefs, could be considered the cause of the attack.
2013 ― Murder of Lee Rigby
Lee Rigby, a 25-year-old British soldier, was killed in a terror attack in Woolwich, southeast of London, on May 22, 2013. Two assailants rammed Rigby with a car before stabbing and attempting to behead him on a street outside his Army barracks. Horrified bystanders witnessed the attack, which was also caught on video.
The killers were two British Islamist extremists in their 20s who said they killed Rigby as an act of war. Both men were arrested at the scene and later convicted of murder. The violence of the attack shocked Britain, and prompted numerous memorials for Rigby.
2007 ― Glasgow Airport Attack
In June 2007, two men attempted a car bomb attack at Glasgow Airport in Scotland. Bilal Abdulla and Kafeel Ahmed drove a jeep into the terminal building at the airport, but the gas canisters in the vehicle failed to ignite.
Ahmed doused himself in gasoline and self-immolated during the attack. He died a month later from severe burns. Abdulla was arrested and found guilty on charges including conspiracy to commit murder. 
The two men, both in their 20s, held extremist views and Abdulla claimed to conduct the attack in response to the 2003 invasion of Iraq, which the U.S. and U.K. led.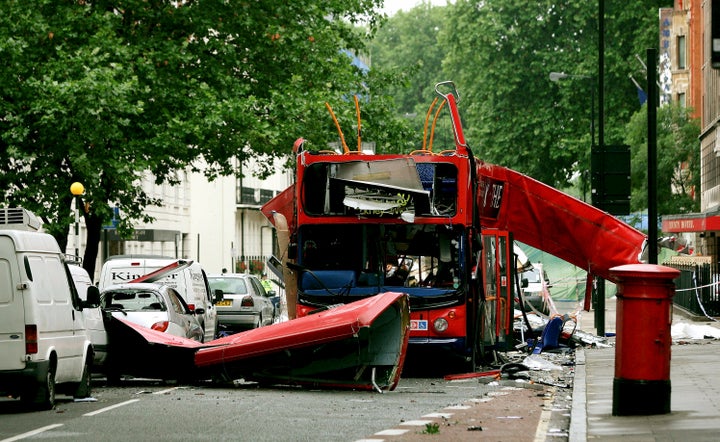 2005 ― The 7/7 London Bombings
On July 7, 2005, a series of suicide bombings in London killed 52 people and wounded more than 770. The attackers targeted the city's transport system, detonating bombs hidden in their backpacks on three London Underground trains just before 9 a.m. Around an hour later, a fourth attacker blew himself up on a double-decker bus.
The incident was one of the worst terror attacks in British history. Four British attackers linked to al Qaeda were found to have carried out the bombings, and all of them died in the blasts. On July 21, a similar plot failed when unexploded bombs were found on three subway trains and a bus. 
This post was originally published in March after the Westminster Bridge attack. It has been updated to include information on the Manchester Arena attack, the London Bridge and Borough Market attacks, the Finsbury Park attack and the Parsons Green explosion.
REAL LIFE. REAL NEWS. REAL VOICES.
Help us tell more of the stories that matter from voices that too often remain unheard.