WASHINGTON -- A bipartisan group of U.S. senators pushed Thursday to send arms to Ukraine, saying in a Capitol Hill news conference that the United States needs to send "defensive, lethal" weapons to the country to help stem fresh offensives by Russian-backed separatists.
Sending arms would be a step beyond what many European allies support, and the senators offered no estimates of how far Americans should be willing to go in a new proxy war against Russia or how much the nation should be willing to pay. The White House has already sent $118 million in non-lethal assistance to Ukraine.
"The United States and our allies must deter further Russian aggression by providing defensive, lethal assistance," said Sen. John McCain (R-Ariz.), the chairman of the Senate Armed Services Committee. He said that legislation would be offered soon to allow for the nation to send arms.
McCain also said the move would be carefully calibrated to pose no real threat to Russia, but to raise the stakes for Russian President Vladimir Putin to meddle further in Ukraine.
"Defensive, lethal assistance will not allow the Ukrainian military to defeat the Russian military in a full-fledged war. But it will raise the risks and costs Russia must incur to continue its offensive," McCain said. "It will pierce the veneer of the Kremlin's cynical and false narrative that there are no Russians in Ukraine."
The top Democrat on the committee, Sen. Jack Reed (R.I.), echoed McCain, saying the goal would be to force all the parties back to considering a political solution to the conflict.
"We should be prepared to help Ukraine to defend itself against this aggression," said Reed, who noted that Congress already has approved sending defensive weapons, including anti-tank weapons and radar systems.
"The hope of all of us is that this step will reenergize the political process, and that there will be a respect for the cease-fire, and also help to the president of the Ukraine to deal with the political issue," Reed said.
Germany and France have so far resisted arming the Ukrainian government, and senators were harshly critical on Thursday.
"I'm hopeful that Germans, that under German leadership, that the Europeans will come around, and be much more active in support of Ukraine. Frankly I'm not overly optimistic," McCain said. "They've been a huge disappointment to me. Their actions recently have been reminiscent of the 1930s," he added, referring to infamous appeasement policies towards Nazi Germany before World War II.
McCain said that refusing to give Ukraine weapons was contributing to massacres. "Right now, they have no ability to defend against Russian tanks. That really makes for wholesale slaughter," he said.
Asked about potentially escalating conflicts between the United States and Russia, McCain suggested that the situation was growing more dire because sanctions and diplomacy were not enough to deter Putin.
"There was the belief that if we did not provide defensive weapons to Ukraine, then things would eventually be OK. We didn't want to 'provoke' Vladimir Putin. Well obviously Vladimir Putin has not gotten that message," McCain said.
"We're frankly at the end of the line here. You just can't stand by and watch people being slaughtered with superior equipment. You know, blankets don't do very well against tanks," he said.
Asked about how much cost the United States should bear to supply the weapons, McCain answered, "I have no idea."
His colleagues did not either, but suggested the cost did not matter. They also ruled out sending U.S. forces to fight on the ground in Ukraine.
"The key here is to give the Ukrainians the ability to defend their territory and also to move back to a political solution," said Reed.
Several pointed to an agreement signed 20 years ago called the Budapest Memorandum, in which the United States, Russia and Britain offered assurances to respect the sovereignty and borders of Ukraine. They also noted that the United States has promised to shield other allies along Russia's borders.
"We gave our word. And what is the cost if we don't keep our word that we will be there to protect our friend?" said Sen. Joe Donnelly (D-Ind.) "Everybody in the region is scared to death, is afraid of what Vladimir Putin is going to do, and if at some point we don't stand up for our friends, it will only get worse."
The White House is reportedly considering taking stronger steps as the situation worsens.
Spokesman Josh Earnest said earlier this week that the aid already sent includes "body armor, helmets, vehicles, night and thermal vision devices, heavy engineering equipment, advanced radios, de-mining equipment, portable explosive ordinance disposal robots, patrol boats, counter-mortar radars, and other items that are required to sustain Ukraine's defense and internal security operations."
Earnest did not say if boosting that effort was in the cards, but he did not rule it out.
"We're continually evaluating our strategy and our response with essentially two goals: One is to isolate Russia's political leadership for the decisions they're making to destabilize the situation in Ukraine, and also to take steps to support our friends in Ukraine that are going through a very difficult time," Earnest said.
"Ultimately, it is the view of the United States that this situation will be resolved diplomatically, that the idea that somehow the United States can offer enough assistance to the Ukrainians to put their military on par with the large Russian military is unrealistic," he added.
McCain did not say exactly when he would advance legislation, but suggested it would be soon.
"We'll be marking up legislation," McCain said.
A group of more than 30 members of the House of Representatives also made a similar appeal Thursday in a letter to the White House, pleading for more war aid.
"Tighter sanctions and greater humanitarian assistance should be part of that support, but now, more than ever, the U.S. must supply Ukraine with the means to defend itself," said the lawmakers, including the top Democrat on the House Intelligence Committee, Rep. Adam Schiff (Calif.) and the Republican chairman of the Homeland Security Committee, Rep. Michael McCaul (Texas).
Before You Go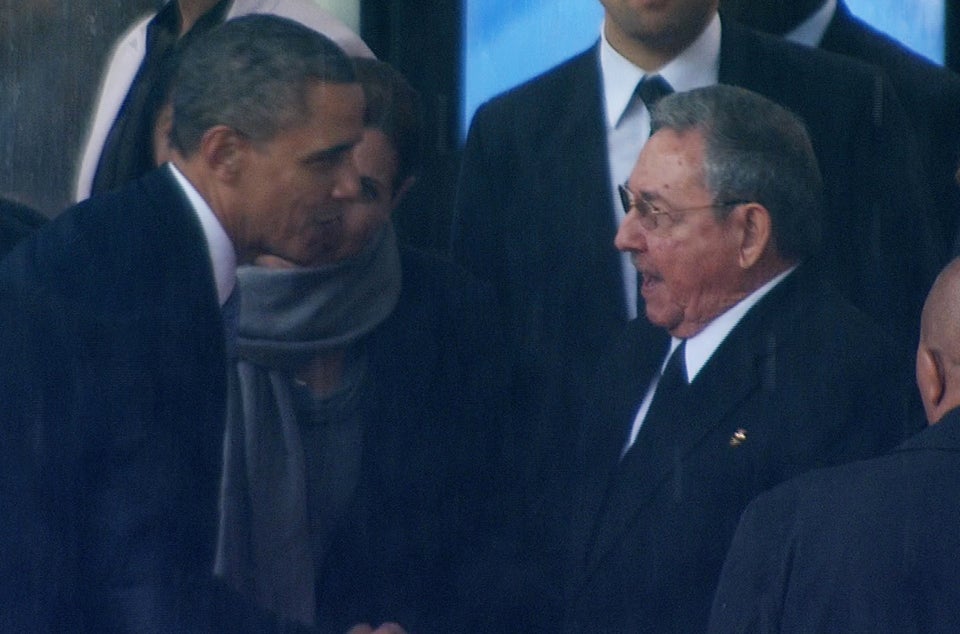 Obama's Handshakes Around The World
Popular in the Community