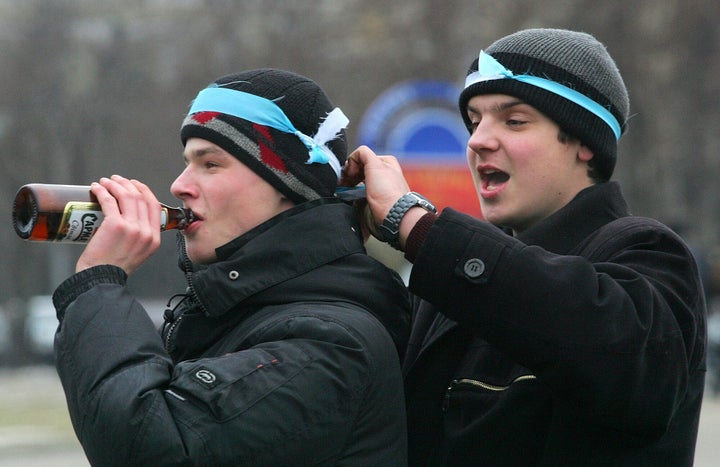 KONOPKIVKA, Ukraine — Here at the Medobory Sanatorium in western Ukraine, visitors come not only to take "the waters," but also "the beer."
Not to drink, of course, but to bathe in.
Beer baths are just one of many unorthodox theraputic procedures offered by this no-frills, post-Soviet spa just 12 miles outside the regional center of Ternopol.
The former Soviet Union is a mecca for such off-beat healing methods.
That's partly because the level of medicine in these countries often lags far behind that found in the West, so people turn instead to homeopathic and other unconventional remedies.
Also, there is a strong tradition of "home cures" in the countryside, where people have retained many of their traditional ways, and are not always as well-informed about modern medical practices.
Westerners might scoff at the idea of some of these techniques, some of which seem positively Dickensian. For example, cupping, in which heated drinking glasses are applied to the patient's bare back to create a vaccum. Or a mustard poultice: a cloth covered in a fiery mustard paste, which is then placed on a person's chest in order to "burn out" a cough.
Dr. Richard Styles, medical director of the American Medical Center in Kiev, said he was aware that unusual therapies are sometimes used in this region. Generally, he said, trials and medical research in the former eastern bloc are often not conducted according to as stringent standards as are customary in the West.
"But we have to recognize that not all medicine is evidence-based," he said. "Some of it is anecdotal, and some doctors use their own evidence. That doesn't necessary mean that it's wrong."
According to Medobory's promotional materials, immersing oneself in beer helps the kidneys, and aids digestion. The yeast bacteria in the swill rejuvenates the skin and calms the body, as well, it says.
It seemed to me that simply drinking it might produce at least some of those results.
But in the interests of journalistic truth, I decided to test Medobory's theory.
I stripped down as Mariya, one of Medobory's white-smocked personnel, turned on two large faucets and began to fill up a spacious, white-marble bathtub with hot water and what smelled like a decent, unfiltered pilsner.
She gestured and I slipped into the pungent water.
The foam quickly subsided, and I got used to the aroma. It felt pretty much like the thousands of baths that I had taken before — except for perhaps the first time in my life, I was tempted to take a sip of the tub's contents.
"I should have brought a straw," I said to Mariya, a cheerful woman of indeterminate age with hair the color of dry straw.
She laughed. "Next time, tell us you're coming and we'll have one ready," she said.
Later, I asked Styles, the Kiev doctor, what he thought of the beer therapy. Styles said he hadn't seen any studies that support Medobory's claims. Still, he admitted, "the idea does appeal."
But if reeking like a beer vat is not your thing, you can opt for the dozens of alternative "therapies." Some may be familiar to Western spa goers, others less so.
You might, for example, choose to be covered in swamp mud to accelerate the healing of broken bones, relieve allergies and soften scars.
You could submit yourself to dozens of bee stings to stimulate the nervous system, ease joint pain and boost the immune system. Sometimes, for unclear reasons, patients are told to eat honey at the same time.
And then there's the carbon-dioxide "bath," administered through what looks like an iron lung.
Most visitors to Medobory come for a more familiar, prosaic cure, such as bathing in or drinking waters saturated in minerals like sodium chloride and sulphur.
The natural springs located here have long been popular for their reputed healing powers, and were a playground for the local aristocracy before the Soviet era.
Chief doctor Vasil Martynyuk, who has worked at the sanatorium since it opened, claims that post-procedural tests show that the majority of visitors show tangible results.
Everyone I talked to assured me that they sensed an improvement in their health, whatever treatment they had chosen.
According to Martynyuk, more than 90 percent of the patients are return clients.
And there is no denying that the staff is enthusiastic about their work.
"You should stay a little longer," Martynyuk said as I was leaving. "The man who works with the leeches is coming in a couple of hours."
All rights reserved ©GlobalPost
Popular in the Community