* Ukrainian minister says armed men are Russian forces
* Russian fleet denies involvement
* Swiss freeze assets of Yanukovich and son
* Yanukovich reappears in Russia after week on the run
* Ukrainian currency pulls out of free fall
SIMFEROPOL, Ukraine, Feb 28 (Reuters) - Armed men took control of two airports in the Crimea region on Friday in what the new Ukrainian leadership described as an invasion by Moscow's forces, and ousted President Viktor Yanukovich surfaced in Russia after a week on the run.
Yanukovich said Russia should use all means at its disposal to stop the chaos in Ukraine as tension rose on the Black Sea peninsula of Crimea, the only region with an ethnic Russian majority and the last major bastion of resistance to the overthrow of the Moscow-backed leader.
Kiev's border guard service said more than 10 Russian military helicopters had flown over the peninsula and Russian servicemen had blockaded one of its units in the port city of Sevastopol.
A serviceman at the scene confirmed to Reuters he was from Russia's Black Sea Fleet, part of which is based in Sevastopol, and said they were there to stop the kind of protests that ousted Yanukovich in Kiev.
The fleet denied its forces were involved in seizing the military airport near Sevastopol, where armed men later also occupied the runway, Interfax news agency said, while a supporter described the armed group at the civilian international airport in Simferopol as Crimean militiamen.
Ukraine's commercial airline said later that it had been refused entry into Crimean airspace.
Moscow has promised to defend the interests of its citizens in Ukraine and has said it will not intervene by force. But its rhetoric since the removal of Yanukovich a week ago has echoed the run-up to its invasion of Georgia in 2008.
The U.N. Security Council called an emergency session for later on Friday at the request of Ukraine's new leaders, who warned the country's territorial intergrity was threatened.
Any armed confrontation in Crimea would have major global repercussions, with Russia and the West already at odds over the change of power in Ukraine and supporting opposite sides in Syria's civil war. They have, however, pledged to cooperate to prop up Ukraine's faltering economy.
Ukraine's top security official, Andriy Paruby, said the armed men in Crimea were taking their orders from the top in Russia. "These are separate groups ... commanded by the Kremlin," Paruby, secretary of the National Security and Defence Council, told a televised briefing in Kiev.
One of the options being considered was declaring a state of emergency in Crimea, he added.
The United States warned all parties not to inflame the situation and said it had raised the issue of the reported armed takeovers of the airports with Russia. U.S. officials were seeking clarification of the origin of the armed men.
Moscow said it had no intention of violating Ukraine's sovereignty, U.S. Secretary of State John Kerry said, and Russian Foreign Minister Sergei Lavrov said Ukraine's new leaders should implement a political deal brokered by the European Union before Yanukovich's ouster.
Russia announced war games on Wednesday near the Ukrainian border, putting 150,000 troops on high alert, although Kerry said Lavrov had told him the exercises were pre-planned.
The Russian Foreign ministry said on its Facebook page that Russia's Consulate General in Crimea would hand out Russian pasports to the servicemen of Ukraine's now-disbanded Berkut riot police. Protestors had accused the Berkut of firing the live bullets that killed dozens of protesters in Kiev.
Yanukovich - who is wanted by the new, pro-Europe government for mass murder after the protesters' deaths - reappeared in the Russian city of Rostov-on-Don on Friday. The new authorities in Kiev started moves to seek his extradition.
Yanukovich said he had not seen Russian President Vladimir Putin but had spoken to him by telephone and was surprised the Russian leader was not more vocal over the crisis.
"Russia cannot be indifferent, cannot be a bystander watching the fate of as close a partner as Ukraine," Yanukovich told a news conference. "Russia must use all means at its disposal to end the chaos and terror gripping Ukraine."
He denied he had run away, saying he had been forced to leave Kiev due to threats and and denounced "lawlessness, terror, anarchy and chaos" in the country and said he had not ordered the shooting of demonstrators that preceeded his fall.
Switzerland, Austria and Liechtenstein moved to freeze assets and bank accounts of up to 20 Ukrainians including Yanukovich and his son. Yanukovich said talk of foreign bank accounts was "empty chatter".
Ukraine's new rulers have said loans worth $37 billion went missing from state accounts during Yanukovich's three years in power - a jaw-dropping sum even for a population now used to tales of a lavish lifestyle and opulent residence outside Kiev.
The new Ukrainian leadership has said the country needs almost as much as that - $35 billion - over the next two years to stave off bankruptcy. It said on Friday it hoped to get financial aid soon and was prepared to fulfil the reform criteria of the International Monetary Fund to get it.
IMF chief Christine Lagarde said she did not see anything on the economic front worthy of panic and urged the leadership to refrain from throwing numbers about she said were meaningless until properly assessed.
Interior Minister Arsen Avakov accused Russian naval forces of taking over a military airport near the port of Sevastopol, where the Black Sea fleet has a base, and other Russian forces of seizing Simferopol's civilian international airport.
"I consider what has happened to be an armed invasion and occupation in violation of all international agreements and norms," Avakov said on his Facebook page.
This met with a Russian naval denial of involvement in the military airport action. "No Black Sea Fleet units have moved toward (the airport), let alone taking any part in blockading it," Interfax quoted a spokesman for the fleet as saying.
Near the military airport, half a dozen men in camouflage uniforms with automatic rifles were blocking the road using a truck with no licence plates. Reporters were kept from approaching them by volunteer militia, who formed a second road block about 150 metres away.
"Of course they are Russian," said Maxim Lovinetsky, 23, one of the volunteers. "They came last night."
Firebrand Russian nationalist Vladimir Zhirinovsky appeared in Sevastopol where a crowd outside the city administration gave him a hero's welcome, shouting "Russia, thank you!".
"If the people have a right to rise up in a revolt and overthrow the authorities, why doesn't Sevastopol have a right to do that?" he told them. Although nominally part of the Russian opposition, he is widely seen as a servant of Kremlin policy, used to float radical opinions to test public reaction.
The United States has told Russia to show in the next few days that it is sincere about a promise not to intervene in Ukraine, saying using force would be a grave mistake.
The Kremlin said Putin had ordered his government to continue talks with Ukraine on economic and trade relations and to consult foreign partners including the International Monetary Fund on financial aid.
Yanukovich provoked protests in Ukraine in November by backing out of plans to sign landmark deals with the European Union and instead saying Kiev would seek closer economic and trade ties with its former Soviet master Russia.
Ukraine's hryvnia rose on Friday from historic lows after the central bank governor limited access to foreign currencies. Dealers said the hryvnia was trading around 9.80-10.10 to the dollar after weakening as far as 11.20-10.10 on Thursday. The hryvnia had been in freefall as investors worried about Kiev's ability to repay its debts.
Kiev's new rulers have said any movement by Russian forces beyond the base in Sevastopol would be tantamount to aggression. But they face a major challenge in Crimea which was Russian territory until it was transferred to Ukraine in 1954, during the Soviet era. Separatism there has often flared up at times of tension between Moscow and Kiev.
Unidentified gunmen seized the Crimean parliament and raised a Russian flag on Thursday. The gunmen issued no demands and police were casually guarding the building.
Armed men took control of Simferopol airport overnight and a Reuters eyewitness said the men, dressed in full battle gear and carrying assault rifles and machine guns, were moving freely in and out of the control tower.
A man called Vladimir, who said he was a volunteer helping the group, said: "We're simple people, volunteers ... We're here at the airport to maintain order."
Related
Before You Go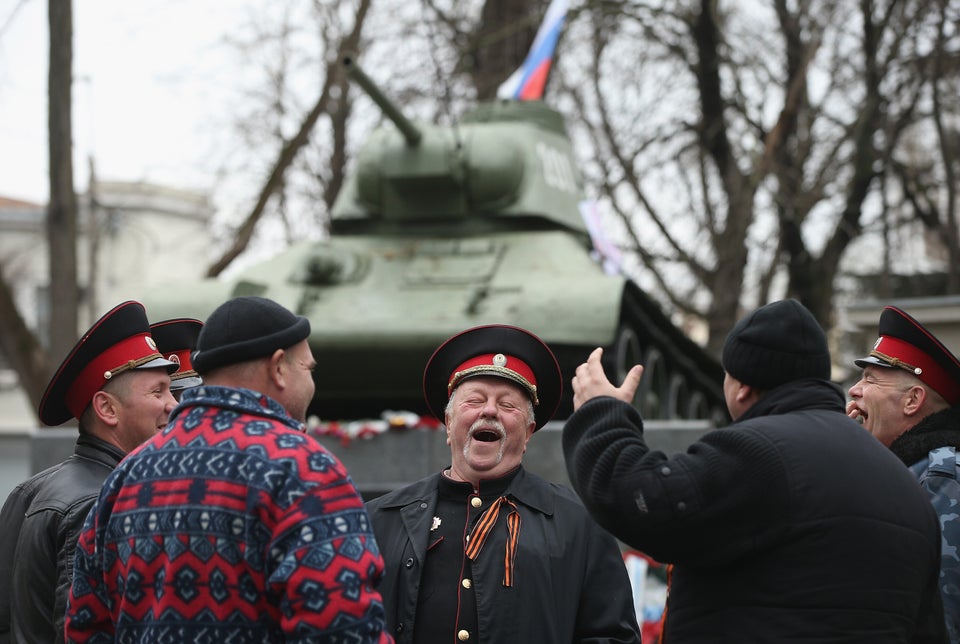 Russia Loyalists Push Back In Crimea
Popular in the Community